Office designers are exploring new ways to create physical environments that enhance workers' job satisfaction and efficiency - starting with what hangs above their heads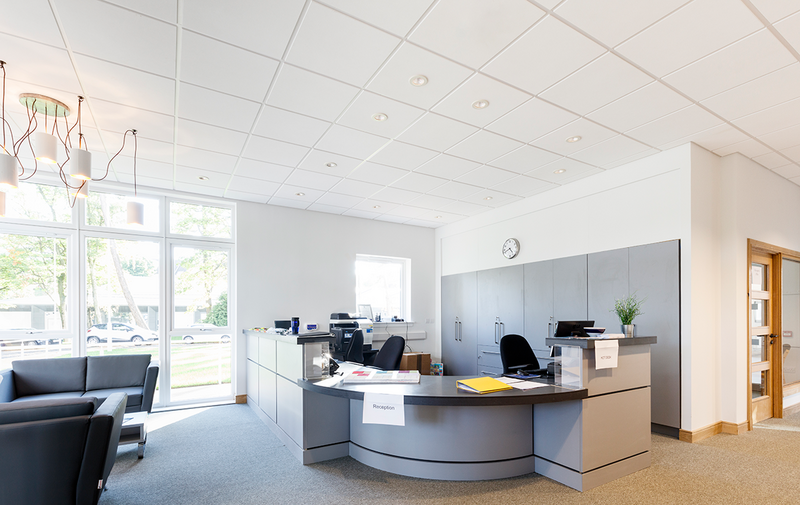 Zentia Perla Tegular and Prelude ceiling tiles: The right specification can improve aesthetics, acoustics, light levels and air quality.
Physical working environments have a direct impact on staff morale and performance and a new generation of ideas designed to promote the cognitive, emotional and physical wellbeing of workers is coming to the fore.
With employee costs accounting for up to 90 per cent of operational budgets, building and workforce 'wellness' is a priority for business owners who know that even small improvements in productivity can bring significant commercial benefit.
New approaches include biophilic design (integrating the natural world into the office environment using organic materials and plants) and the concept of 'resimercial' interiors (a blend of residential and commercial design that creates more familiar and comforting spaces).
Factors that impede wellbeing include noise, poor lighting and temperature control, a lack of fresh air and a shortage of places to relax. Addressing these issues is crucial if buildings - and the people in them - are to achieve their full potential.
Ceilings have a major impact on working environments because they make up such a significant percentage of the surface area of an office. For example, the positioning of a ceiling affects mood and productivity: high ceilings create a 'cathedral effect' believed to inspire creativity; lower ceilings are thought to focus the mind and help with tasks demanding concentration.
The specific properties of a ceiling product can alter levels of light, noise and air quality. Indoor air quality can be monitored by CO2 levels (an indication of human activity) and by the presence of volatile organic compounds (VOCs).
Given off by many construction materials, some VOCs are toxic and potentially dangerous so specifying low VOC ceiling solutions (classified E1 for formaldehyde) can make a positive contribution to office health.
Ceiling tiles can absorb or attenuate sound and, complemented with baffles, rafts and canopies, can customise space to create different acoustic zones - for example, aiding hearing for students in schools or providing calm and privacy in hospitals.
Equally, by increasing light reflectance to reduce the need for artificial light, ceilings can enhance visual comfort. They also contribute to wellness by providing fire protection, thermal insulation and good hygiene, including anti-microbial treatments - particularly important in the wake of Covid-19.
Wellness is intrinsically linked to the health of the planet and sourcing recyclable, minimum-waste products is paramount. Mineral ceiling tiles are 100 per cent recyclable and some manufacturers operate a waste take-back scheme to recycle tile off-cuts into new ceiling tile production.
Suspended ceilings are a long established Modern Method of Construction with an offsite production element that reduces on-site waste. The installation of combinations of suspension systems can effectively reduce or eliminate ceiling tile waste on site.
According to the Global Wellness Institute, homes, communities and local environments determine up to 90 per cent of the health outcomes of the people who live in them. Specifiers have the chance to design ceilings for wellness and use their creativity to transform lives and actively promote happiness and productivity.
Mineral fibre ceiling manufacturer Zentia, formerly Armstrong Ceiling Solutions, offers architects and specifiers a portfolio of market-leading solutions and unrivalled service and expertise. Its products include ceiling tiles, suspension systems and floating ceilings.
For more information and technical support, visit zentia.com
Contact:
0800 371 849
---