Ralf Thiede and Caroline Barker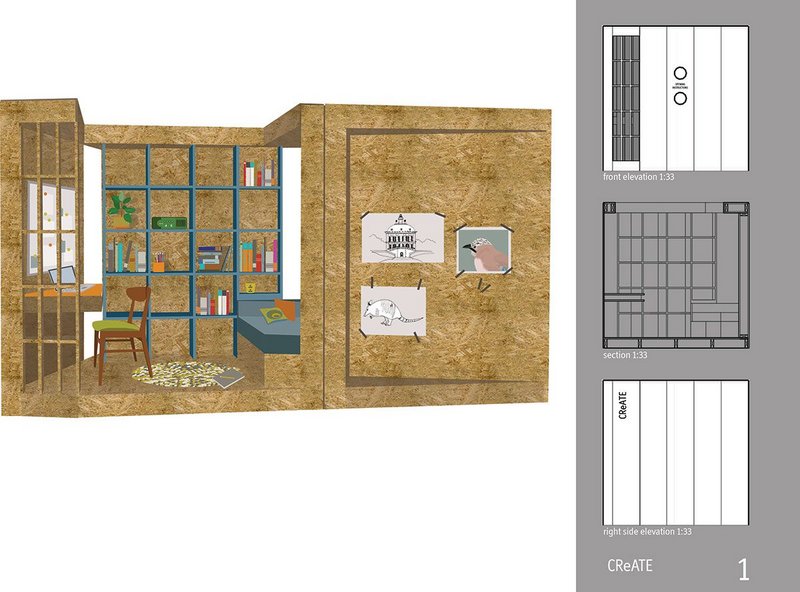 Though simple in form CReATE slowly revealed its nuances in both open and closed modes.
It's true to say that the majority of submissions for Norbord's competition were variations on the classic unfolding box, meaning judges became increasingly inured to the form. It took one of note, such as Ralf Thiede and Caroline Barker's here, to grab their attention. Key to this submission was that the proposal belied its apparent simplicity – the judges kept returning to it because every time they did, some other nuance or sophistication became apparent.
'Create-collate-contemplate-curate' is the proposal's mantra; and so, with only one moving element, the designers aimed to give physical form to all of them within their SterlingOSB box. Each side is devoted to expounding one of those themes; a desk and seat, shelves for storage, a day bed for thinking and the hinged display wall – closed for consideration, open for display.
Sarah Castle found herself first drawn to it, observing 'the nice resolution of the diagonal once the door is opened', Ed Burgess noting later the 'lovely plays on scale – the outside OSB shelves are the hinged door in miniature'. Slit windows offer views while it is closed, and a James Turrell-like opening in the ceiling gives light and air. Stephen Proctor particularly enjoyed the 'spatial twist of the interior plan relative to exterior'.
Like da Messina's peacock, once the feathers opened this proposal had a flamboyance all its own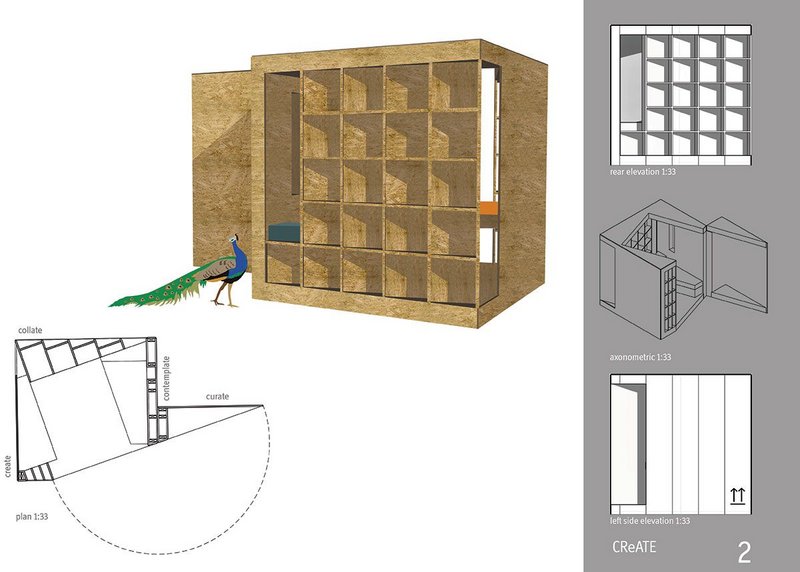 Exterior shelves not only create space for display but generate deep alcove shadows and echo the form of the main opening door.
All the judges appreciated the simple drawing style and clarity of intent, a strategy that allowed the designers to optimise the geometry of the SterlingOSB box form. This wasn't the most adventurous solution, but like the peacock standing alongside it referencing da Messina, once the feathers opened, this proposal had a flamboyance all its own.
---
The nature of work is not a fixed thing
The winner: The Playwright's Retreat