The Bakerloos Design Studio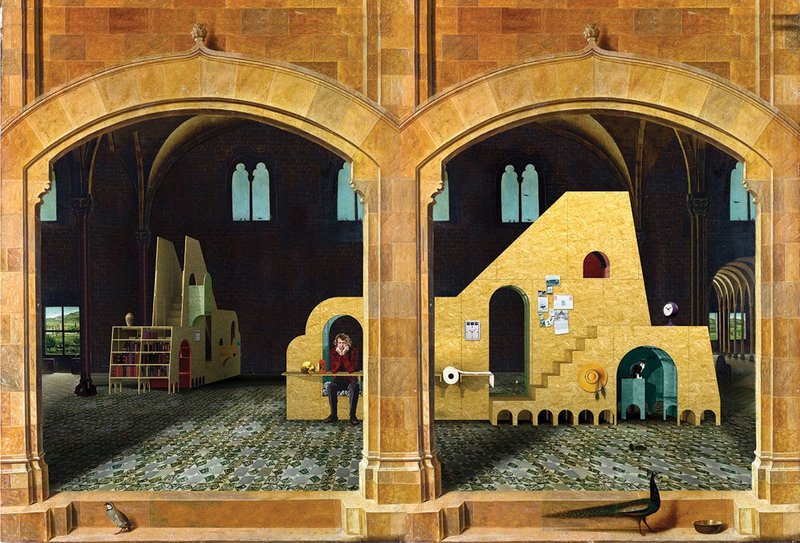 Atelier Astula appearing within the reconfigured da Messina image in a curious but compelling mise-en-scène.

Credit: The Bakerloos Design Studio
If you'd never heard of the 'Double Diamond Design Model', you have now. The judges were informed in Atelier Astula's entry that it is 'a method of mapping the design process, providing a spatial breakdown to give more detail on key activities in each of its four stages: discover, define, develop and deliver'. If you think that sounds too scientific, thankfully, so did the designers, whose postmodern proposal for a SterlingOSB mini-fun palace of contemplation, resolution, discard and display utterly charmed the judging panel.
The form, Stephen Proctor noted, is a 'postmodern collage – a contemporary interpretation of da Messina's St Jerome Study' and encapsulates these four forms of working, allowing for primary research, interpretation and alignment, idea development and 'the stage' where the final proposal is displayed. Between these are joyful elements: SterlingOSB bookshelves, hidey-holes, the 'incubator slide', a paper roll, study alcove and even 'the pit of ideas'.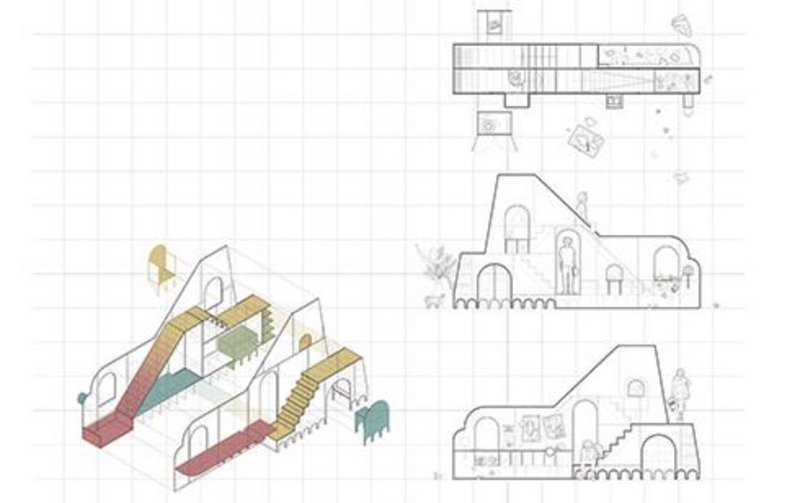 Exploded axonometric.

Credit: The Bakerloos Design Studio
All seem comedic but Jan Kattein noted 'this scheme is actually questioning the notion of work and accepts that inspiration may not necessarily come from sitting in front of a computer screen'. Sarah Castle championed the project throughout, immediately appreciating its 'playful irony, lovely rendering and great use of the material'.
The clear referencing of the St Jerome image in the beguiling main render was instrumental in embedding the idea in the minds of the judges, and saw it progress from the long to the shortlist, despite reservations about its robustness. But the palpable, childlike delight in the notion of how ideas might be generated made this a worthy commendation.
---
The nature of work is not a fixed thing
The winner: The Playwright's Retreat