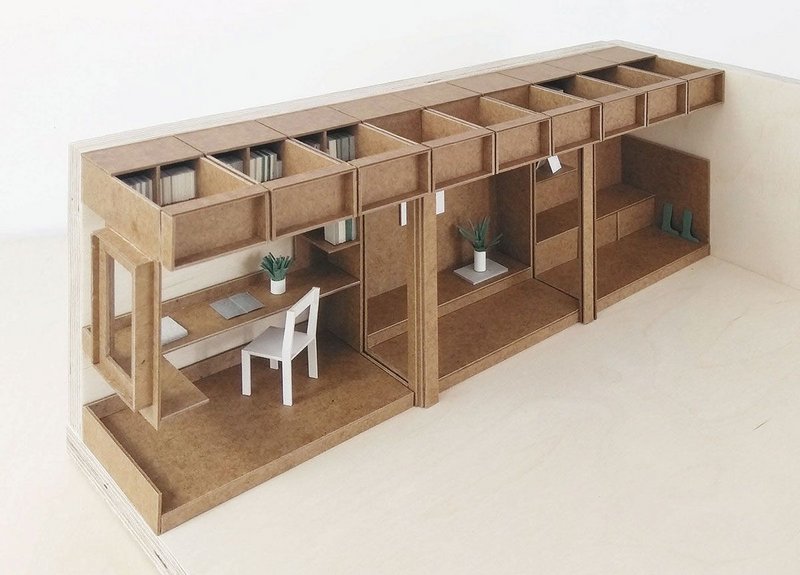 The tripartite nature of Brisco and Chan's proposal allowed for different modes of working, study and display.

Credit: Thom Brisco and Nicola Chan
All could imagine this unit being both manufactured and installed, to the great credit of the designers
'Jill' is a modern day Renaissance woman and the scenario painted for her was a detailed one. She's a freelance illustrator, a would-be horticulturist and has three zero-hours jobs: as a biscuit factory worker, a waitress and a takeaway delivery rider. The resulting proposal, a tripartite, supercharged fitted SterlingOSB wardrobe of sliding doors and niches, intrigued and delighted the judges.
It was not only the narrative but the clear design influences that caught their attention. The references to the 'Tokonoma' alcoves in pre-war Japanese homes and Charles Rennie Mackintosh's dark lacquered alcoves at the Glasgow School of Art, but most of all perhaps the IKEA-like potential for mass production.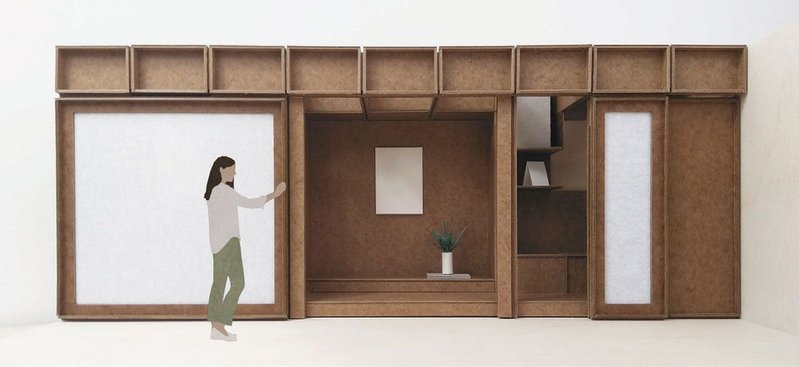 Judges praised the aesthetics and technical resolution of the project.

Credit: Thom Brisco and Nicola Chan
Yet the clear level of technical resolution also raised questions. Would the design always require a 6m long room in which to install it? Was any consideration given to how the three SterlingOSB elements might be reconfigured for smaller spaces or placed centrally in a room? 'Because you can easily imagine selling it as a flat pack, could the three modules interact in different ways?' Sarah Castle asked. 'The only shortcoming is how this system might occupy a different type of space from the one presented,' thought Jan Kattein and Ed Burgess.
Norbord's David Connacher was impressed by the level of resolution (as were all the judges), with the Miesian detailing of the SterlingOSB ceiling cantilever elements/bookshelves of particular note. All could imagine this unit being manufactured and installed – to the great credit of the designers – but questions over its breadth of vision kept it off the top spot. That said, this SterlingOSB designer wardrobe's 'generic yet highly specific nature' earned a hearty commendation.
---
The nature of work is not a fixed thing
The winner: The Playwright's Retreat