Oxford's Wolfson College extended with a twist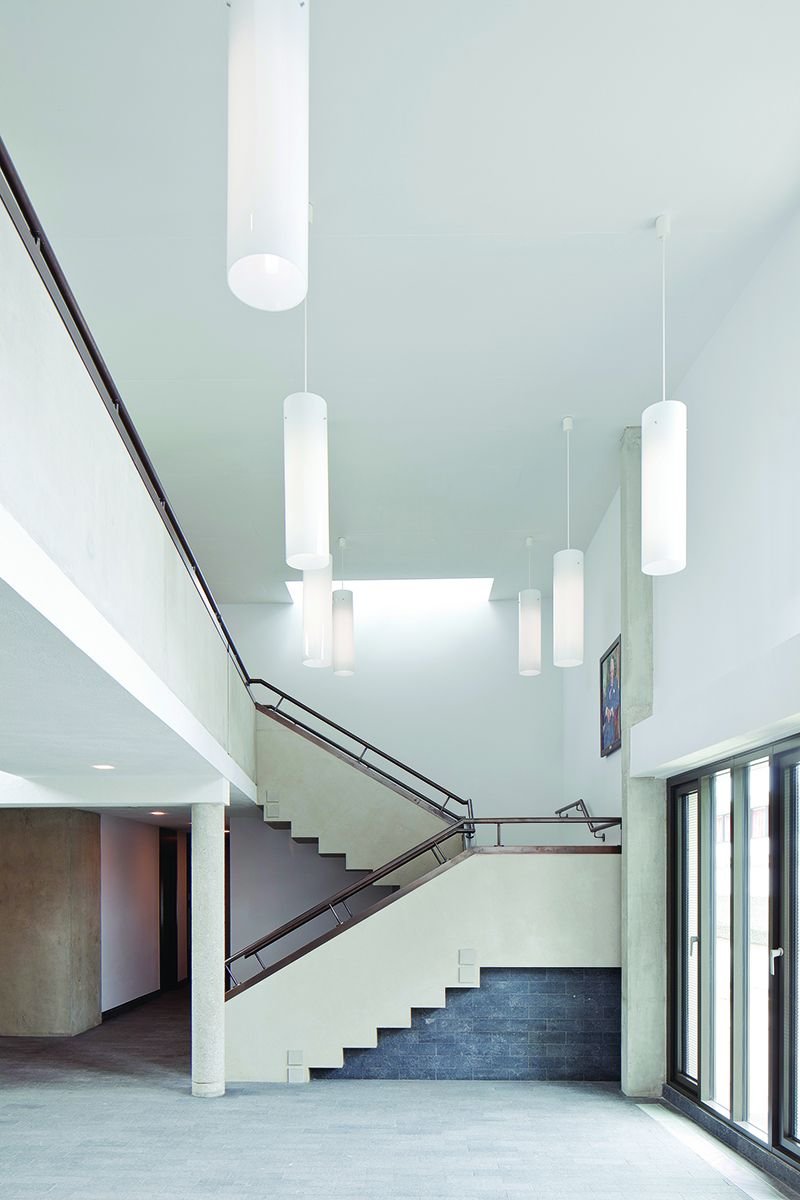 The foyer will also be the gateway to Wolfson College – complete with porters' lodge and pigeonholes – when phase two is complete.
Three new college auditoriums by Berman Guedes Stretton have opened around Oxford in the last few years. But only one has projecting bands of granite and a shifted geo­metry that twists it into something special. The Leonard Wolfson Auditorium takes its cues from Powell and Moya-designed Wolfson College (1974) which speaks of solidity and thoughtfulness as it gathers rooms to form courtyards around its graceful landscape.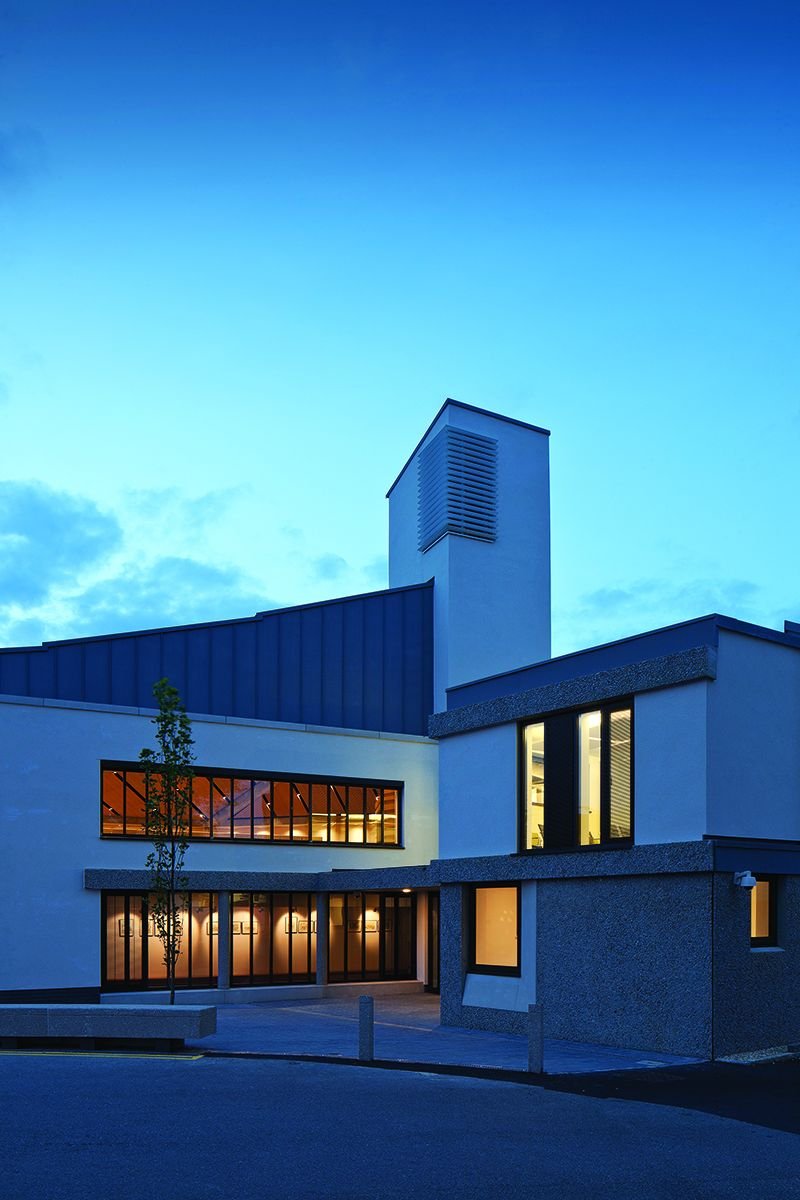 Bands of granite on the new auditorium echo Powell and Moya's original while a tower gives it a new presence from the main road.

Credit: Andy Spain
Precast concrete panels studded with granite mark the original out along with the dining hall which rises to a timber-lined apex under a hipped roof. Later additions include student residences – also by Berman Guedes Stretton – continuing the horizontal ­linear theme, plus rather clunky extra entrance roads. The auditorium is the first phase in a ­reframing of the public face of the north Oxford college, giving it visibility from the suburban road by using a natural ventilation tower as an excuse to break the domestic datum. The new building is a sign of the ambitions of the college president, Professor Dame Hermione Lee, and the college's programme of public talks. It also adds a student gathering point, extra ­library space and a porters' lodge, as they are still known even at this modern Oxford college.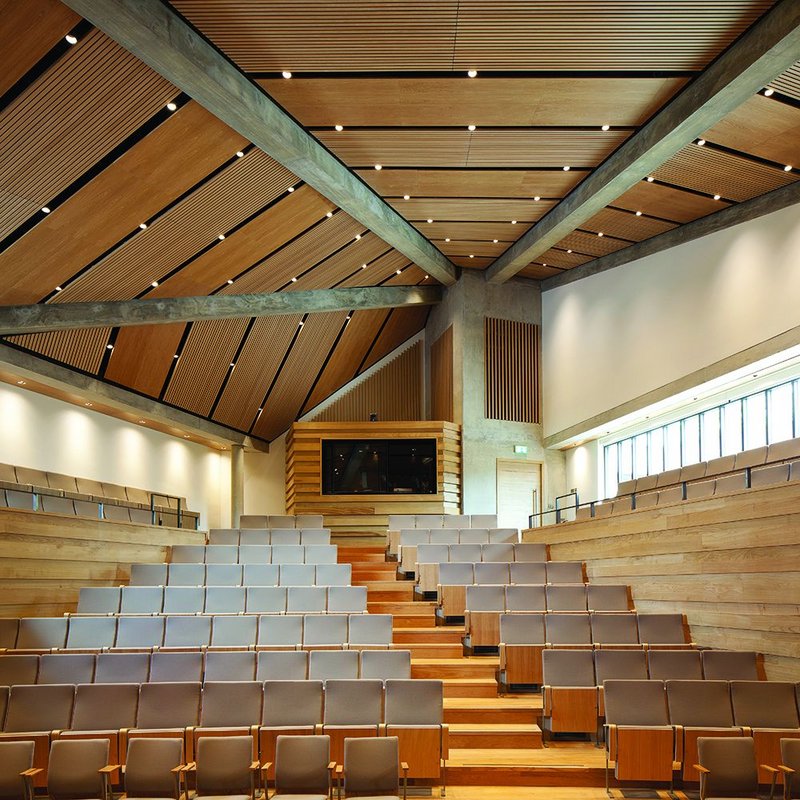 Dramatic concrete beams span out from the ventilation tower. There are awkward spaces between auditorium and rectangular envelope – but not too many.

Credit: Andy Spain
The outward expression of the auditor­ium building, with the granite overwhelmed by render, doesn't quite match the weight of the original college. But one foyer later and the drama of the form, twisted around the chimney to give a stepped roof, does rival and complement the main hall. Berman Guedes Stretton's original design was orthogonal; it was only after the working drawings came in that Lee suggested the roof might do something a ­little more interesting – as the main hall does, which she sees from the president's house. Concrete beams fanning out from the chimney set up the geometry of experience, the muted seats following their course with offset balconies either side. Chestnut-lined, it exudes a quiet confidence.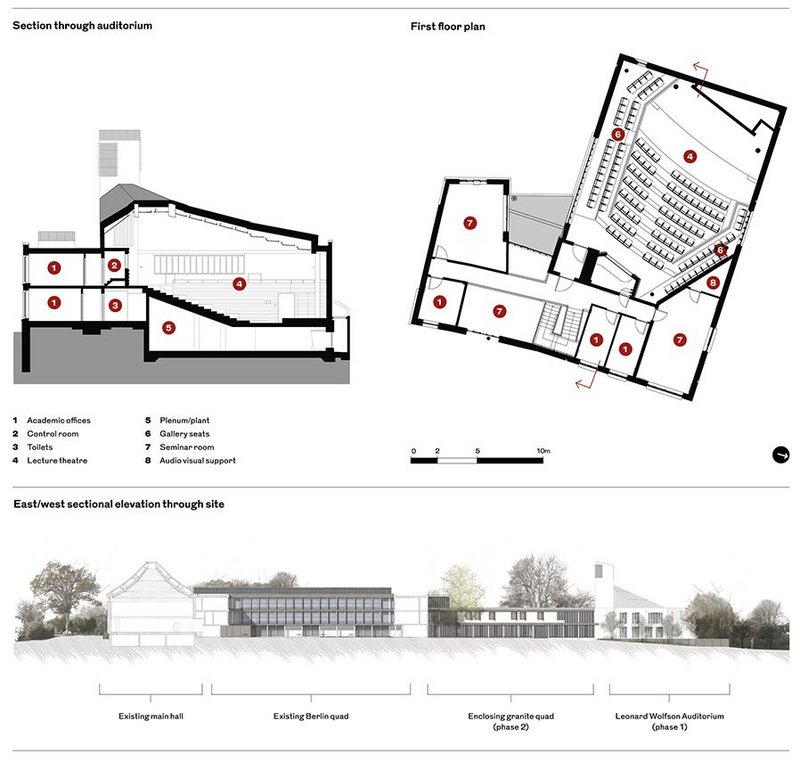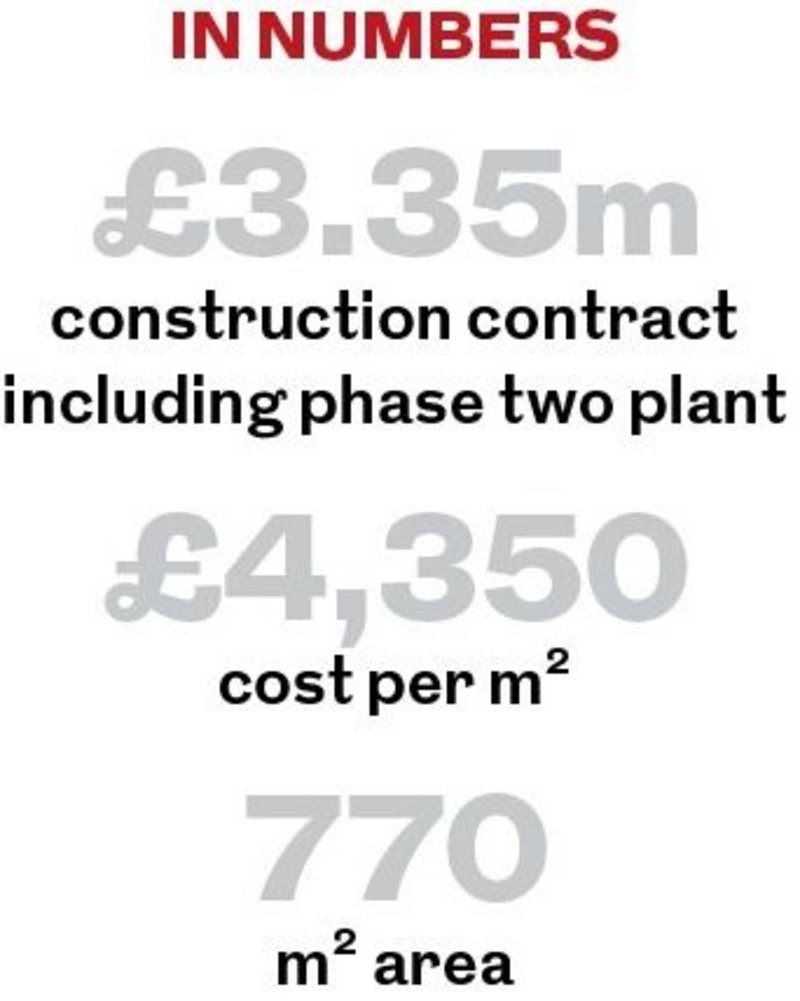 Credits
Architect Berman Guedes Stretton
Structural engineer Price and Myers
Services engineer Michael Popper Associates LLP
Acoustic consultant Raf Orlowski
Theatre consultant Anne Minors