Working rural buildings optimise natural daylight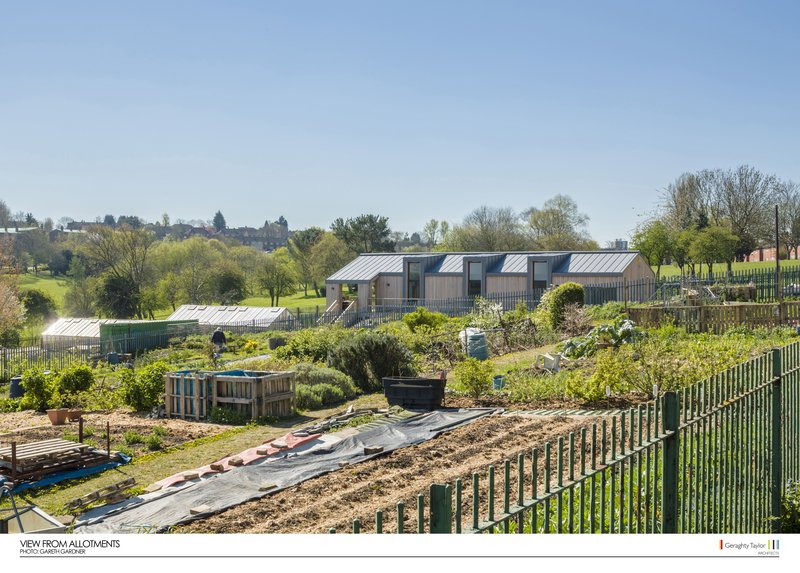 Geraghty Taylor Architects for Good Food Matters
Location: New Addington, Croydon
The Good Food Matters Food Learning Centre is dedicated to supporting those who, for a variety of reasons, face lack of achievement at school; may be excluded; in or leaving care; teenage mothers; young homeless; ex-offenders or at risk from antisocial behaviour; as well as those with learning disabilities. The project's aim is to create growing areas where participants can experience first-hand and under the guidance of experts, the process of planting, tending and harvesting their own food. They're also taught to cook this produce in the facility's Teaching Kitchen.
The teaching kitchen is a conceived to respond to its green belt context – drawing on the tradition of simple, barnlike, 'working' rural buildings; its timber frame oriented to optimise natural daylight and ventilation as well as capitalising on renewable energy by means of solar PV. The siting and arrangement of the building and its surrounds are driven by the need to make the sloping site as wheelchair accessible as possible.
The Centre was built via the tireless commitment of Evelyn Findlater, founder of Good Food Matters, whose work with disadvantaged and often disengaged young people convinced her that they needed more than was being provided by the state. In the project's early stages Geraghty Taylor Architects assisted Evelyn by articulating her vision in order to support her fundraising activities.
During construction over 400 volunteers assisted in the construction of the growing area - many of whom were young offenders who worked brilliantly with volunteers from local businesses. Since completion in 2013, Good Food Matters has become a recognised centre for accreditation and has been granted London Food Flagship status, enabling it to offer free horticultural and cooking courses to the elderly, NEET young people and those with disabilities- all drawn from two of the most disadvantaged wards in Croydon.