Removing carbon issues in a community regeneration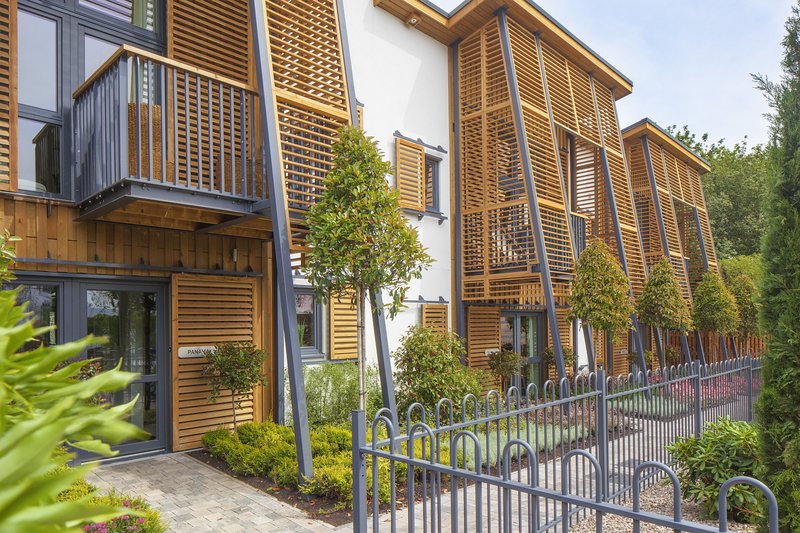 HTA Design for Barratt Homes
Hanham Hall, near Bristol
This exemplary project is a flagship zero carbon residential community of 185 new homes accompanying the renovation of a Grade II* listed hall and the regeneration of a brownfield site of 3.8ha. The Hall provides space for a crèche, varied office spaces creating local employment, meeting space for the community including the parish council, and space for a local shop or cafe.
The development also provides new facilities for the adjacent mental health facility and doctors' surgery. It enhances the surrounding green belt fields with new biodiverse meadows and orchards structured around existing mature hedgerows and waterways. It integrates this landscape into a wide range of uses including children's play spaces, greenhouses, allotments, community composting and apiaries for the residents. The landscape retains mature existing trees and embeds the existing waterways and landform as part of a site wide Sustainable Urban Drainage system.
The design was developed over a year of working intensively with South Gloucestershire and the local community. Independent monitoring shows that it is popular, with very high levels of comfort and wellbeing. Importantly the low energy bills and excellent daylight predicted are being achieved. This post occupancy evaluation provides the housing building industry with important research into how these benefits can be applied across a wider range of sites in future.
The design delivers homes (including 62 affordable) that achieve higher levels of space, daylight and flexibility than typical, showing that new homes can provide imaginative solutions that contribute to the quality of our built environment.
It opens up a listed historic building, brownfield and green belt land that were previously inaccessible to offer a wide range of community uses and environmental benefits – and has pioneered the use of a Community Infrastructure Company to equip the new community with a means to manage the wonderful landscape in perpetuity.