Natural aquatics in the UK's first public micro-ecological fresh water bathing pond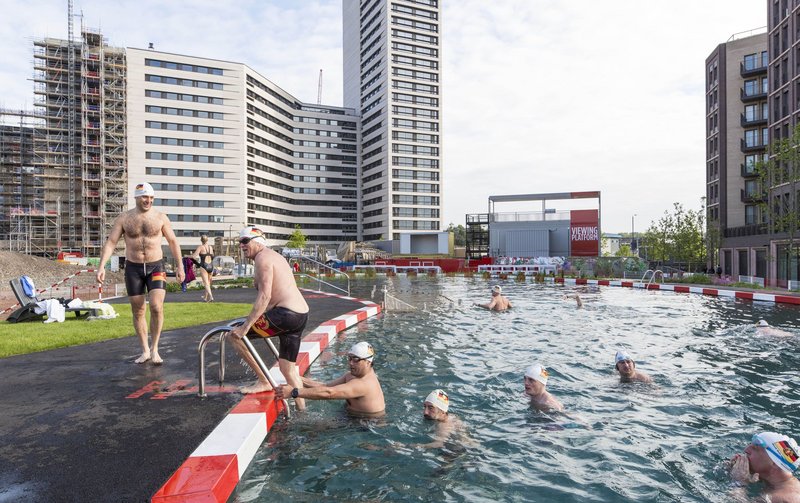 Ooze and Marjetica Potrč for King's Cross Central Limited Partnership
Location: 20 Canal Reach, London
'Of Soil and Water: The King's Cross Pond Club' is a micro-ecological environment with a natural swimming pond at the centre placed in a major central London building site. The temporary available land is transformed into a place where visitors can swim next to aquatic plants cleaning the water.
The pond is the UK's first public fresh water bathing pond. The water is purified by a natural process using water plants, nutrient mineralisation and a set of filters on the edge of the pond that supplement the natural filtration. The pond is thus free of chemicals. The water's closed loop system can accommodate 163 bathers a day in balance with nature. This living laboratory gives visitors the opportunity to learn about the resilience of the ecological system through their own direct experience.
The project is the fourth of the Relay art programme established by the curators Michael Pinsky and Stephanie Delcroix which was commissioned by the Kings Cross Central Limited Partnership. Ooze architects and Marjetica Potrč came up with the concept and followed the whole process till practical completion. The Architecture and Arts collective realised the Pond bank planting with local students and the community – who continue to have an advising role. Charities like Global Generation are also involved and use the Pond as a ground for social and nature engagement workshops.
The project is at the cross road between an art installation, a public swimming amenity, a natural park and a public space architectonic intervention. The Pond has been attracting swimmers, art public, natural landscape and garden lovers and more simply anybody who is up for an out of the common experience. It has formed an identity for the community of neighbours residing around who use the facility more and more for their events. Wildlife is also finding a new home in the soil and water landscape of the Pond Club.