Modern update injects energy to urban station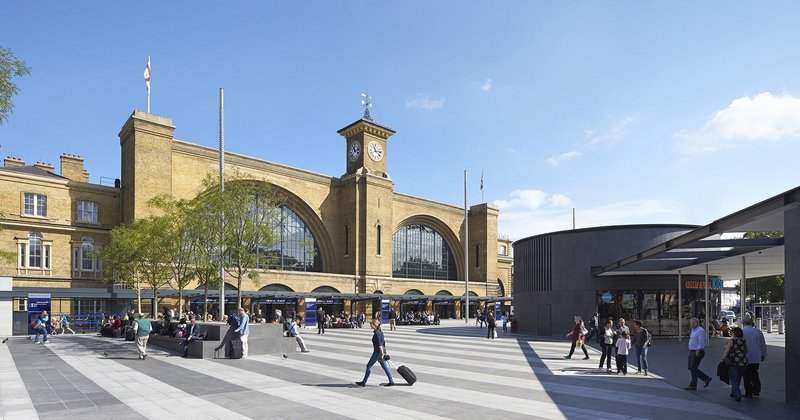 Stanton Williams for Network Rail
Location: King's Cross, London
Network Rail's King's Cross Square forms the heart of a district which, following decades of neglect, is now being injected with a new energy via a range of major urban and transport projects. Stanton Williams' design provides a new public space, replacing the unsightly 1970s temporary concourse with a sensitive design that fully reveals the historic Grade I listed station façade.
47 million people pass through King's Cross station each year and 140,000 people use the Square each day. It complements the area's rich history while providing a modern, open space functioning as a vital part of the major transport interchange around King's Cross and St Pancras stations.
The Square is designed as a place to celebrate arrival, for passengers to feel uplifted as they disembark, and to provide a place for pause in the city. It is now an attractive meeting place to be enjoyed by all, with retail, seating, trees, covered areas for shelter and wayfinding, all of which help to animate it and positively enhance the overall quality of the environment. Lighting masts define and illuminate the area, and a sophisticated and dramatic scheme incorporates lighting into the granite cladding and benches to provide accent and ambient lighting, addressing issues of safety, security and coherent wayfinding.
Consistent use of granite across the Square provides clear visual coherence. Underground entrances have been improved while new retail units add colour and public amenity. Soft landscaping is introduced as a row of trees located in raised planters with integrated benches to provide a shady area for pedestrians to sit. Paving and cladding materials are robust and low maintenance, and are appropriate for the historic setting.
By providing high-quality space capitalising on the site's heritage, the Square creates a sense of place - vital in establishing King's Cross as a destination.