Transforming heritage for school and community needs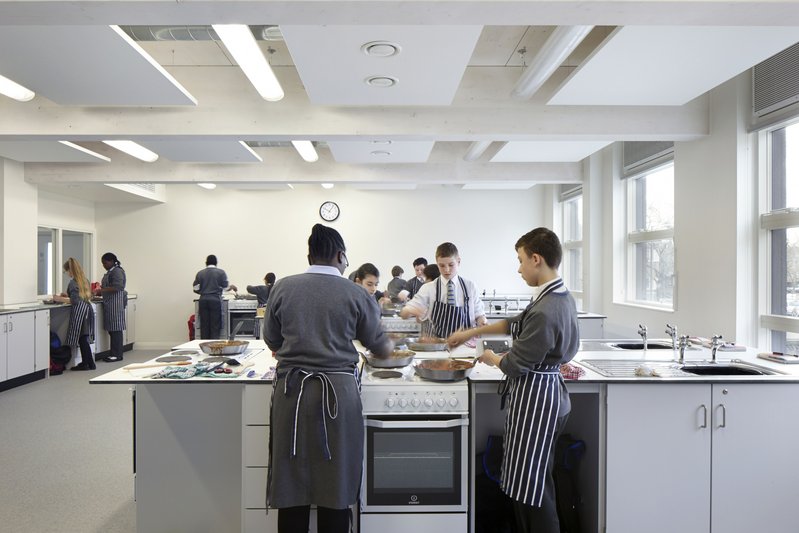 Jestico + Whiles for the Mossbourne Victoria Park Academy
Location: Hackney, London
How to creatively transform an 1865 former hospital into a new school? The brief was to design a new 800-place academy to meet the demand that the very successful Mossbourne Community Academy (MCA) could not absorb. The scheme included remodelling the Victorian Grade-II listed hospital building, lodge building and erection of a new four-storey building. The new build comprises assembly facilities and a sports hall open to the public, highlighting Mossbourne's mission to enhance local amenities.
The project brought the opportunity to build on the overwhelming success of MCA, to provide similar educational opportunities for more local children. The new school ensures excess demand for local secondary school places is met, and extends provision to include a sixth-form shared by the two academies. A Mossbourne education is highly sought after within Hackney; extending the opportunity to more children through a second academy will help meet educational need within the borough.
The school welcomes and serves the wider local community: individuals, local clubs and community groups are invited to take advantage of the sports facilities outside school hours, at weekends and during holidays. The hall and drama space are available for use by community groups and to support adult education courses.
The re-use of the French Hospital as a school ensures the community feels ownership over this important heritage asset, and has given it new life to ensure it persists for all to enjoy, affording the public greater access to it. Just as MCA made use of the green open space, Victoria Park Academy has made use of Well Street Common, becoming an active participant in the community use and upkeep of this fantastic open space.