De-stigmatising preconceptions of mental health and wellbeing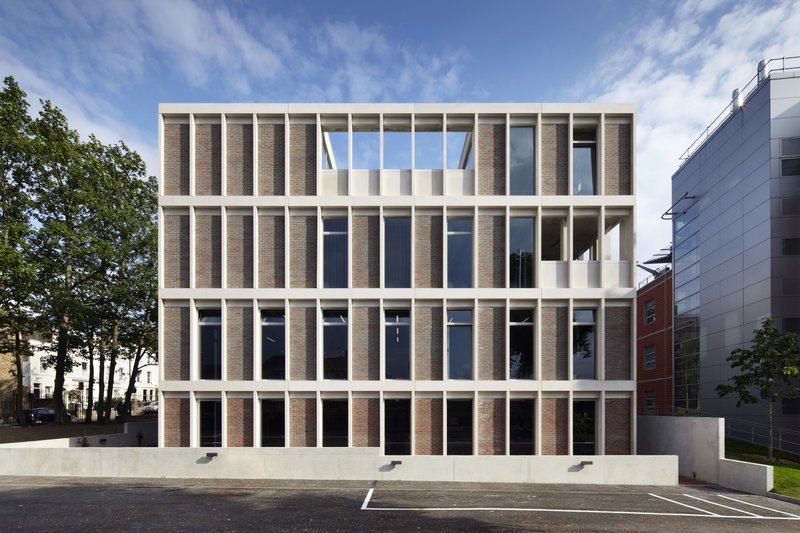 Duggan Morris Architects for The Maudsley Charity
Location: Denmark Hill, London
ORTUS houses learning and event facilities, cafe and exhibition spaces, which together create an immersive learning environment through spaces that encourage intuitive learning. The Maudsley Charity's vision is to raise knowledge and awareness of mental health and wellbeing.
The project evolved over an 18 month consultation period with users; Kings College Hospital, the Institute of Psychiatry and community groups, with Duggan Morris commissioned to develop the client's brief. The building is now home to 'Maudsley Learning', a Community Interest Company set up to run it.
ORTUS' simple rectilinear form complements the nearby Georgian proportion, scale and materiality. A vertical grid of precast concrete fins articulates and counterpoints the brick and glass, horizontals ensuring the stagger of floor plates is legible. Terraces at ground, balconies above and a large roof terrace create connections between internal spaces and external spaces.
Spatially, the building is planned as a series of flexible, sub-dividable spaces around a central multifunctional space, navigated by a grand 'open' staircase. In cross-section, these floor plates stagger across the section by a half storey, thus the grouping of learning spaces appears to extend from each half landing of the open stair; the aim being to create stronger visual links between floors to create a connected learning environment. It also means the space can be passively ventilated and naturally lit.
At ground level, the landscape is envisaged as a series of connected rooms, mirroring the internal configurations thus ensuring that learning activities can spill out in a controlled manner. A cafe at the ground floor is intended as a marker at the entrance, helping de-stigmatise preconceptions of mental health and wellbeing, by making the building accessible to all. Populated by clinicians, users and the community it is a true public space.