A warm community home to learn in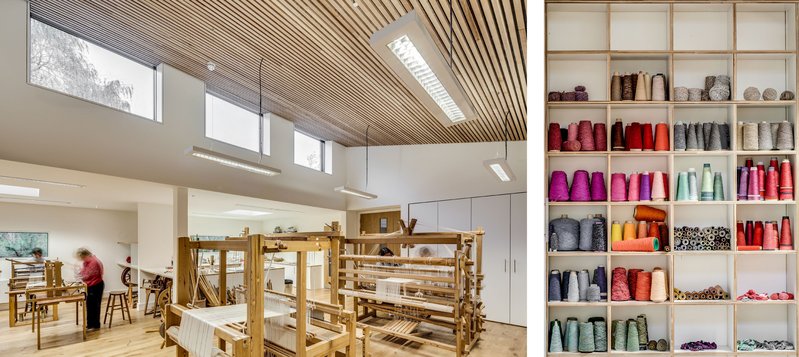 CaSA Architects for The Lantern Community
Location: Ringwood, Hampshire
These two bespoke craft workshop buildings have become the hub of their community - a world away from the cramped garage workshops they replace. Commissioned by the Lantern Community – an organisation whose whole ethos is to provide 'meaningful work' for the adults with learning difficulties who live and work there - these workshops are genuine places of work designed alongside the professional, resident potter and weaver, harnessing their expert knowledge, enabling the buildings to fulfil an exacting brief. The adults who work there produce work of high quality that is sold in the shop on site, creating significant revenue for the community.
The buildings engage well with existing buildings, encouraging a natural footfall between them. Equally important was the prioritising of gathering space by placing the tea rooms as social hubs along the primary circulation and creating covered entrances and alcoves, thus enhancing the feel of community.
The strong and enduring client/architect relationship (the project took almost 10 years from conception to completion) was key to making this project such a success. Significantly, the client was prepared consistently to prioritise the value of good design, despite significant budget constraints. Individual requirements of workers and workshop leaders alike also remained at the forefront of the design.
Passivhaus approaches to thermal and lighting comfort were adopted from the outset, creating highly efficient and comfortable spaces with minimal running expenses. Glazed openings provide connection to the surrounding landscape, whilst orientation and canopies ensure these do not cause overheating. Top-lit working areas provide the best conditions for the detailed work.
The architecture was user- and process-driven from the outset. Single storey, level access, universally accessible social and work spaces are just some of the ways the buildings are designed so any part of them can be enjoyed safely and independently by all users.