Radical refurb and new public realm working together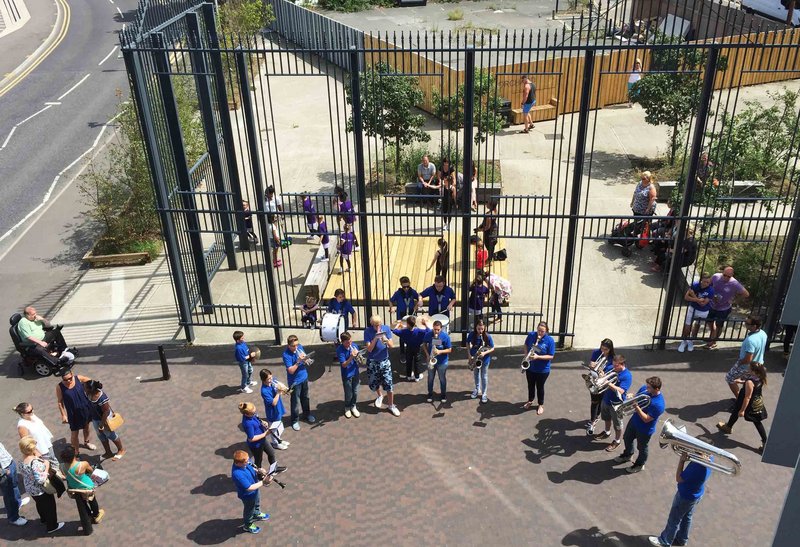 Civic Architects and what if: projects for London Borough of Havering
Location: Rainham, Essex
The careful marriage between the public realm improvement (what if: projects) and the building refurbishment and extension (Civic Architects) has created a community driven and run project that is a part of the urban regeneration of Rainham. Designers and community groups, together with Havering council staff and young people strived to work together to deliver a project that acts as a whole, mending this gateway site to Rainham village. Both schemes actively engaged with local stakeholders, user groups and the wider Rainham community not only through the design process but also implementation.
The remodelling of the existing Royals Youth Centre in combination with improvements to the public space on its' doorstep created a new northern entrance to Rainham Village, tailor made for young people.
The youth centre was an indistinct 2-storey building with large function rooms at each level. The refurbishment has created more usable space and facilities for the Royals, while attempting to give it an attractive new identity that marks it out firmly as a community asset. The most recognizable part is the new enterprise space, cantilevering over the building's main entrance at street level and provides space for a new youth programme. A generously glazed corner gives young users a vantage point to overlook the village and the public space on their doorstep.
Working with young people from the Royals a brief was formulated for this space: 'A pocket park - that brings together the community' – places to sit, spend time and picnic, areas for play, a space for performances and local events, more greenery and new way finding to local places and green spaces. The existing space was adjusted on a small budget to make it more usable and green, introducing a green buffer along the street edge, meadow areas, more trees, benches and a stage. A colourful timber screen with integrated seating has replaced the existing perimeter fence.