The day care and medical centre in Blackheath, London, is uplifting, sustainable architecture with a strong social programme – 'a place of joy and inspiration' say judges. Below, in his first post-prize interview, its architect Alex Ely explains how Mæ's aims for better social infrastructure are encapsulated in the scheme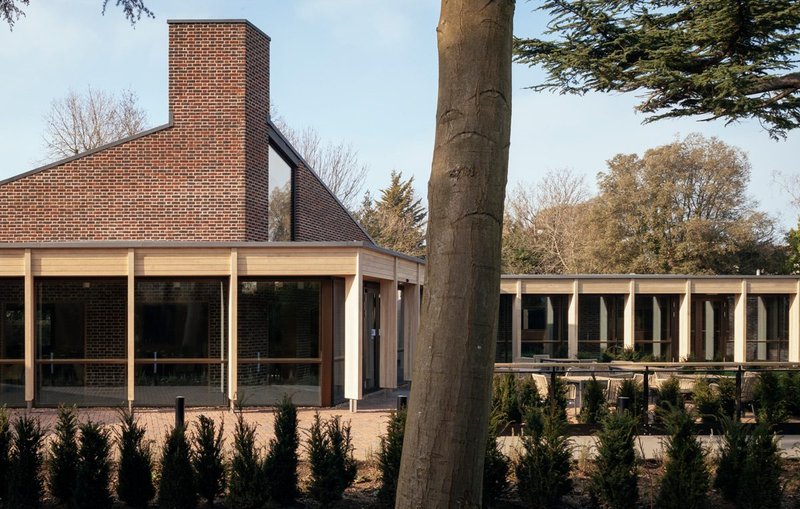 Stirling Prize winner 2023: Mæ's John Morden Centre. A colonnade acts as a spine for the pavilions, set around a historic Cyprus tree.

Credit: Jim Stephenson
The John Morden Centre designed by Mæ has won the RIBA Stirling Prize 2023. This day care centre with medical centre for older people has it all, uplifting architecture, a strong social programme, re-use of an existing building and sustainable construction shown off in the structural insulated panels of CLT that grace the lofty main spaces.
Speaking on behalf of the RIBA Stirling Prize jury, chair Ellen van Loon of OMA said: 'The John Morden Centre is a place of joy and inspiration. It sensitively and seamlessly integrates medical facilities and social spaces, delivering a bold and hopeful model for the design of health and care centres for the elderly. Creating an environment that lifts the spirits and fosters community is evident at every turn and in every detail.
'This building provides comfort and warmth, with thoughtful features designed to prevent isolation. It illustrates how buildings can themselves be therapeutic – supporting care and instilling a sense of belonging. Great architecture orients people so they can thrive, and this building is exemplary at achieving exactly that.'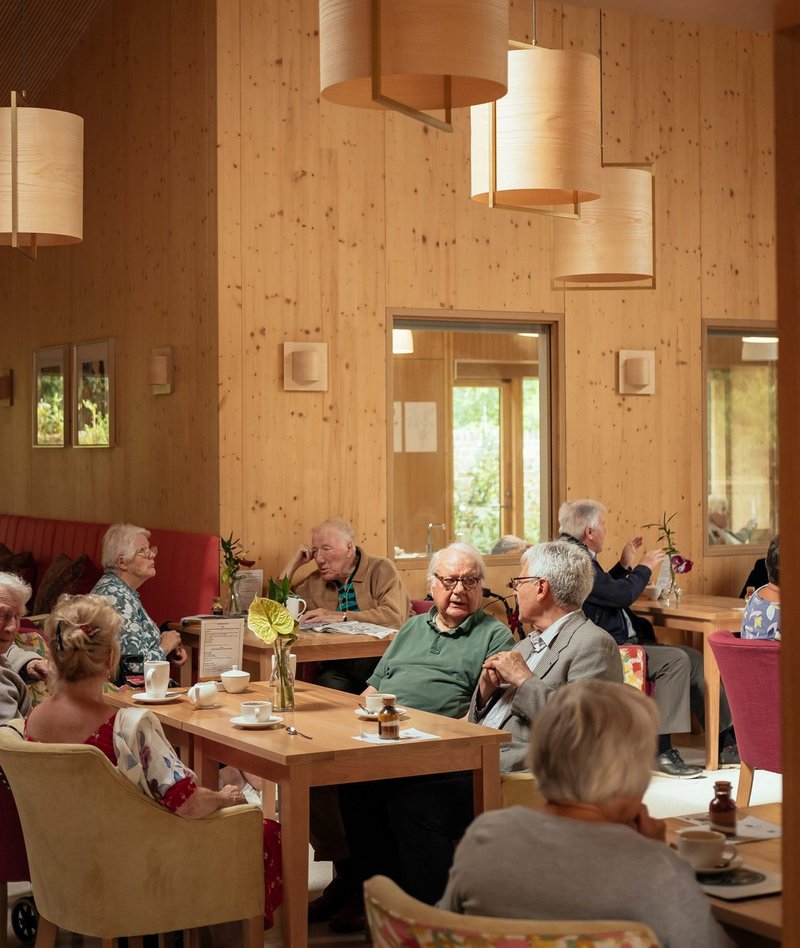 Spatial complexity generates a pleasurable sociable restaurant.

Credit: Jim Stephenson
The jury's sentiments were echoed by those of the voters in the Stirling Prize Peoples' Poll. It stands out in what one called an 'architecturally deprived sector'. It 'gives dignity' to both the original architecture and the neighbouring Sir Christopher Wren buildings that make up the residential aspect of Morden College and, importantly, it also gives dignity to those who spend time there. The integration of the landscape – achieved in collaboration with J&L Gibbons – was much commented on. 'It has such a human scale and reacts to the existing buildings so sympathetically,' said one respondent. Another commented approvingly: 'Elegant, simple and richly sensual: a delightful and uplifting place.'
Also announced at the ceremony in Manchester Victoria Warehouse were the RIBA's Special Awards. Judge of the Neave Brown Award for Housing, Alive Brownfield of Peter Barber Architects, said the shortlist showed how transformational it would be if we had a properly funded programme of public housing. There was a touching moment when winner of the Stephen Lawrence Prize and RIBAJ Rising Star Conrad Koslowsky admitted that his project, the Lighthouse Children's Home, had renewed his faith in architecture's agency, at a time he was starting to lose it.
There was criticism by Oliver Wainwright in the Guardian of the Stirling Prize shortlist for demonstrating a 'polite beige consensus' but those who have visited and studied the shortlisted projects – as successive RIBA juries have – can appreciate their subtle uses of space, volume and materiality. This quiet architecture can be far more revolutionary in its impact on everyday lives than bombastic city-boosting projects in silver or blue. And it has a shot at being sustainable, delivering on needs, and reducing carbon both upfront and in use.
It is a fitting tribute to this thoughtful, crafted strain of quiet architecture that the John Morden Centre has secured the 2023 Stirling Prize. See the full RIBA Journal building study by Jan-Carlos Kucharek with sustainability data and drawings here.
The 2023 RIBA Stirling Prize is supported by our headline sponsor Autodesk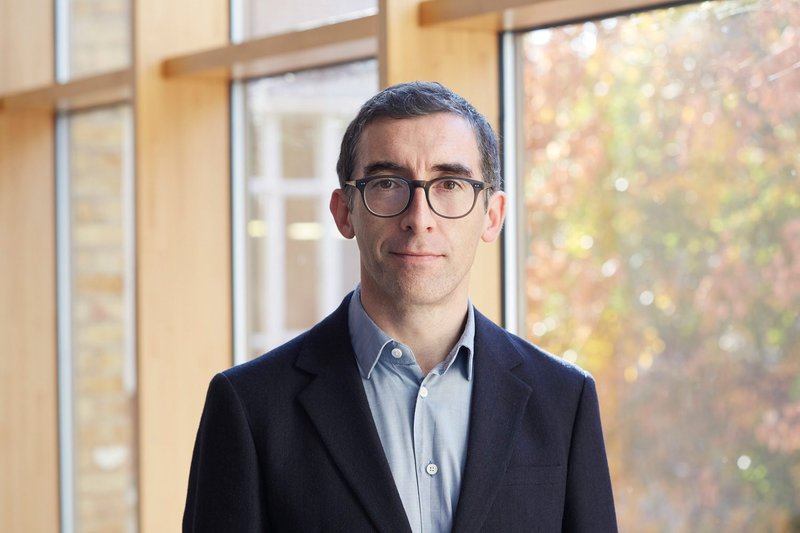 Alex Ely, founding director at Mæ.

Credit: Katie Hyams
I grabbed Alex Ely for a few minutes after he was awarded the prize, he was overwhelmed at the win, and delighted to have a few minutes to decompress, but he still had plenty to say before he phoned in the news of his win to his parents.
This is your second bite at the Stirling Prize, after being nominated for Sands End Community Centre last year. Now you have it! Does it feel your time has come as a practice?
It is always a shock, you have expectations – hopes and dreams – but I didn't want to get my hopes up.
There is something very personal about designing social infrastructure. We were known as a housing practice and I love social housing. But people are fixated on track record. So we were pleased to design this and Sands End.
There is not enough social infrastructure, there are one million plus unmet care needs. And – through successive governments – there has not been enough investment. In the almshouse sector charities are doing good work but government should be commissioning these projects. They are not expensive buildings. John Morden was just below £4000/m2, it is a very plain building, brought in at not much more than a typical social housing association budget.
You worked for many years advising on better housing through the London Housing Design Guide and then the London Plan and building that housing. How important where they as foundations for this project?
Architecture is part of a commitment to society, to civic society. Mæ was set up to do public work. Architects have amazing agency to influence with the projects they design. But I really wanted to have an impact on the bigger picture.
How could those pieces of policy guide others to something similar or is this an unrepeatable project?
It is unrepeatable in the sense that the design responds to the site. But the modernist idea of a social condenser creating communities should become the norm.
Has architecture neglected older people?
Yes, possibly. There is a real need for better housing for older people. If they can live more independent, fulfilled lives for longer then there are arguably less social service costs.
This project has been celebrated for its reuse. How did you persuade yourself to value the existing 1960s Merchants Hall?
On the first look it was a really ugly building. We kept it for financial and pragmatic reasons. It was eight years ago so we were not really thinking about embodied carbon as we are now.
What do you say to those who thought the shortlist projects a polite beige consensus?
Thomas Heatherwick has been arguing that we need to humanise architecture. It is already happening and I hope to include myself in that.
How will you celebrate?
The whole office is coming up to Manchester tomorrow, we will go on a tour and we will go to the pub!