Which of the shortlisted schemes do you think should win this year's most coveted prize? Vote now in our online People's Poll and discover whether the people's opinion matches that of the judges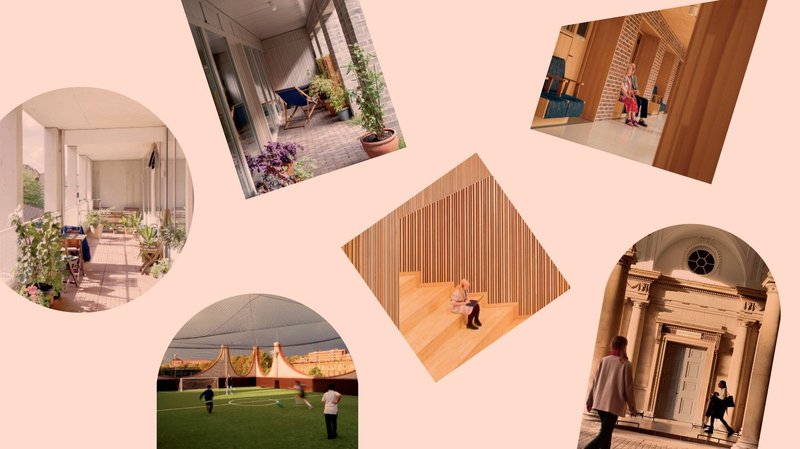 The Stirling shortlisted projects.

Credit: Image design Linda Byrne
Which of the six shortlisted projects should win the UK's most prestigious architecture prize?
The buildings have been visited. The judges have asked the difficult questions. The architects have explained the process and the rationale. The building owners and users have said how it works for them. We have six fascinating projects shortlisted for the Stirling Prize.
Now it is your turn, vote before the poll closes on Sunday 15th October. Vote in the People's Poll here
Which will you choose? You can learn more about your favourite and see all the projects in detail here.
A House for Artists, Barking, designed by young practice Apparata, is a striking rethink of adaptable, sociable living.
Central Somers Town Community Facilities and Housing, Camden, designed by Adam Khan Architects, is a mix of social housing and children's facilities, inside a robust brick structure with swooping inverted arches.
Courtauld Connects is at The Courtauld Institute of Art, in the grand buildings of Somerset House in central London, which has been subtly opened up and connected by Witherford Watson Mann.
University of Warwick Faculty of Arts by Feilden Clegg Bradley Studios has brought together a disparate faculty, giving it a collaborative tool and new energy with a new central staircase as centrepiece.
John Morden Centre in Blackheath, designed by Mæ, brings a new level of joy to older living with its colonnades around an old cypress tree and lofty daylight volumes alive with the buzz of sociability.
Lavender Hill Courtyard, Clapham, designed by Sergison Bates Architects, gives a different complexion to build to rent with its secluded courtyards and the thoughtful plan of its backland site.
Vote in the People's Poll here.
_______________________________________________________________________________
Images: Lavender Hill Courtyard, photographed David Grandorge; John Morden Centre, photographed by Jim Stephenson; Courtauld Institute, photographed by Philip Vile; Central Somers Town Community Facilities and Housing, photographed by David Grandorge; A House for Artists, photographed by Apparata. Centre: Warwick University Faculty of Art, photographed by Hufton & Crow.