Users take ownership of small building with big presence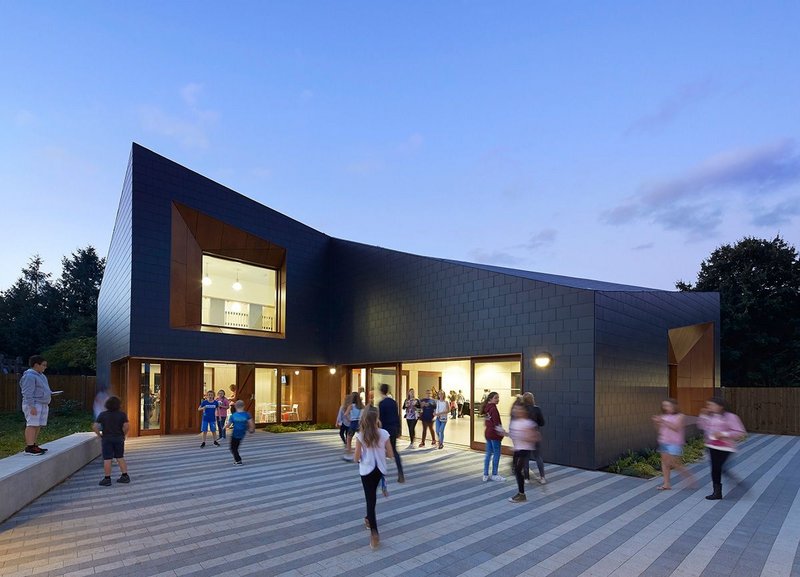 The young people of Tadley helped to design their youth club and certainly know how to use it.

Credit: Hufton & Crow
The Point youth club, Tadley, Hants
Ayre Chamberlain Gaunt
The Point is a new two storey, 410m2 youth club that was designed in collaboration with the young people of Tadley, a North Hants Hantstown closely associated with the nearby Atomic Weapons Establishment at Aldermaston.
The project houses two multi-purpose halls, a music room and recording studio, café, a series of activity pods and break-out spaces, and an outside recreation space.
Basingstoke-based practice Ayre Chamberlain Gaunt designed the building to be a distinctive object on its tight site, with the ground floor opening onto to a spacious paved yard for outdoor activities.
Made of laminated timber sections, the building is clad in dark grey fibre cement, wrapping around the roof and walls to create a seamless mass into which windows and openings are punched. These breaks in the form introduce warmer timber tones through splayed reveals in timber veneered rainscreen cladding. Inside the levels of natural light are good, with diagonal views between the spaces on two levels.
The result is a small building with great presence and scale – its community wanted it to happen, and has taken ownership of it. The building's spaces are now in high demand.
---