A vintage Scandinavian chair is the Groupwork director's isolation workspace for reading and sketching – the practice office is a few floors below. As staff begin to trickle back in, he doesn't see home working becoming a permanent fixture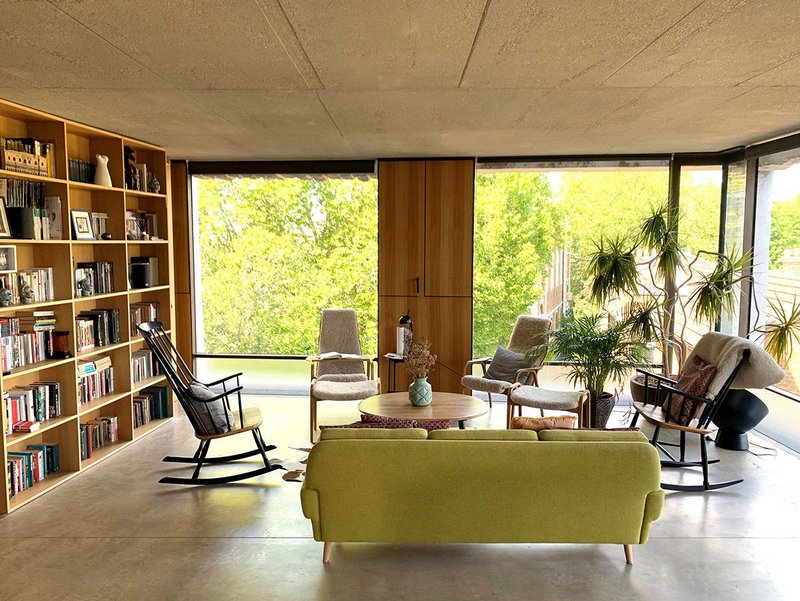 Taha's apartment is at the top of 15 Clerkenwell Close, with the practice office occupying ground floor and basement.

Credit: Amin Taha
These photos are a total cheat because I have the practice office on the ground floor. I work up here in the flat when I am looking after our son; my partner Sarah and I take it in turns. This is one end of the open plan living space; I move my chair around so I can look at different things depending on what I'm doing. I read and sketch mostly, and save the CAD work for the basement. I can be looking into the room, out across the roofline of the City, St Paul's Cathedral and south London. If I turn the chair around, I'm looking at St James's Church which is really close, but at this time of year with all the leaves on the trees, you can hardly see it – just the spire but not the clock underneath. It's a constantly changing view.
The apartment is at the top of 15 Clerkenwell Close. We were living in roughly the same position before we demolished the building to rebuild, so we knew the quality of that. We wanted to make the views as expansive as possible. There's always an argument that architecture doesn't affect your mood and wellbeing. I find that odd, but if you are suffering it's not going to necessarily immediately uplift you.
The floor to ceiling oak bookshelves are a mixture of mine and Sarah's, as well as bits and pieces collected over the years. Before we had closed shelving and would constantly change around what was on show. But here Sarah was keen to have things constantly on display so objects and books catch your eye as you walk past them. I'm not persuaded by open shelves yet, and now you ask I couldn't even tell you what's there! Some of the stuff is inherited, some of it given by relatives and friends – it reminds you of the person.
All the chairs are Scandinavian. The one I am working on was given to us as part of a pair. They are 1956 originals designed by Yngve Ekström made of laminate and called Lamino. They are very old and were falling apart; they've been refurbished and had new sheepskin put on them. On the right-hand side, the lamp is from IKEA. The plant we've had as long as Sarah and I have been together – about 20 years. Its tortured shapes mark where it has grown towards the sun from various positions in flats over the years. The sofa and rocking chairs are old too. They have been refurbished by a friend called George Sharman of Kush Interiors on [London's] Blackstock Road. The sofa has been reupholstered, the rocking chairs have been stripped and revarnished.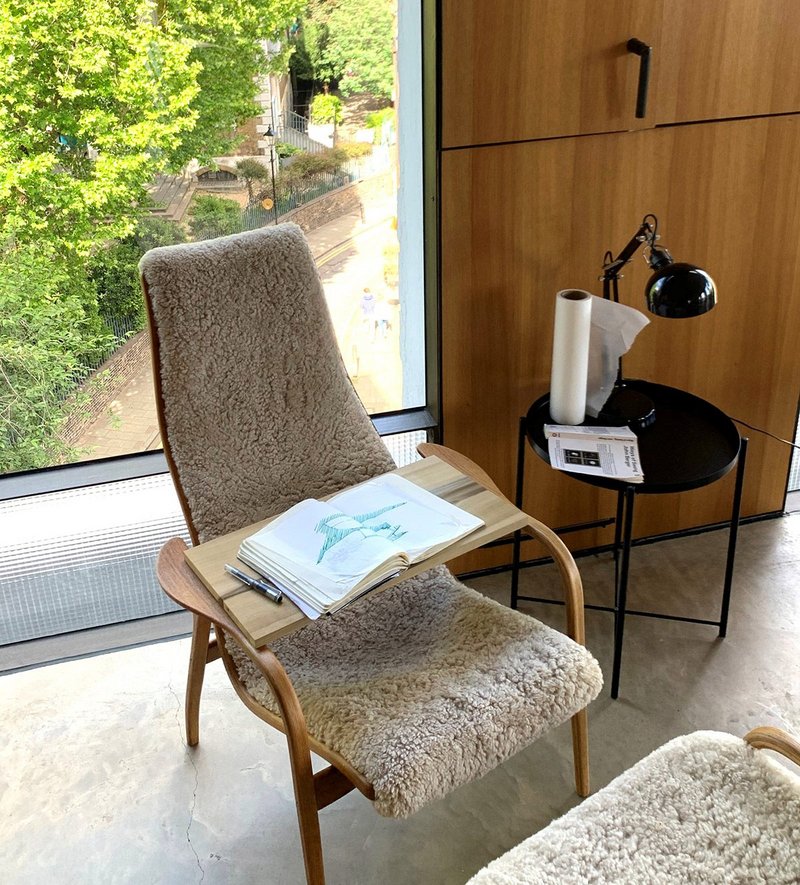 Refurbished 1956 Lamino chair by Yngve Ekström with Taha's sketchbook showing ideas for an Italian farmhouse project.

Credit: Amin Taha
On the bookshelves are a mix of my and Sarah's books. We lived in Cornwall for a bit and some are a library inherited from there. The shelves go around the corner. There is a model of the Doge's Palace, a couple of the drawings are mine. One is of an upturned hand I did while working at Lifschutz Davidson Sandilands, which I took back to Sarah and she said it was about A Level standard so I framed it. There's also a print by an artist friend of Socrates which is normally pinned beside the front door, it reminds you to be open-minded but sceptical, like him.
On the side table is John Berger's Ways of Seeing which I'm reading. In the sketchbook I'm drawing an Italian farmhouse project we're working on. The client, an Italian lady, bought a rundown estate on the Tuscany/Umbrian border that had been left redundant for 50 years. She's replanted the olive groves. The sketch is of some new parts to add to the old buildings. She just called us up with the project one day.
It did go a bit quiet at the start of lockdown but has started up again recently. We had a lot of projects finish last year. Now we have a small hotel in London and a couple of projects in planning. We can see the planning departments have struggled during lockdown. One refurbishment/rebuild house is on site where the small crew could carry on but slowly as getting supplies has been difficult. We occasionally go down to have a look.
How are we working as a practice? It's all Zoom this, Zoom that. There were rumblings beforehand we might all have to work from home so we got a warning. Some things run slightly better like reviews where we can all red-line drawings at the same time whereas in the office it can be only one or two people doing it. Keeping everything going can be a challenge. We have two or three all-present meetings a week and you think everything should be policed in those but occasionally things drop through the gaps. With remote working things rely more on protocol than happenstance.
Half of the office staff cycle to work and they will probably come back to the office earlier, one or two from 8 June. People who come on public transport will probably start again in the office from July, but we decided as a group that working from home on a more permanent basis after all this probably wouldn't work. Jobs fall through the gaps and in the long run distractions at home can mean unintentionally having to catch up on too much. But it's difficult to make all these return to work decisions, how does anyone know what to do and where to find the right information?
As told to Isabelle Priest. Amin Taha is director of Groupwork.
Architects at home is a series where architects let us into their work from home spaces. Click on the links to read about the workspaces of Friedrich Ludewig, Mary Arnold-Forster, Meredith Bowles and Christina Seilern.