Hand Held to Super Scale: Building with Ceramics looks at a flourishing architectural medium and investigates whether the renewed popularity of brick has helped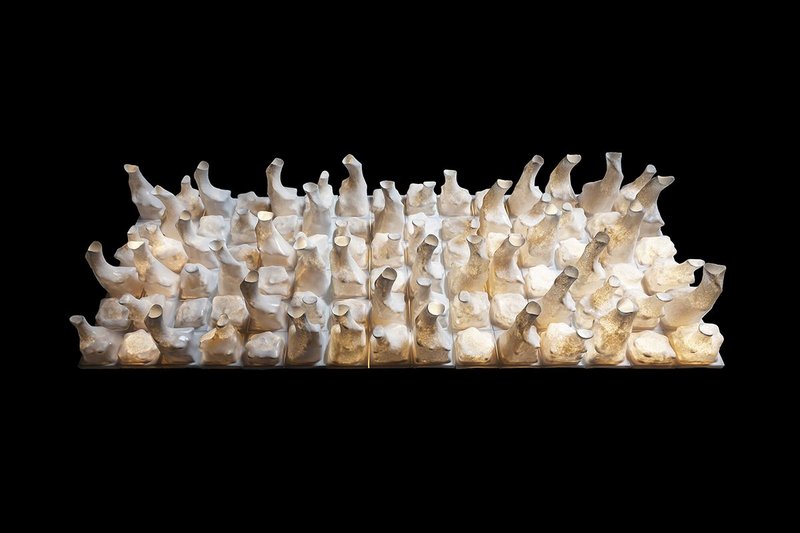 Soundmap by ECALab (Environmental Ceramics for Architecture Laboratory), which uses a porcelain with added glass fibres to give the material light radiating qualities.
Do you know your grog from your slip? Or your greenware from your bisque? You will after visiting Hand Held to Super Scale: Building with Ceramics, which includes a handy glossary of ceramic terms along with plenty of hands-on examples of this most tactile of materials.
According to co-curators Lydia Johnson (of ceramics studio Fettle Studio) and Jenny Watt (Building Centre), there's been a huge rise in the use of ceramics in architecture over the last 10 years, possibly linked to the growth of interest in craft over that time and a response to digitalisation. Perhaps it's also a reaction to the recent surge in popularity of brick.
'With ceramics, you get a sense of the hand-made and its unpredictability. People respond to surfaces when you can see the mould lines, the texture of the glaze and the level of craftsmanship,' says Johnson, who is both an architect (at Citizens Design Bureau) and a ceramicist. 'The challenge is getting that sense of craft into an architectural manufacturing process that's honed for consistency.'
The curators aim to shed light on ceramics making processes, including experimental new techniques, as well as showcasing recent and ongoing architectural collaborations between architects, manufacturers and in some cases, ceramicists. The exhibition, which includes production moulds and films showing the manufacturing, also aims to demystify the production process. These methods, says Johnson, can sometimes be the same regardless of scale, whether for a small object such as a cup or for a cladding panel that forms part of a large surface.
The built projects demonstrate a range of enterprising uses of ceramics. EPR collaborated with ceramicist Kate Malone to create the 10,000 variegated crystalline glazed tiles on its building at 24 Savile Row in London. Eric Parry Architects collaborated with artist Richard Deacon on a ceramic frieze at One Eagle Place, which featured the first use in architecture of a ceramic transfer method developed in the 18th century. Ceramic tiles are a key element of Jamie Fobert's Tate St Ives extension, with a variation in tone designed to blend with the sea and capture the changing light. This was achieved using extruded tiles from Agrob Buchtal with bespoke glazes by Froyle Tiles. Piercy & Co used digitally printed formwork to cast ceramics inspired by quinoa husks for a window installation at Kiehl's Since 1851 in London's Regent's Street. No exhibition on the use of ceramics in architecture would be complete without Grayson Perry and FAT Architecture's House for Essex. For this, Perry made one-to-one scale tiles that Darwen Terracotta used to cast the distinctive tiles on the exterior.
A selection of ongoing projects suggests that architects continue to use ceramics creatively in their buildings. Johnson worked with Penoyre & Prasad and manufacturer NBK to develop the use of ceramics on a learning and teaching centre for Brunel University London planned for 2020. After experimenting with glazes and colour, the final design mixes tiles glazed in a range of tones to give the facade a softly mottled effect.
A bespoke glaze was developed by Metropolitan Workshop for its 27-storey modular housing development for Pocket Living in Wandsworth. The practice worked with manufacturer NBK and local ceramicist Lorraine Rutt to develop the glazing, producing three different profiles of teal terracotta: ribbed, pleated and micro-ribbed.
Feilden Fowles' dining hall at Homerton College, Cambridge, due to complete in 2021, promises to be one of the more spectacular uses of ceramic. This incorporates faience fins, produced by Darwen Terracotta, with mottled patterns reminiscent of something you'd expect to see under a microscope in a petri dish.
Ceramics continue to offer scope for innovation. Those leading the way in pioneering new techniques include Guan Lee with Grymsdyke Farm, and Material Architecture Lab, a centre for experimental ceramic production that pioneers the use of robotic technologies. This includes three-dimensional printed clay produced using extruded lines of wet clay that, once dry, is glazed in the traditional way.
Another pioneer in new forms of ceramics is manufacturer Granby Workshop, a social enterprise set up in Liverpool by Assemble in 2015. As well as experimenting with ceramics made from post-consumer clay waste, Granby has been reinventing encaustic tile-making by combining pieces of differently coloured clays in a mould under extreme pressure. Another of its innovations is BBQ smoked ceramics, in which the earthenware clay absorbs the smoke during the 12 hour firing process. The exhibition shows a tactile range of door knobs that have been treated in this way to give a distinctive smoky appearance and then waxed and polished.