School that replaced architect with D&B contract told to rebuild it to original design and Venice Biennale opens a year late, but don't expect many visitors
A planning inspector has ruled that a new primary school in south-east London, designed by Pollard Thomas Edwards, must be significantly demolished because it was not built to the approved plans.
Lewisham Council hired the practice to draw up plans for the Lady and St Philip Neri Primary School in Sydenham, which were approved by its planning committee. But the project was then taken over by the Archdiocese of Southwark, which used a design-and-build contract with contractor Built Onsite (now Darwin Group) to complete the project.
The ruling could have wider implications for the often-controversial arrangement whereby a scheme's original architect is not novated to complete it, usually so that the client can save money – sometimes by reducing the built quality of the project.
In 2016, the Architects Journal carried out an investigation into how design and build was 'dumbing down design quality'.
It cited the case of the Gatefold Building, a residential scheme in west London designed by Studio Egret West. As with the Sydenham school, once the scheme had won planning, the architect was replaced. It described the building as subsequently being 'value-engineered to within an inch of its life'.
Such was Studio Egret West's displeasure with the finished scheme that it demanded its name be taken off it. However, for the developer, there did not appear to be any wider repercussions.
Recognising this phenomenon, London mayor Sadiq Khan included a reference to architect retention clauses in his London Plan. They are described as a way of ensuring design quality by making sure the same architect is used from start to finish of a development. This was despite government planning inspectors describing such clauses as 'overly onerous'. However, the plan, which took effect in March, only suggests using such clauses rather than making them mandatory.
In the case of Pollard Thomas Edwards' primary school, the council described the finished result as 'low quality, poorly detailed and … harmful to the character and appearance of the local street scene'.
While the diocese had appealed Lewisham's enforcement notice to make changes to the building, the planning inspector backed the council.
The archdiocese countered that the original designs were 'not buildable'. Commenting on the ruling, its director of education said it would not be able to fund a new building and the school might have to close for good. He added: 'The waste of public and charitable funding implied in a demolition and rebuild scenario would be scandalous and wholly unjustified.'
The order to rebuild parts of the school follows the case of the Carlton Tavern pub in Maida Vale, west London, which was demolished two days before Historic England was due to recommend it be Grade II listed.
Westminster Council ordered that the developer rebuild the pub in facsimile to what they had destroyed. The resurrected pub served it first indoor drinks last week following the latest easing of lockdown restrictions.
Pollard Thomas Edwards has declined to comment.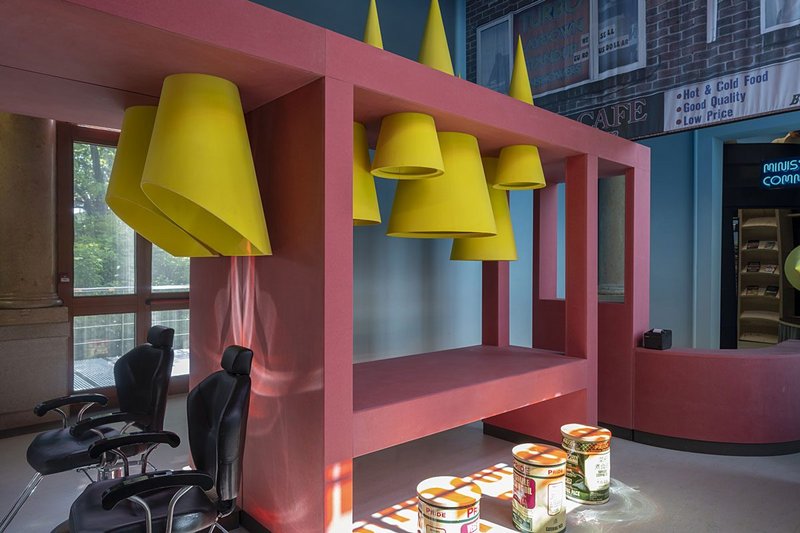 Studio Polpo's High Street of Exchanges installation from the Garden of Privatised Delights.

Credit: Cristiano Corte courtesy of British Council
Venice Biennale opens a year late – but who will be able to visit?
The Venice Architecture Biennale opened at the weekend, looking more like a triennale after it was delayed by a year owing to the pandemic. Just how many people will visit it is another matter as restrictions on travel persist throughout Europe.
Italy is on the UK's amber list, which means the government is advising against all but essential travel there. Anyone from Britain who does visit, would have to quarantine for up to 10 days on their return. Although the event does run until 21 November, by which point the rules may have been relaxed.
One consequence is that the curators of the event's British Pavilion, Madeleine Kessler and Manijeh Verghese of Unscene Architecture, have had to oversee its installation from afar.
Their creation, The Garden of Privatised Delights, explores what they call 'the creeping epidemic' of privatised public space, with five architectural practices commissioned to explore topics such as pubs, high streets and play spaces.
Meanwhile, what would have been Scotland's contribution to the biennale is instead taking place at the V&A Dundee. What if…?/Scotland has been created by Edinburgh practice 7N Architects, which describes it as an attempt to rediscover architecture's civic role.
It commissioned 25 architects, designers and artists to engage with 25 people on projects they would like to see happen in their local community. The exhibition displays the resulting sketch designs along with introductions to each of the locations and the issues that residents identified.
Serpentine Gallery names designer of 2022 pavilion before this year's has opened
Meanwhile in London, this year's Serpentine Pavilion had barely had its foundations poured before the gallery had announced the designer of its 2022 pavilion.
Indeed, this unusually early announcement may in part be an effort to divert attention from those foundations, which have been criticised for using an excessive amount of concrete.
In contrast, US artist and activist Theaster Gates, who will create next year's structure, has a strong record of rescuing discarded materials.
His 2015 installation Sanctum, a collaboration with AN-Architecture, transformed the remains of a Bristol church, using discarded and dormant materials from former places of labour and religious devotion across the city.
Gates, who is a professor at the department of visual arts at the University of Chicago, originally trained to be an urban planner and has also worked as a ceramicist.
Among his best-known work is the Dorchester Projects, which involved him buying and renovating run-down buildings in Chicago and transforming them into affordable housing, community centres and cultural institutions.
His Serpentine Pavilion will be the first in the project's 21-year history to field a structure that is not created by a qualified architect.
Survey reveals architects frustrated by low pay, lack of career progression and long-hours culture
The percentage of architects who feel valued at work has fallen by 9 per cent since the start of the pandemic, BD reports.
New research published by Bespoke Careers suggests that only 45 per cent of UK architects feel appreciated by their employer, compared with 54 per cent at the start of 2020.
And 47 per cent of those surveyed said they planned to leave their job this year.
The main reasons given for dissatisfaction were career progression, and long-hours culture and pay – 47 per cent had taken a salary cut in the past year. The quality of their practice's work was only cited by 3 per cent of respondents.
Bespoke's chief executive Lindsay Urquhart advised practices to take note of the findings if they wanted to retain their best staff in what she said was an increasingly competitive market.
Meanwhile, Arup, the multidisciplinary practice which employs 250 architects, has introduced permanent flexible working for all its 15,500 staff in an effort to improve work-life balance.
They will be able to choose their working hours across the full seven-day week with early mornings and evenings also an option.
It will also allows remote working, asking staff to spend two days a week in the office with the remaining three at a location of their choice.