Dyslexia has been revealed to enhance people's ability to discover, invent and create. It has even been described as a superpower. Helen Castle talks to those working with it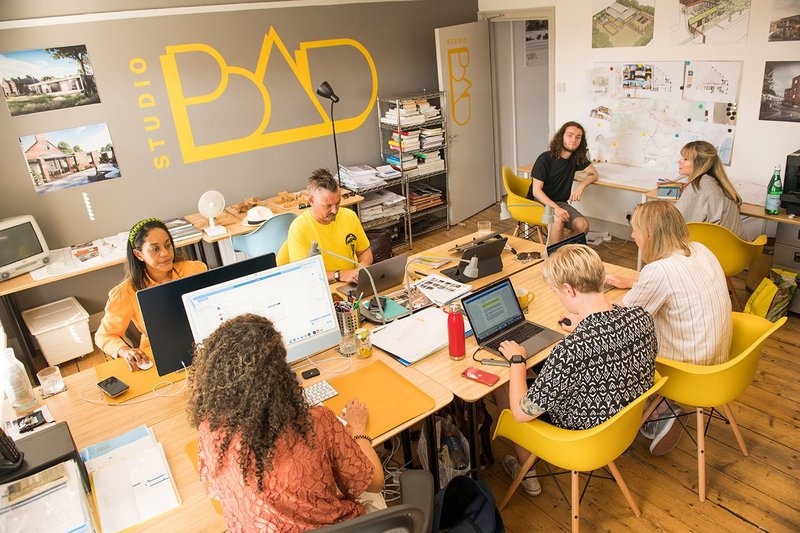 1. Team at Studio B.A.D. Founding-director Darren Bray, who is dyslexic, is in the yellow t-shirt. Photo by Katie Louise of KLC Studios.
Dyslexia is most often diagnosed when people encounter learning difficulties at school, largely with reading and writing. However, this perception of dyslexia as a neurological disorder defined by its deficiencies is shifting. Recent research by Helen Taylor at the University of Cambridge has shown that in an evolutionary context it is a vital tool essential to human adaptive success. People with dyslexia are better at exploring the unknown – and have 'enhanced abilities' when it comes to discovery, invention and creativity.
Areas of enhanced ability described by Taylor include a greater capacity to reason in multiple dimensions, as well as to detect and investigate complex systems, including the identification of patterns and analogies. People with dyslexia also often demonstrate heightened creativity – visualising, connecting and delivering unusual combinations of ideas and innovative thinking.
This explains why people with dyslexia are drawn to professions such as architecture, engineering and entrepreneurism, says Taylor.
No accurate data exists for the percentage of architects affected by dyslexia, although anecdotal evidence indicates that it is higher than the 10 per cent in the general population. Awareness of dyslexia within the profession is strong, with high profile architects such as Richard Rogers having acted as important role models.
Whereas architects with dyslexia once entered the profession despite the academic challenges it presents – you only have to recall those damming Architectural Association school reports from the 1950s highlighted in the media at Rogers' death – firms are starting not only to support dyslexic architects in practice, but to recognise their enhanced abilities for the recruitment and retainment of talented staff.
The dyslexic practice leader: Darren Bray of Studio BAD
Darren Bray regards his dyslexia as his 'superpower'. But it's been a long hard road to this realisation. He left school at 16 with his dyslexia undiagnosed and one grade D GCSE. His passion for architecture was sparked by Roger Tyrell, who employed him on a Youth Training Scheme at his practice in Brixham, South Devon. Bray gained a BTech in building studies at technical college and then applied to the undergraduate course in architecture at Portsmouth, where Tyrell taught. After taking his Part 2 at Portsmouth and working for a number of local practices, he joined PAD Studio in 2007 as technical director. In 2018, he left to found Studio BAD in Southampton.
For Bray, dyslexia compensates for its challenges in different ways, augmenting his work in education and practice. Now a lecturer at the University of Reading, teaching first years, he can have candid conversations with students about neurodiversity and dyslexia in a way that is only possible from lived experience. He also encourages 'activism' in his students and the idea that 'creative problem solving has to come from every walk of life', encouraging them to believe that at the end of their first year every individual can bring something to the table.
Bray has benefited from dyslexia not just in design and conception but in client relationships and communication too. As well as residential projects, he is working with a number of churches in Hampshire on community projects that require concentrated listening, paying attention to the various voices of stakeholder groups. His dyslexia requires him to 'listen twice as hard as everyone else', sometimes having to write it down and draw it to understand. Dyslexia has also attuned him to the strengths of individuals in his team, he says, 'bringing in people with complementary skills and giving them space to explore them. Individuals need to be comfortable to fail and take risks.'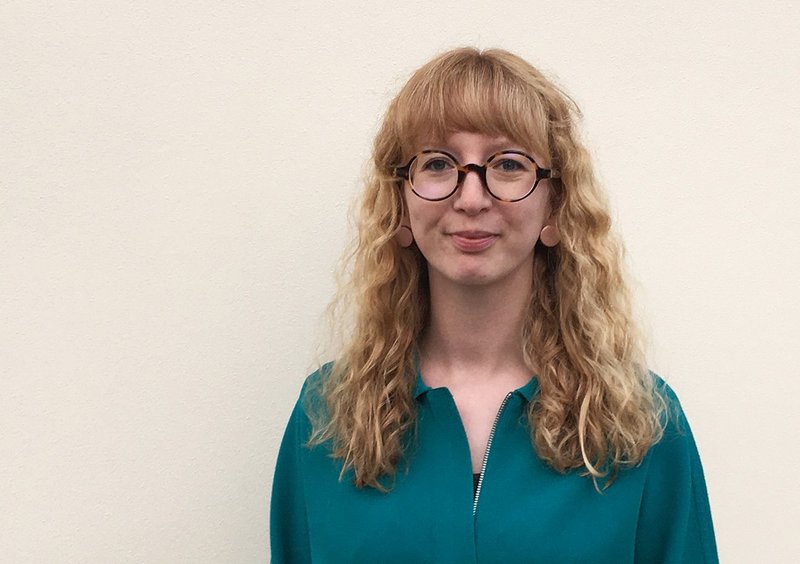 Hannah Durham, RIBAJ Rising Star 2021, recognised for her inclusive approach to teaching at Oxford Brookes during the pandemic, leading to academic excellence.

Credit: Hannah Durham
The educator's view: Hannah Durham of Oxford Brookes University
Hannah Durham shares Bray's view that dyslexia is a 'superpower' and encourages those with the condition to embrace it. A senior lecturer at Oxford Brookes University, whose insights have been informed by working in architecture practice for eight years, she regards architecture as 'a team sport. Architects always work as part of a team, whether as an internal design team within the architecture practice or as a wider team with structural engineers, planners and consultants. Like any team, individuals bring to the table different strengths and weaknesses, and the team strives together towards getting something completed. It is up to the team to make the most of the skills within the group.' She recognises that the enhanced capabilities of individuals with dyslexia, listed by Taylor, are significant for 'informing different ways of problem solving, and often ultimately enable better design solutions. In architecture, difference is highly valuable.'
Durham has been impressed by the support that her own university offers once students have been tested. The support depends on an individual's needs. Access is arranged for text to speech software and audio note taking software. Students are given extra allowance for photocopying and printing and offered one-to-one study support. Having seen some of the benefits of remote learning, the university also records all cohort lectures, which are delivered in person, as do many universities. These are subtitled so students can watch – and rewatch – at their own pace. Once a student has developed effective methods of working with their dyslexia, they go on to achieve their goals.
This presents a positive picture for current students, although Durham warns that even though 'we are getting better, awareness around the full spectrum of dyslexia needs to be considered. The range of strengths and weaknesses of those with dyslexia can vary hugely. Not everyone is the same: dyslexia affects people in different ways. This is also true of other neurodivergent differences.'
Support in practice: Fiona Clark of David Miller Architects (DMA)
'Is there anything you need help with?' is an early question for staff is embedded in DMA 's induction process. It allows the practice to provide individual support from the outset, along with any additional software when their computer is set up.
Practice director Fiona Clark recognises that by the time a member of staff comes to them, they are generally more expert in understanding their own needs and what they require than the practice. So asking and listening are vital.
One colleague who flagged up that he was dyslexic had been diagnosed at the age of five and knew what he needed. He uses standard text to speech software on Word and Siri on iPhone for voice to text, which downloads to another package. He also uses text to speech for technical documents in PDF format, while flexible hybrid working has enabled him to get quiet time at home which is better for dictation and listening to text.
As the Part 3 open exam can be challenging for people with dyslexia working in an open plan office, DMA arranged an alternative space with supervision.
It is also about playing to strengths. As a medium-sized practice of 23 based in London, DMA may have more capacity than a smaller firm but it is conscious of needing to cater to individual needs. Consequently, Clark does most of the bid writing and is available for proofreading of written documents alongside a couple of other colleagues.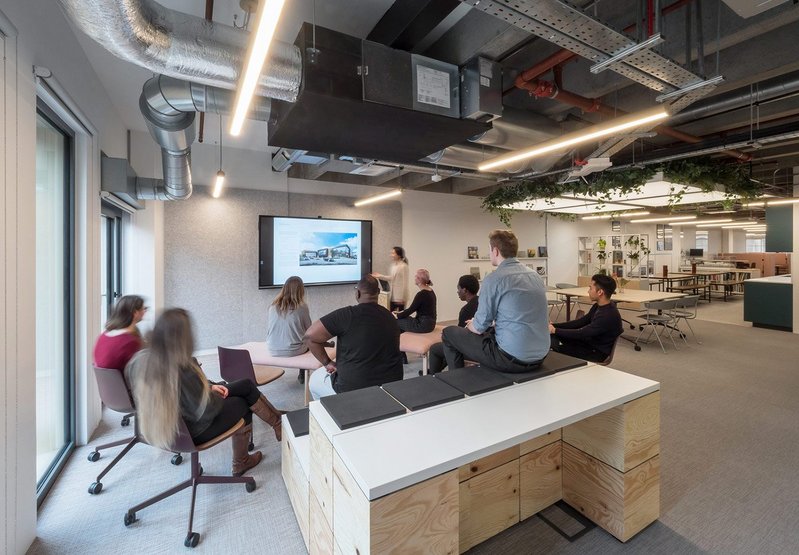 Team gathering for a presentation in HLM Architects' London office.
Identity centred leadership: Karen Mosley of HLM Architects
An employee-owned trust with five UK studios, HLM Architects has a long track record of developing its staff through its in-house academy. It has also spearheaded alternative routes into practice as part of the Trailblazer Group that developed Architectural Apprenticeship Standards. Its managing director and diversity, inclusion and belonging lead is Karen Mosley, who started working for HLM at the age of 17 on a youth training scheme. She has used her experience of working her way up to senior leadership to inspire others and help to remove barriers for people to succeed.
It is no surprise that HLM is one step ahead in its approach to inclusion. This autumn it is launching an Identity Centred Leadership programme for staff with D&I thought leader, neurodiversity coach and author Helen May. May, who was diagnosed with ADHD only after her son's diagnosis, is passionate about inclusion. 'Get it right for neurodiversity, you'll get it right for everyone,' she says. 'Everyone has a unique contribution to make and focusing on individual identity shifts how we think about leadership. It is a matter of leading with courage and curiosity and getting to know people who are different from you.'
With hybrid working, Mosley points out, 'it has become more critical that leaders, as spotters and supporters of talent, counter the challenges of remote working'. This requires fostering a 'culture of curiosity' through 'nurturing and mentoring in project teams' and 'cascading the responsibility of ensuring that everyone feels they belong'.
It is about retaining and supporting staff – and competitive advantage in a war for talent. Mosley recognises people with dyslexia as being among the most innovative, going on to say: 'There is a finite talent pool with one in five believed to be neurodivergent, who are 30% more productive.' This has also changed how HLM approaches recruitment, overturning the traditional view of such things as 'good eye contact and a firm handshake' at interview stage. At induction stage, the access to support and unique skills are emphasised and 'it is ensured that individuals have a passport when they move around teams, so they can remain supported'.
Architecture is at a crucial watershed in its provision for those with dyslexia and other neurological conditions. In the words of Mosley: 'No practice can afford not to open their eyes and mind.'
Helen Castle is publishing director and chair of the Enable community group at RIBA
Dyslexia Week 2022, 3-9 October. This year's theme is 'Breaking through barriers'