The renowned History of Architecture has been thoroughly updated by 88 experts under editors Murray Fraser and Catherine Gregg, in a project shortlisted for the President's Awards for Research. How did they go about it?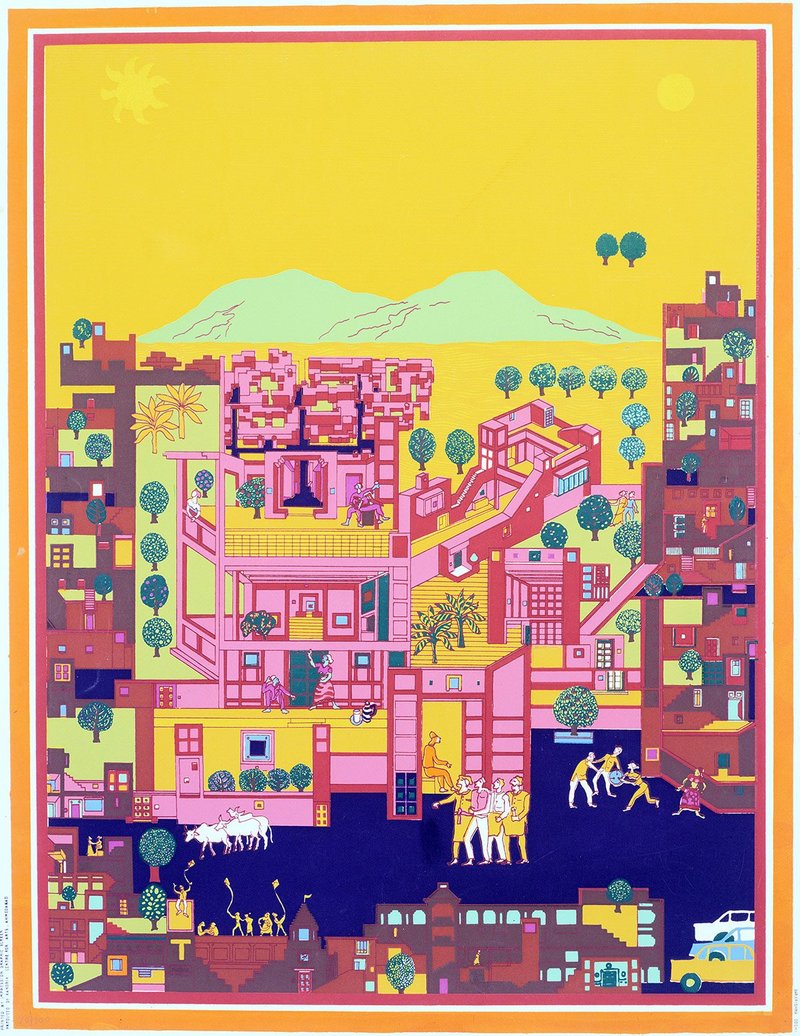 Balkrishna Doshi's concept drawing of his urban masterplan for Vidhyadhar Naga in Jaipur, Rajasthan, India (1980). For this 1980s new town just outside Jaipur, this drawing by B.V. Doshi alludes cleverly to the latter's reputation as 'the pink city'.

Credit: RIBA Collections
Any work that achieves the status of a 'classic book', is always in danger of turning into an albatross around one's neck. Such was the risk with Sir Banister Fletcher's A History of Architecture, a long-lived title that we were asked to rethink anew for contemporary readers.
First published in 1896 by the then-elderly Banister Fletcher, professor of architecture at Kings College London, and his son, Banister Flight Fletcher (knighted in the 1920s for services to the City of London), A History of Architecture soon became such a standard text that it was known simply and eponymously as 'Banister Fletcher'. Not just every architect in the English-speaking world, but seemingly every educated person, would be likely to own a copy. Famously given by family as a present to those about to embark on architectural studies, the standing joke was that no student ever actually opened their copy.
Renowned for its striking line drawings (often cannily sourced from other authors), the text was serious and learned from the outset. Yet although later editions gradually expanded their content, Banister Fletcher had never been comprehensively re-written since the 1920s. Its descriptive manner, often lapsing into lengthy lists of examples of a particular architectural style or type, became increasingly old-fashioned when compared to evolving modes of scholarship. Coverage was also uneven: fulsome when it came to (say) medieval English cathedrals, weak on non-Western architecture, and with relatively little to say on buildings after 1800 anywhere.
The deepest flaw of Banister Fletcher was its Western-centric and indeed colonialist mentality
The deepest flaw of Banister Fletcher, however, was its Western-centric and indeed colonialist mentality. The first edition was steeped in the myths of empire of the late-Victorian era, and as such sought to offer reassurance of British superiority. It discussed nothing outside Europe and the Ancient Middle East. The fourth edition of 1901 included some other architectural traditions but only under the dismissive title of 'The Non-Historical Styles'. Indeed, non-Western architecture was notoriously caricatured as the stunted lower branches on the 'Tree of Architecture' drawn by Banister Flight Fletcher for the 5th edition in 1905 and then updated slightly for a subsequent edition in 1921.
This deluded sense of cultural supremacy was partially tackled by later general editors through to Dan Cruickshank, who oversaw the centenary 20th edition in 1996, although their good intentions did little to resolve the fundamental problem. With this in mind, John McKean, when appointed general editor in the mid-2000s, planned a post-colonial reworking of Banister Fletcher. However, this edition never materialised, and since then post-colonialism has become increasingly absorbed into broader concepts of globalisation.
This is where we enter the story. A tentative discussion to reinvigorate Banister Fletcher began around a decade ago between Irena Murray of the RIBA's British Architectural Library and Adrian Forty at the Bartlett School of Architecture. The project was embraced by the relevant parties in the University of London and RIBA, as trustees of a bequest in Banister Flight Fletcher's will. Tom Dyckhoff was asked to develop the initial ideas for a 21st edition, a process which we then took over, with the totally transformed new edition being published at the end of 2019.
The book is pointedly retitled as Sir Banister Fletcher's Global History of Architecture, the text is completely rewritten and we have deliberately altered the ethos through three crucial changes
In our respective roles as general editor and managing editor, neither of us had previously expected to be involved in compiling a major global survey of architectural history. But we were both keen to redress the Western bias of the work, a prejudiced viewpoint that still regrettably afflicts much of the field of architectural history. The more we thought about it, the more we realised that especially in this age of ubiquitous and excellent scholarship in architectural history – with the English language now accepted as the unifying feature – there was a pressing need for a clear, up-to-date worldwide framework. With the book pointedly retitled as Sir Banister Fletcher's Global History of Architecture, the text is completely rewritten and we have deliberately altered the ethos through three crucial changes. Over half of the text is now given to non-Western architecture; a wider spectrum of drawings and photographs is included to enrich the older visual material; and every chapter is written by a leading expert on that particular topic, overturning the previous Banister Fletcher policy of using a falsely singular authorial voice throughout.
The outcome is substantial: 1 million words in two volumes containing 102 chapters written by 88 experts from around the world. Using seven fluid chronological periods since 3500 BCE, we selected a keyword to convey a major aspect of each period: sequentially, these keywords are intentionality, internationality, ideology, trade, empire, manufacture, and modernity. The 21st edition represents the most comprehensive and in-depth survey of global architecture to date, serving as a supplement to the myriad contributions of architectural historians of all countries. To increase its reach, the book is also available online via the Bloomsbury Architecture Library. Whether read on page or screen, our authors provide a more internationally diverse portrait of the historical development of all architectures than is available from any other source.
---
Global Perspectives on Architectural History: Reformulating Banister Fletcher for the 21st Century was shortlisted for the RIBA President's Awards for Research.
See the other winners of President's Medals and President's Awards
Read the RIBA Journal's review of the new Banister Fletcher