How do great architecture clients think? As the RIBA Client of the Year 2023 Award shortlist is announced, we get an insight into what the individuals behind these award-winning buildings wanted from their architects
The RIBA's shortlist for Client of the Year 2023 has been announced. Four projects from across the UK show what flair, dedication and persistence in commissioning architecture can achieve. On the shortlist are East Quay, Watchet, on the north Somerset coast; A House For Artists in Barking, east London; the F51 Sports Park in Folkestone; and St Hilda's Church and Kirkleatham Parish Centre in Redcar.
To get an insight into the process – so architects can understand the thinking of brilliant clients, find their projects and recognise when they come across them – we asked each of the clients a few simple questions. Through them we learn about holding your nerve, preparing for the unexpected, presenting to the church community at a parochial church council, compromises and constraints and shared vision. We also learn about their unconventional appointment processes and how they search for talent.
East Quay, Watchet, by Invisible Studio with Ellis Williams for Onion Collective CIC
East Quay, Watchet Invisible Studio with Ellis Williams for Onion Collective CIC
Georgie Grant and Jessica Prendergast of Onion Collective CIC, which commissioned the art gallery, work and makers space and centre for the community of their town
How did you start your hunt for an architect?
We were keen to find an architect that had a fresh and interesting perspective and that expressed a deep sense of connection to community and landscape through its work. We wanted to find a practice that used buildings and the built environment as a language to describe a world that we wanted to be part of our future. So we searched for articles on 'young and upcoming architects' we read interviews and we talked to a few architectural journalists for recommendations. We put together a shortlist based on a collection of practices that seemed to have in their work similar ambitions to those that we had in our work. Our shortlist was Assemble, AOC, Studio Weave, Nudge and, of course, Invisible Studio.
What do architects need to know about a client's priorities in commissioning a good building?
For us, it was really important that Piers Taylor of Invisible Studio understood what change we wanted the building to help us deliver. We were – still are –ambitious for our building. We wanted it to help change social mobility in our hometown. We wanted it to be a place where people can gather, be inspired, debate, laugh, relax and leave feeling that they could do whatever it is they want to do. We wanted the architecture to be interesting enough, playful enough, that it would attract people from far and wide, but also comfortable enough for locals to feel like it was theirs.
As an arts centre, the building works on a practical level in terms of delivering cultural activities, but also on an emotional level in terms of wanting people to feel creative, to have agency. We are constantly wanting the building to do multiple things for us. We want it to be welcoming, making people feel warm and relaxed, but we also want to challenge people and encourage curiosity. We want it to be of the town, but to also see the future of our town through a different perspective, we want it to feel timeless and also feel as though change is possible.
So, we were asking a lot of our architect. But, I think that's where we were very lucky in finding Piers. He was as interested in our conversations about our ambitions as we were. I think he enjoyed the complex nature of what we were expressing and recognised the messy human-ness of contradiction. And he found a way of expressing that through architecture. He was willing to take the journey with us to understanding what those ambitions looked like in visual language.

What are the ingredients to commissioning such a great building?
We like to say that it takes a village to build a building. In the same way that a variety of plants is best for the gut, a diversity of perspectives is good for a building. So, the key to this is spending and investing a lot of time in conversation with different groups of people all the way along the process. To begin with, we ran three months' worth of community conversations in the town, holding over 10 workshops with different community groups in different venues, holding stalls at markets, and running questionnaires and comment boxes.
Then every year until planning (four years) we went back out to the community with the designs as they were then and discussed them, voted on elements, debated and changed things. What happens when you do that is that, firstly, you build a core group of advocates in the community who become like champions and help disseminate the ideas throughout their friendship and family circles. You gather information about what happened before and what worked or didn't work over time, and you also get to collect beautiful stories of that place that help to add context and richness to your building.
But developing this kind of building is really hard and, as a company, we talk about resilience a lot. Things go wrong that are beyond anything that can be controlled (Brexit, Covid, a harbour wall breaching, the consequences of Grenfell etc) so an important ingredient to coping with all this is adaptability – the ability to accept whatever crisis is facing you in that moment, holding your nerve and adapting.
If you want to change anything, almost everyone will tell you that you can't, that it's impossible. If you believe in it enough and you have planned well and done the hard work, then hold your nerve. Extraordinary things do happen, East Quay is all the proof you need.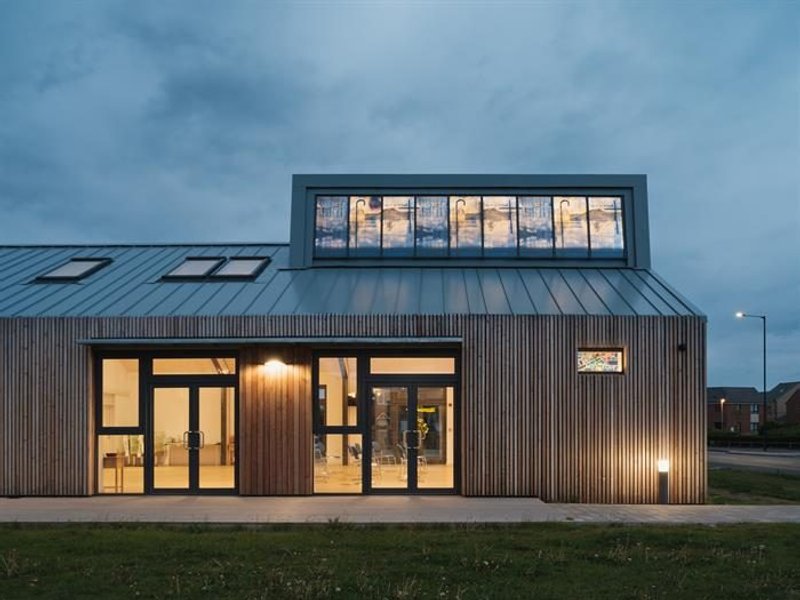 St Hilda's Church and Kirkleatham Parish Centre, North Yorkshire

Credit: TIm Crocker
St Hilda's Church and Kirkleatham Parish Centre, Redcar Chance de Silva for Kirkleatham Parochial Church Council
Rob Nightingale, churchwarden of St Hilda's Church, Kirkleatham Parish, which commissioned the joint church and parish centre
How did you start your hunt for an architect?
Although Kirkleatham Parish had been considering the replacement of our building for a number of years, in 2013 we began to consider this in earnest. After discussions with the York Diocesan Advisory Committee (DAC), a brief was formulated for the new building. It was agreed with the DAC that a competition be set up in 2014, and six architectural submissions were received. The parish and the DAC agreed upon a shortlist of two practices.
The DAC's advice was that we should have the two firms make presentations to the parochial church council (PCC) and that we appoint the firm we felt we could work with best. Each architect attended only the part of the meeting allocated to their presentation. Steve Chance and Wendy de Silva (Chance de Silva) won the hearts of the church members with their ideas, including their wish to encapsulate the heritage of Redcar and the North Yorkshire area, and also wanting to involve the parishioners in some initial decision-making.
What do architects need to know about a client's priorities in commissioning a good building?
At the onset, the architect must understand the brief fully or, where necessary, formulate a brief with the client. Architects need to be ready to compromise their ideas where projects are wholly or partially dependent upon grants and fundraising. The client should be totally open about the constraints so that the architect's adaptations are still in keeping with the rationale behind the architect's plan.
What are the ingredients to commissioning such a great building?
There needs to be a very good working relationship between client and architect. We had this in abundance with a friendly, professional approach where mutual trust was built in the early stages. It is vital to gather together a team of people who are not only competent in their respective fields but also totally invested in the project. The architect and client need to work together to appoint a construction company with the relevant experience for the project. The consultants appointed should be well researched by the architect, always keeping the client in the loop.
The ability to adapt a design without comprising the overall ethos behind the project is essential. As Covid struck soon after our construction began, patience was a virtue needed by all involved in the scheme.
Find out more about St Hilda's Church and Kirkleatham Parish Centre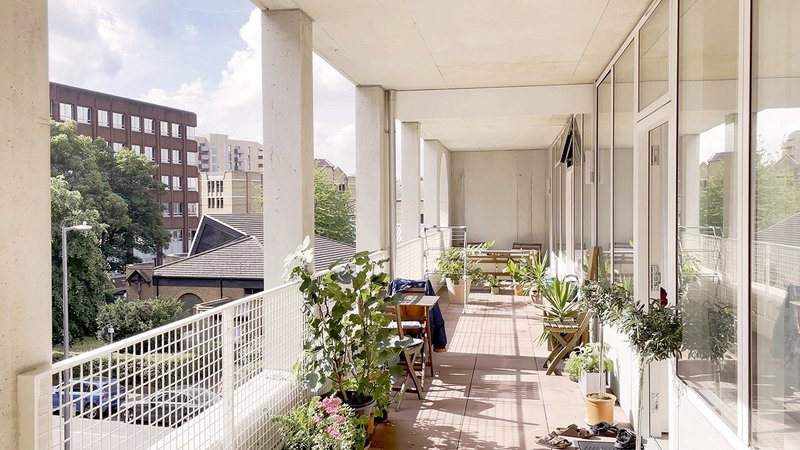 A House For Artists, Barking, east London, by Apparata Architects
A House For Artists, Barking Apparata Architects for London Borough of Barking & Dagenham; co-commissioned by Create London, delivered by Be First, and supported by the GLA
This Stirling-shortlisted live/work space for artists was a collaborative project. It had a many-headed client, including the London Borough of Barking and Dagenham, Create London, the GLA and Be First. Here Create's Marie Bak Mortenson, Jacob Willson of Be First London and Ann Marie Peña of Barking and Dagenham answer our questions
How did you start your hunt for an architect?
The brief was developed following a thorough research of comparable live/work artist spaces internationally, as well as a clear understanding of the Barking and Dagenham context, the proposed site and the requirements and desires of the council. A key objective was to offer a significant public commission opportunity for emerging and talented architects. This is something that is very rare compared with the heyday of the postwar-era London County Council, where a series of highly successful public buildings were designed by architects in their late twenties and early thirties.
Seven small London-based practices were invited to propose concept ideas, and they all responded. Apparata's proposal stood out, offering a third dimension to the brief which already consisted of the ambition to combine live/work spaces with a public-facing community hall. They brought in the idea of optional co-housing and a flexible layout that would allow artists to alter their flat to different living situations, changing it from a one-bed to a two-bed if needed.
What do architects need to know about a client's priorities in commissioning a good building?
For socially engaged and publicly funded projects such as this, it is important for architects to have a grounding in the local context to ensure they understand how any changes within the community can impact or alter priorities. A House for Artists is directly linked the council's wider aspiration to create a fertile and supportive grounding in the borough that allows artistic communities to flourish and grow.
However, the scheme was also developed during a turbulent time which saw immense social, health and economic pressures affect both the timeline and the very nature of the project. As this project evolved over a period of six years, the council was undergoing a period of transformation where it was forced to quickly adjust its priorities to meet new challenges within the local community. In tandem, the architects had to sensitively adapt their work to respond within this complex wider context.
What are the ingredients to commissioning such a great building?
Investing energy and time upfront in a project brief is critical for the success of a great building. Time spent here enables the client to clearly express their project ambition, creating a solid platform for young and emerging practices to respond. The commissioning team are looking for a bold and deliverable proposal that can create a shared vision. Trust in a shared vision across both architect and client is essential in the commissioning of a building such as A House For Artists. Despite the obstacles faced, what has remained steadfast in seeing this project through is a shared ambition to innovate within the social housing sector, and to support creative practitioners to engage more broadly within the wider community.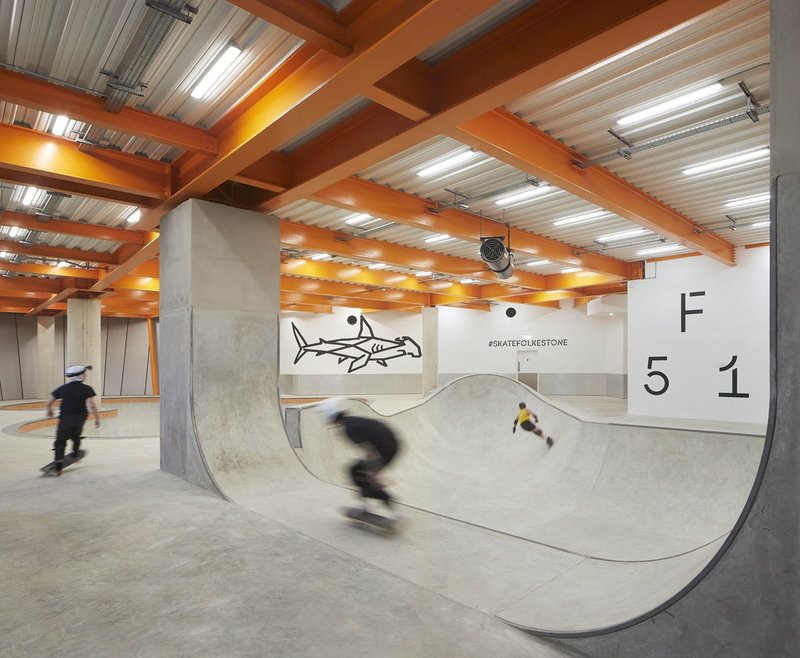 F51 Sports Park, Folkestone, Kent, by Hollaway Studio

Credit: Hufton+Crow
F51 Sports Park, Folkestone Hollaway Studio for The Sports Trust
Dan Hulme chief executive of Folkestone-based The Sports Trust worked closely with Sir Roger de Haan on commissioning the Sports Park from early plans for a car park, including a relocated skate park to the multi-sports offering in a dramatic aluminium ark with protruding bellies of the concrete skate bowls
How did you start your hunt for an architect?
We worked with the Holloway Studio before the Sports Park, remaking a run-down pavilion so it worked for both hockey and cricket. It looks both ways towards each pitch and is very impressive; since then the clubs have all grown.
Holloway Studio is local and proved to be strong on community. We were not just looking to build; we wanted a partner to understand community and the foundation's needs.
What do architects need to know about a client's priorities in commissioning a good building?
The skatepark was a chance to be ambitious. Like the pavilion, it had different users who needed to be brought together: the skate park and boxing club. As the design emerged, a climbing wall was also added. Sir Roger de Haan, who was closely engaged as a client with the foundation, wanted an iconic building. And we also had to deal with the operational challenges of staffing different levels and bringing different activities together.
Sir Roger is very passionate about regenerating his home town of Folkestone and remains deeply involved with the projects he supports.It is important therefore for the architect to understand that this isn't a normal commercial or community building but something that needs to provide a lasting legacy with an iconic building for the town both for the sports community but also for the town at large.
It was all about creating a whole-life journey through sport in Folkestone, from five-year-olds trying out skating to Olympic contenders. The architect really does buy into the fabric of the town and had a great relationship with Sir Roger. That relationship continued throughout, extending to local contractors, which was important as there were lots of firsts, such as suspending the concrete skate bowl.
What are the ingredients to commissioning such a great building?
The key ingredients are community buy in that drives the need for the project, a client team that fully buys into this and an incredibly generous funder who not just provided the funding but the expertise and energy to ensure this came to fruition. It is not a normal project and whilst it had its fair share of challenges throughout, none more so than the global pandemic, the entire team from funder to contractor all bought into this project. Without that team ethos and support this building would not have come to exist as a world class home for developing sports for years to come. The charity had been set up for several years so had good relationships. And despite being in the centre of town, the site had little overlooking, so we didn't have to deal with negativity about the project. We could create a space that is not just a box. Sir Roger had the passion and drive to create something special and the architect was fully engaged with that vision. What was amazing was that this building was an investment in the town, so the costs don't have to be clawed back. It is a hub for the young and we have 25,000 new people who have come into the town to learn sports skills.