David Hare might consider Alison Brooks' Hampstead house an 'elephant's backside', but it's on Lendlease and Peabody's Thamesmead masterplan team. Meanwhile NeoBankside residents go one more round with Tate Modern and City plans for office-to-resi would triple its homes count. And RSHP defends China airport job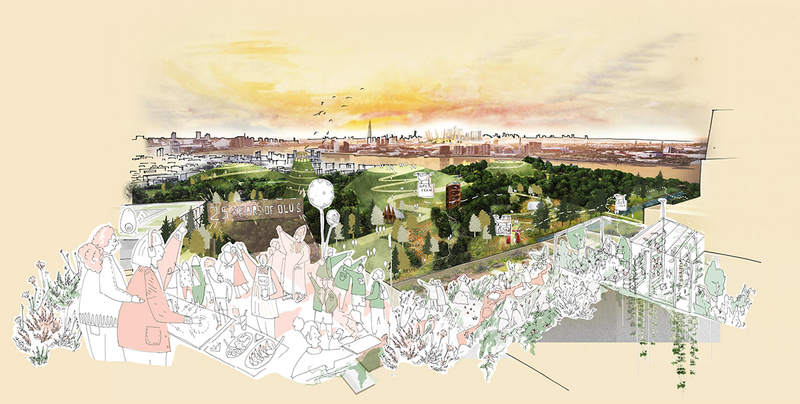 New strategic planners have been appointed for 100 acres of Thamesmead Waterfront.

Credit: Thamesmead Waterfront
It's been an exciting few days for Alison Brooks Architects. Not only is the Stirling Prize-winning practice part of the team picked to masterplan the £8 billion Thamesmead Waterfront development, it has also rattled the cage of one of the country's leading playwrights (see below).
It will work on the Thamesmead scheme as part of a winning bid led by urban design and masterplanning practice Prior & Partners. The team also includes Arup, West 8, JA Projects, Turner Works and Marc Koehler Architects.
The competition encouraged collaborations with 'smaller, diverse practices and those with local knowledge' and its organisers are trumpeting the fact that 12 of the firms on the winning team are SMEs, while five are 'microbusinesses' employing fewer than 10 people.
The vast project is a joint venture by Lendlease and Peabody, the housing association that took charge of the whole Thamesmead area in 2014. It will develop 100ha of unused land along the Thames waterfront, creating at least 11,500 homes as well as commercial and leisure space.
Thamesmead was built in the 60s and 70s, but despite its waterside setting soon gained notoriety as an unattractive mega housing estate, stuck out on a limb with poor public transport links.
Its reputation wasn't helped by its use as a location for Stanley Kubrick's 1971 film A Clockwork Orange. Note to developers, if you want your new residential project to thrive, consider not offering it for use in a film depicting a dystopian future. (Though, thinking about it, Poundbury would make an excellent setting for such a film.)
Despite this, Thamesmead is now home to around 45,000 people, who should soon feel a whole lot more integrated with the rest of London. A proposed DLR extension has received preliminary funding, while Crossrail will serve nearby Abbey Wood station, halving journey times to central London, and may even have opened by the time the new development is complete.
Playwright likens Brooks house to elephant's backside
Meanwhile Alison Brooks is involved in a different kind of jumbo project in Hampstead, north London. Her design for a house in Frognal Gardens has been recommended for approval by Camden planners despite leading playwright David Hare likening it to an 'elephant's backside'.
The eye-catching three-storey proposal is covered in green tiles, and features a series of balconies and external planted spaces.
The planning officers accepted that the colour deviated from 'the contextual colour palette' but argued that 'the exemplary quality of the architecture and robust contextual materials mean the building would contribute to Hampstead's tradition of innovative design'.
That was not a conclusion shared by Hare, author of a string of acclaimed National Theatre productions and political TV dramas.
In a joint letter to the council from Hare and his wife, fashion designer Nicole Farhi, they wrote: 'This proposed development is hideous – a big elephant's backside with nampy-pampy balconies which belong on a Tyrolean fairground ride.'
They also described it as 'an unholy mix of the gargantuan and the twee'.
This is not to say, they stressed, that they were in any way against architectural innovation: 'We are both enthusiastic admirers of modern architecture, particularly in NW3 where the mix of the old and the new is very rich.'
Councillors were set to make a final decision on the scheme last week but ran out of time with their ruling now delayed until June.
Hare tackled the subject of architects in his 2016 adaptation of Henrik Ibsen's play The Master Builder. This starred Ralph Fiennes as a rich, successful architect who, in Hare's words, 'loses faith in God, gives up designing sacred buildings and chooses instead to make domestic ones – only to find making homes equally unsatisfactory'.
Could it be that his work on that play somehow tainted his views of architects and their work?
NeoBankside/Tate Modern case goes to Supreme Court
Imagine you've bought a £2.2 million flat at NeoBankside, the Stirling Prize-nominated Rogers Stirk Harbour-designed apartment block by London's South Bank, particularly attracted by the expansive floor-to-ceiling glazing, providing a window on the world and letting you observe the little people as they get on with their lives below.
Except, in a Twilight Zone-style twist, it turns out it is in fact you who are the exhibits, gazed upon from even higher as an art installation, coyly titled 'Viewing Platform', part of Tate Modern's 2016 extension, designed by Herzog & de Meuron.
What do you do when you learn the joke's on you? If you're rich enough to afford a NeoBankside flat, it seems you are also able to finance a long-running legal battle, to try to force the Tate to close off said platform. After having their case rejected, first by the High Court, then the Court of Appeal, the aggrieved residents have now been given permission to take their case to the Supreme Court.
What might give them hope that they're not pouring good money after bad is that the Court of Appeal rejected the original High Court's argument for siding with the Tate, coming up with its own different reason.
While the High Court said that by moving to NeoBankside, its residents had 'created their own sensitivity', the Court of Appeal ruled that 'mere overlooking' did not constitute a nuisance. The three Appeal Court judges said any ruling against Tate could have 'opened the floodgates' to claims in every single case where a new building is near an overlooking balcony.
Nevertheless, if two courts can disagree like that, surely it's worth putting on a punt on a third court coming up with an entirely different conclusion. The residents' solicitor has argued that the Appeal Court's arguments are flawed and contravene human rights.
RSHP's Shenzhen airport
Rogers Stirk Harbour + Partners is the latest to have to defend an airport project with its latest commission.
It has won a competition to design a terminal at Bao'an International Airport in Shenzhen, China.
With air travel a major source of carbon emissions, working on airports has generally been frowned upon by environmental campaigners; while China's human rights record has recently been in the spotlight after UK government implemented sanctions due to its treatment of its largely Muslim Uyghuir population, including alleged genocide.
The practice taking on such a project is hardly unique, though. Two weeks earlier a Grimshaw-led consortium won work on a new integrated transport hub for the same airport, for which shortlisted architects included Fosters and BIG, while Zaha Hadid Architects' Beijing Daxing International Airport opened in 2019.
RSHP's 400,000m2 terminal is designed around a 10,000m2 central garden space and will have capacity for 31 million passengers a year.
Defending the project, senior partner Ivan Harbour said that, as a signatory to Architects Declare, the practice believes 'it's more important to be sitting at the table and influencing the shape of infrastructure that is likely to be with us for generations, ensuring this is built and operated to the highest possible environmental standards'.
City of London looks to turn surplus office space into housing
Last month I speculated that the increase in high-rise office buildings coming at a time when office space was falling could lead to existing offices being converted into homes.
Less than two weeks later, the City of London Corporation has announced its intention to encourage exactly that, saying it would like to create 1,500 homes this way by 2030.
As office space dominates in the City, it has only has 7,850 homes with a tiny residential population of around 9,000 – of which 4,000 live in the Barbican – so this is quite an increase.
The corporation has also said that cultural and creative businesses will be encouraged to move to the City through low-cost rents in little-used spaces. Previously such companies have found themselves priced out of the area.
The suggestions come from a report published by the City's Recovery Task Force, which looked at how the City could best adapt to 'post-pandemic economic and social trends'.