Counterspace's Serpentine Pavilion wins critics' plaudits – though the client's 'carbon negative' claim for the concrete structure fails to convice. More sustainably, ZHA announces designs for Italy for truly zero carbon transport hyperloop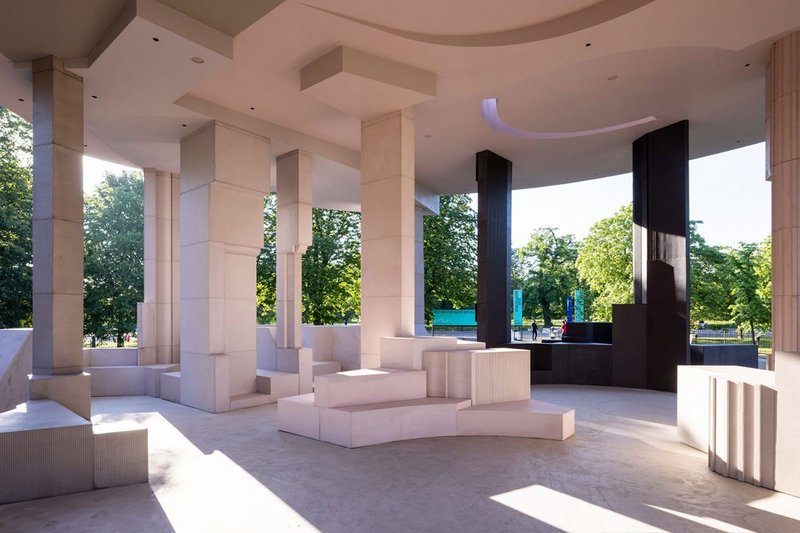 Serpentine Pavilion 2021 designed by Counterspace.

Credit: Iwan Baan
A year later than originally scheduled, the latest Serpentine Gallery summer pavilion has opened, designed by South African practice Counterspace. It has received extensive coverage in the national media with an overwhelmingly positive response, despite criticism over the large amount of concrete used for its foundations – more of which below.
There was much praise for its efforts to be more outward-looking than previous pavilions. While Counterspace's founder Sumayya Vally is South African, she spent several months exploring London and, in particular, areas significant to immigrant communities, as discussed in a RIBAJ interview, all of which has informed the design in what Jonathan Morrison of The Times calls a 'subtle, elegant agglomeration'.
And in addition to the main building, four smaller satellite structures have been scattered across the capital, including stages and shelving units, with the idea that this will make the pavilion more inclusive by not restricting its enjoyment to the rather limited demographic of those who visit Kensington Gardens.
Of the pavilion's design, RIBA Journal's Chris Foges writing in the Telegraph says it brims with ideas and is 'more welcoming than some earlier pavilions'. Robert Bevan in the Standard calls it 'splendid', describing its interior as 'a continuous surface of seats and shelves, columns and slots'.
For Edwin Heathcote in the Financial Times it is 'undeniably elegant... brutalist moments mix with delicate classical cornices', while Morrison in the Times says it resembles 'an art deco riff on a doric temple', but not, he stresses 'a temple of woke' – possibly in a vain attempt to pre-empt some of the below-the-line comments to his piece, which object to its references to immigrant communities.
Only the AJ's Rob Wilson appears underwhelmed, calling it 'surprisingly soulless and unsensual'.
Do carbon-negative claims stand up to scrutiny?
There was a danger that all Counterspace's achievements would be overshadowed by the pavilion's use of 85m3 of concrete in its foundations – somewhat contradicting the Serpentine's recent pledge that 'ecology will be at the heart of everything we do'.
Unveiling the pavilion to the press last week, the gallery was quick to present a counter-narrative: that the pavilion was in fact carbon negative – 'largely due to the reused steel'.
Architect, engineer and sustainability campaigner Maria Smith was highly sceptical of this claim. By her estimate its production would have emitted between 15 and 20 tonnes of greenhouse gases.
Writing in the Architects' Journal, she said that to be carbon negative it would need to have 'incorporated enough materials that remove carbon dioxide from the atmosphere, such as timber and cork, so that there is less carbon dioxide in the atmosphere overall than there would have been had the pavilion not been built. Reusing steel does not achieve this.'
Meanwhile, the Guardian's Oliver Wainwright wondered why a permanent foundation could not be built on the site that each year's pavilion could work with. The gallery has apparently dismissed this suggestion, saying Royal Parks requires the lawn be returned to its original condition each year, adding – tellingly perhaps – that a fixed foundation would preclude innovation.
But doesn't its stance also belie the very essence of architectural innovation – that it is all about working around existing restrictions.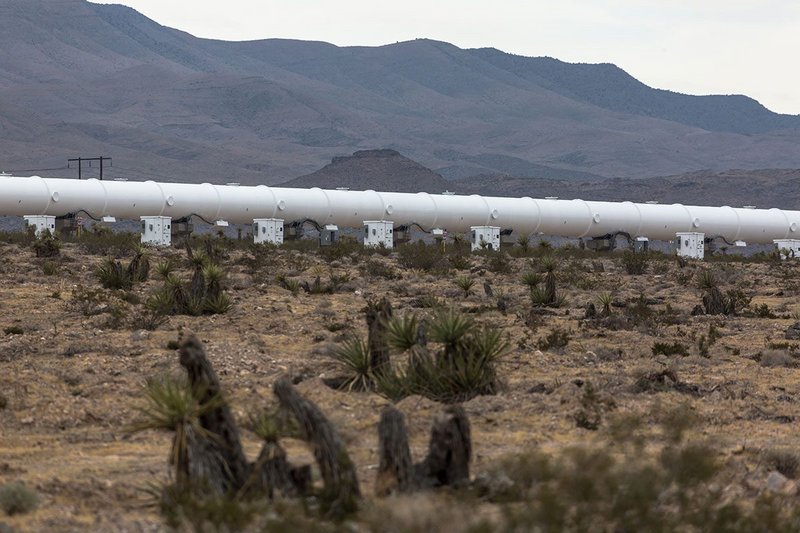 Virgin Hyperloop One test site near Las Vegas NV in 2018.

Credit: Jorge Villalba
ZHA to design Italian hyperloop network
Always keen to be at the forefront of technological innovation, Zaha Hadid Architects (ZHA) has announced it is working on designs for a hyperloop transport system across Italy.
Hyperloop is a mode of high-speed travel being developed by Tesla founder Elon Musk. It uses a system of low-air-pressure tubes though which pods can travel substantially free of air resistance at estimated speeds of 760 miles per hour. Not only is this faster than the average passenger jet, it also uses far less energy.
The technology remains, however, largely untested, though that hasn't stopped a lot of investors and indeed architects from taking it very seriously.
Last year saw the first hyperloop test journey with human passengers, with a pod travelling at 100 mph along a 500m track in Nevada. The test site, for Virgin Hyperloop One, was designed by BIG, which is now working on a larger test centre in the state with a 10km track.
ZHA may have removed its name from the Architects Declare initiative last year, but it remains keen to demonstrate its commitment to sustainable design.
Practice boss Patrik Schumacher praised Hyperloop Italia's multidisciplinary approach 'which combines advances in ecologically sound materials and construction practices; enabling us to deliver future-resilient projects that are inventive, structurally efficient and environmentally sustainable.'
Particularly impressive is Hyperloop Italia's claim that the network would be powered entirely by renewable energy sources and, crucially, be capable of generating more energy than it consumes – which, if accurate, really could be carbon negative.
The company is initially looking into a route between Milan and Malpensa Airport, which would cut journey times from 43 to 10 minutes.
ARB set to reference architects' disciplinary action in its register
The government has confirmed it will be including new powers for the Architects Registration Board (ARB) in its Building Safety Bill, which is currently going through parliament.
They include having the ARB regularly test architects' competence – with those who fail facing removal from its register.
The changes, which are part of the government's response to the Grenfell Tower fire, went out to consultation at the end of last year. Over half of the architects consulted supported some kind of competence testing though they were divided on whether the ARB was the best body to carry this out.
The act will also allow the ARB to recognise the qualifications of overseas architects if it considers them to be equivalent to UK standards. And, controversially, it will allow the organisation to add notes about disciplinary action it has taken to individual architects' listings on its register.
Government's head of architecture remains tight-lipped over departure
Andy Von Bradsky, the government's head of architecture has unexpectedly resigned after just over two years in the job.
Von Bradsky, who previously chaired PRP, was appointed to the newly created role in February 2019 with a remit to improve the design quality of new housing. But while it's possible he has done some sterling work during his time in the job, he's not been one to seek headlines about it.
In a statement following his resignation, he said that it was an appropriate time to step down as work on the national model design code, national design guide and guidance on estate regeneration had all been completed. He has stressed that he has no plans to retire.
The Minister of Housing Communities and Local Government said it was hoping to appoint a replacement over the summer.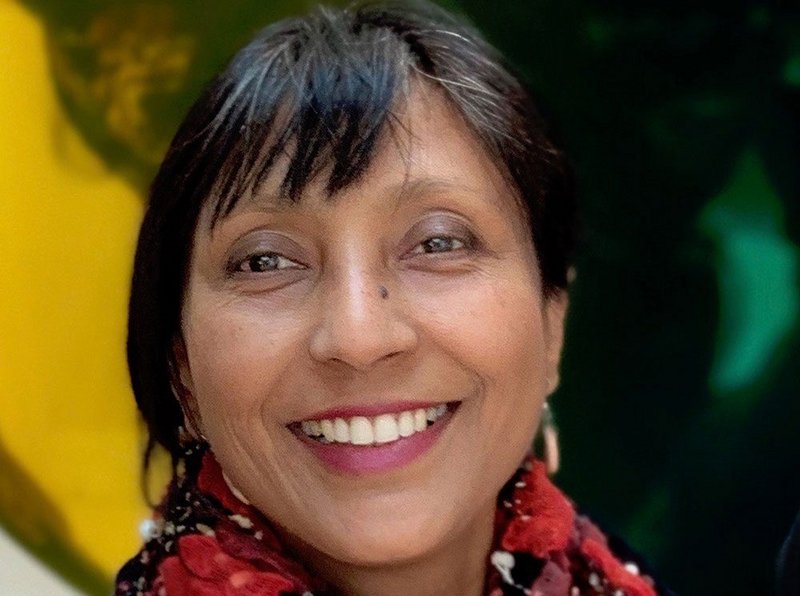 Sumita Singha, Ecologic Architects received an OBE in the birthday honours list.
Architects honoured in Queen's birthday list
Three architects have been recognised in this year's Queen's Birthday Honours: Steve Tompkins, Peter Barber and Sumita Singha.
Tompkins is founding partner of Haworth Tompkins, which won the 2014 Stirling Prize for its Everyman Theatre in Liverpool. The project is just one of a number of acclaimed theatre schemes for the practice, which led to Tompkins being named the most influential person in British theatre in the Stage's 2019 power list.
He is also a passionate campaigner for sustainability, being one of the chief instigators of the Architects Declare movement. He has been made an MBE for services to architecture and the arts.
Barber, who has been awarded an OBE, is founder of Peter Barber Architects, responsible for many highly acclaimed housing projects. He is also an ardent believer in a massive resurgence in council housing and a fierce critic of right-to-buy. And while his architectural style is a far removed from the traditional, it nevertheless won praise from the late Roger Scruton – though Barber did not return the compliment, describing himself as 'Scruton intolerant".
Singha, also made an OBE, is director of London-based practice Ecologic Architects, and ran for RIBA president last year.
Speaking to the AJ she said ' 'I am truly delighted to receive an OBE in the august company of people from the field of architecture, as well as adding to a growing diversity of people in the Queen's Honours list.'
Also receiving an OBE were New London Architecture founder and creator Peter Murray and architectural critic and historian Kenneth Frampton. Frampton is Ware Professor Emeritus at Columbia GSAPP, where he taught from 1972-2020, and author of Modern Architecture: A Critical History, that generations of students were brought up on.