Winner of the RIBA President's Awards for Research, history & theory, the Global South is the focus of this study of the influence of socialist nations on the architecture and urbanisation of newly decolonised countries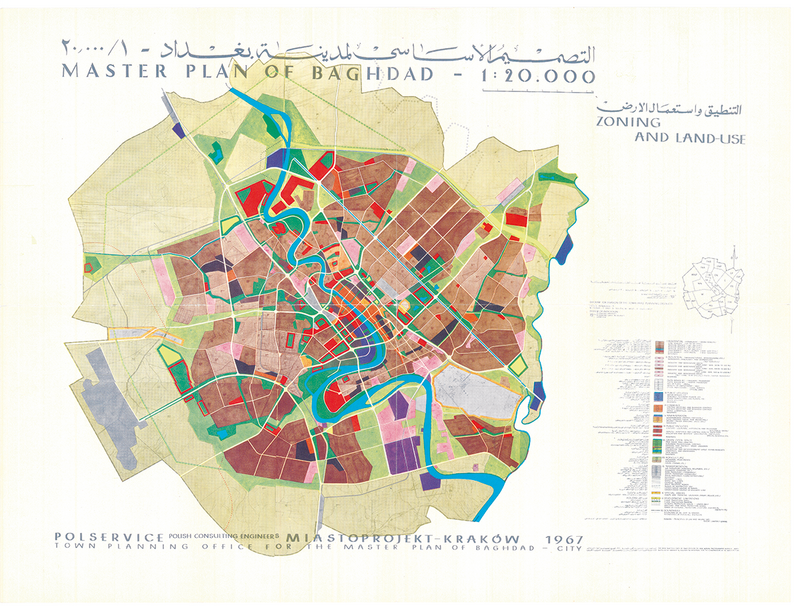 Master Plan of Baghdad, Iraq, by Miastoprojekt-Kraków (Poland), 1967.

Credit: Private archive (Kraków, Poland)
The book 'Architecture in Global Socialism: Eastern Europe, West Africa, and the Middle East in the Cold War' (Princeton University Press, 2020) rewrites the history of architecture's globalisation during the Cold War through the lens of socialist internationalism. It studies the collaboration between architects, planners, and construction companies from socialist Eastern Europe and their counterparts in the postcolonial Global South. Until recently, this topic has not been addressed by historians, who described architectural mobilities since World War II by focusing on late colonial and postcolonial networks, international institutions such as the United Nations, global firms such as Doxiadis Associates, and economic globalisation. Complementing these earlier studies, this book offers a differentiated genealogy of a world that is more urban and global than ever before.
Cold War in Ghana, Nigeria and the Gulf
This research reverses the usual perspective on architectural mobilities from their points of departure in the Global North and focuses instead on their points of deployment in the Global South. Accordingly, its overall aim is the study of architecture, planning, and construction in five cities in specific periods of their Cold War histories: Accra under Kwame Nkrumah (1957-66), Lagos during the 1970s, Baghdad between the coup of Qasim (1958) and the first Gulf War (1990), and Abu Dhabi and Kuwait City in the final decade of the Cold War. This research framework allows for a comparative study of the ways in which architecture and urbanisation in these cities were shaped by the collaboration between professionals and authorities from socialist and postcolonial countries.
This research was carried out between 2009 and 2019 in archives in Eastern Europe (Germany, Poland, Russia, Czechia, Hungary, Serbia, Croatia, Bulgaria, Romania), West Africa (Ghana, Nigeria) and the Middle East (Iraq, the UAE, Kuwait), as well as the UK and the US. They included state archives, archives of design institutes, construction companies, universities, and private archives. As well as architectural documentation, intergovernmental agreements and tender contracts, I studied newspapers from Accra, Lagos, Baghdad, Abu Dhabi and Kuwait City (1950s-80s) to understand public debates around architecture in these cities.
Close readings of case studies, and distant readings of whole data sets via social networks, analysis software and Geographic Information System (GIS) software, were enriched by fieldwork and interviews in Eastern Europe, West Africa and the Middle East.
This research demonstrated that collaboration between architects, planners and construction companies from state-socialist Eastern Europe and their local counterparts in the Global South shaped architecture and urbanisation processes in Accra, Lagos, Baghdad, Abu Dhabi and Kuwait City. This included the design and construction of hundreds of buildings and infrastructures, from the International Trade Fair in Accra (1967), the National Theatre in Lagos (1977) and the Municipality Building in Abu Dhabi (1985), to housing neighbourhoods and health, educational and cultural facilities. Authorities in these cities used Soviet prefabrication systems, Hungarian and Polish planning methods, Yugoslav and Bulgarian construction materials, and Romanian and East German standard designs.
This work was informed by changing political and economic motivations. In 1960s Ghana, Nkrumah tapped into Soviet and Eastern European resources to implement the socialist model of development. Countries, such as Algeria, Libya, Syria and Iraq drew on these resources without committing to the Soviet model. By the 1970s, even Western-oriented countries, such as Nigeria and the Gulf States, invited state-socialist companies to stimulate competition among foreign enterprises on their markets. State-socialist firms began to promote mercantile aims over ideological objectives, and joined the increasingly global, Western-dominated, market of design and construction services.
Some Eastern European architects working in the Global South adapted the socialist development model to tropical conditions. Others saw themselves as part of a largely apolitical global culture of modern architecture, closely linked to 'tropical architecture' as practised by British architects Jane Drew and Maxwell Fry. Several architects from socialist countries appropriated longer traditions in Eastern Europe where, as in post-colonial countries, architecture had been mobilised in programmes of economic modernisation, nation-building and cultural emancipation.
Impact and significance
This research advances current debates of historians of architecture, planning, and construction; economic and cultural historians of the Cold War; and scholars in urban studies. It is relevant for practitioners and decision-makers in the Global South, where post-independence architecture is both celebrated as a symbol of decolonisation and threatened by rapid urbanisation. In particular, it is a resource for architectural educators aiming at more global and diverse curricula.
Architecture in Global Socialism: Eastern Europe, West Africa and the Middle East in the Cold War, by Łukasz Stanek of The University of Manchester is 2020 winner of RIBA President's Awards for Research: History & Theory
---
See the other winners of President's Medals and President's Awards