The creator of Janus House and its famous rubber coating, McEwen is an experimenter extraordinaire, compulsively interrogating colour and materials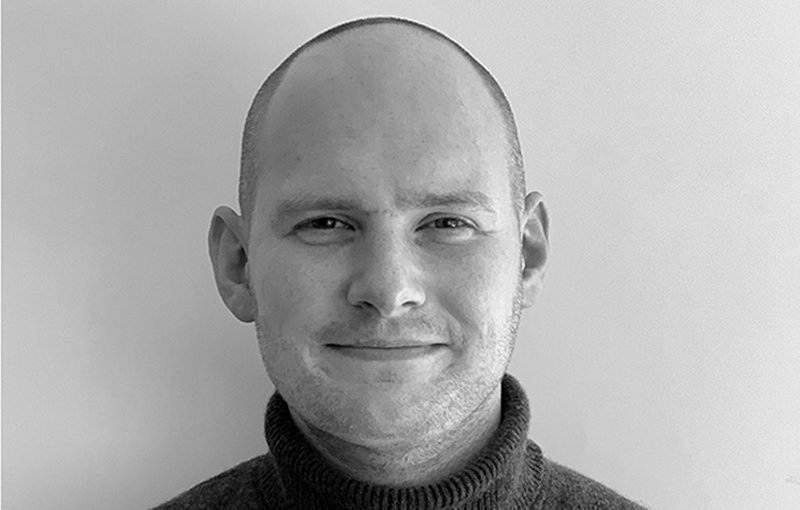 Hugh McEwen, Partner, Office S&M.
Partner, Office S&M
Part 1: 2011 Part 2: 2008
Hugh McEwen's portfolio from his six-year-old practice Office S&M, with Catrina Stewart, impressed the judges. Peter Morris singled out McEwen for his 'innovation in materials and outcome'.
A strong thread of experimentation with materials and colour has run through McEwen's career since his days at Metropolitan Workshop. His referee, Metropolitan's Neil Deely, drew out his work there collaborating with manufacturers to develop the ceramics cladding RIBA National Award-winning Mapleton Crescent. Giving the building a texture has made it more grounded in its community and the history of making – the samples are currently on show at the Building Centre. Deely gives a sense of the juggling of commitments that McEwen has managed. 'It was clear when we hired Hugh that he is an ambitious and driven architect, who had by that point started his own practice and was incorporating teaching on his days off. Hugh is very talented and possesses a great clarity in his verbal and drawn communication, making his ideas extremely compelling.'
To some extent the work has spoken for itself. And quite energetically. McEwen's investigations into colour and materials, including working closely on render with Sto and on terrazzo with InOpera, gave early project Salmen House a distinctive facade and a Germolene-pink exterior with intense green accents in the inset porch and terrazzo window reveals. 'Colour is a material as much as bricks and mortar,' says McEwen. 'It affects the view of a three-dimensional object. I feel it is a discussion that is not being had in architecture.'
The project was well published and led to public lectures at the London School of Architecture, RIBA and the Architecture Foundation. McEwen is also keen to present to other practices, and has given talks on colour to Bell Philips, Morris+Company, and Hawkins\Brown. This collaborative approach has stood the practice in good stead through its first years, working on high-street projects for the Outer London Fund, first with Jan Kattein Architects and later DK-CM and AOC Architecture.
For McEwen it is important that colour relates to materiality.This fed into his teaching projects when he asked his students at Oxford Brookes to develop their own materials. Their proposals for plastic thatch and cladding made from recycled milk bottles were incorporated into the design process for Putnoe House in Bedford. The final scheme employs corrugated cladding made from waste packaging, discovered through student research.
The poster child of McEwen's recent projects is Janus House, east London, a dark extension coated in spray-on rubber originally developed for oil rigs, which he uncovered by delving into the client's interest in industrial materials. This borrowing has given McEwen great reach, not just in the practice's second success in the NLA's Don't Move, Improve! awards but also with 10,000 likes on Instagram.
Much of Office S&M's innovation is currently applied to homes, where McEwen cut his teeth. And he is happy to step his residential work up in scale with three multi-unit projects in London. But he is also keen to bring his thinking to the education sector where ideas can be researched as part of a learning process and completed buildings become a teaching tool. Office S&M is certainly one to watch.
What would you most like to improve about the industry?
At Office S&M we don't use brick. This shouldn't be a statement, but in the current architectural climate, it has become one. Brick is expensive to make and lay, has high embodied energy and requires additional structure, all reasons why it's not sustainable. But more than this, brick has become a default response by planners, architects and consultants that has dumbed down architectural discourse and design. It is this that we want to make a statement against – the lack of thought and investigation which the new London vernacular has led us to.