Work will lose its negative connotations in the offices of the future, which will be designed around the wellbeing of users, so Apple's new HQ shows

Apple Park: our experience of a workplace is linked to the building's relationship with nature.
With rapid progress being made in communication technology, the workplace of the future is evolving fast. Technological breakthroughs, automation, demographics, shifts in economics and climate are all contributing to this. As technology integrates more with our daily lives, new opportunities for flexibility arise, making a shift from traditional employment models. Why not work from home, on the go, or from a remote destination? Recent trends surely support this idea, and with the increasingly popular 'people cloud concept', the ability of an individual to market their skills to a wider audience online has increased considerably.
Having been asked to design 'the best office building in the world' for Apple, we began looking at collaborative space typologies such as the ancient monasteries, university campuses, business environments and even prison arrangements. From this, the idea of a dynamic, self-sufficient campus started to develop – a place that provides multiple experiences to both employees and visitors while promoting creativity and efficiency. Competitive and fun!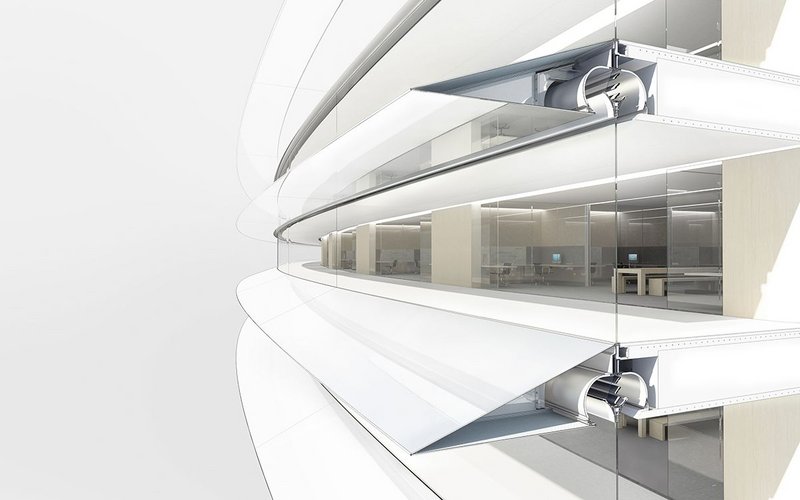 Apple Park, section.
Our experience of a workplace is intrinsically linked to the building's relationship with nature. Apple Park will be naturally ventilated for more than 70% of the year. Just as the human body uses radiant energy transfer to cool itself, buildings should follow the same logic. Natural ventilation combined with chilled ceilings, together with the high thermal mass of concrete, enhances comfort within the building. The perceived temperature is lowered by having naturally ventilated spaces, while the increased fresh air supply reduces sickness and enhances employee performance.
Our metabolic rates differ in different spaces. At Apple Park, there are a variety of spaces suited for different tasks, from an activity orientated space to a very calm, relaxed and focused environment in cellular offices. In the latter the workplace becomes a retreat where one can focus on difficult tasks in an individual space. All individual spaces spill into collaboration areas where people are encouraged to exchange ideas and socialise. These pods are large open spaces, furnished with cosy seats and tables and all the workplace necessities while offering great views into the landscape. Natural daylight floods the building through the largest curved glass panels ever. Even in the deepest floorplates, artificial light mimics the circadian rhythms.

The wellbeing of users forms an important aspect of building design. At Apple Park there are ample opportunities for exercise, both outdoors and indoors. There is a fitness centre, spa and a wellness centre, alongside a restaurant that blurs the boundaries of inside and outside. The landscape is inspired by the Californian environment and the most celebrated parks in the world.
The sustainability story continues with large PV arrays and an on-site energy centre. Transportation to the workplace is via bicycles and electric vehicles. No fossil fuels are being wasted. While everything is bespoke, beautifully designed and manufactured to excellence, the building is a fully flexible and adaptable platform for future upgrades, restructuring and new technology as it becomes available.
Through this sort of design, work starts losing its negative connotation and becomes a lifestyle. Employers need to adapt and rethink the workplace from the inside out. It should be designed around the wellbeing of its users and a place full of life where interaction is encouraged by the spatial arrangements. The workplace of the future expresses itself through integrated design and is defined by a healthy environment promoting innovation, diversity and choice.
Twin brothers Max and Dan Zielinski of Foster + Partners are two of RIBAJ Rising Stars 2016. Find out more about RIBAJ Rising Stars, a scheme to reward up and coming construction professionals. Rising Stars 2017 opens for entries in June.