Once there was more to town centres than merely shops. This ideas competition asked entrants to find ways of recreating the hum of the high street in three very different towns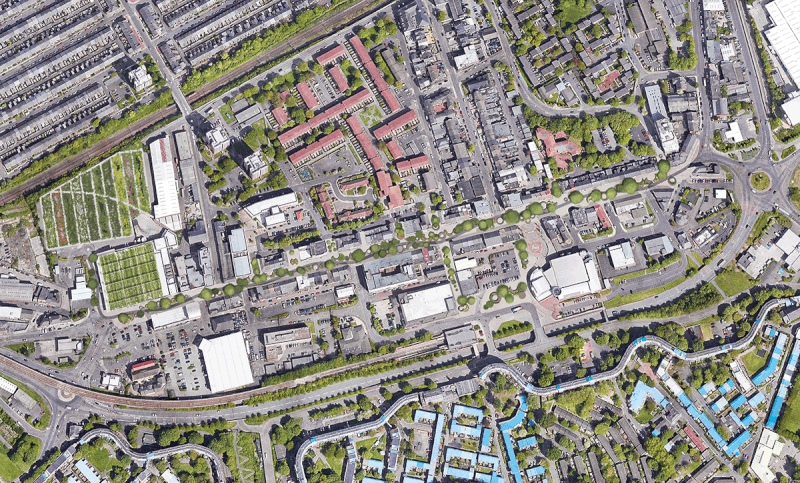 Studio Shaw's proposal for the Shields Road in Byker.

Credit: Studio Shaw
Without big retail brands, what is a town centre? It is a question playing out across the country as the retailers' exodus from the high street continues. Over the past century or more, town centres have come to rely on retail for vibrancy and economic activity. But in many cases, shops have provided a veneer of success to places that have seen connections, character and community fractured by successive waves of policy and development. Look closely and you'll see the evidence: roads that divide or pass around the centre, heritage or natural assets that are underused or neglected and uninviting pedestrian routes.
This Future Town Centres competition, organised by RIBAJ in collaboration with ACO, looks beyond the retail monoculture to the broader placemaking that urban centres need to remedy these fractures, refocus shopping streets and instil optimism and opportunity for the future. Architects were invited to look at ways of reinvigorating areas of three very different UK towns, selected for their varied challenges and because their councils are actively looking for ideas. In coastal Dover, the task was to revive mid-town, an area that is predominantly in public ownership and includes the historic Maison Dieu building. In Byker, Newcastle, the competition brief called for ideas to boost a traditional linear centre, the Shields Road. In Tredegar, South Wales, the focus was on the centre of the market town, which has a proud heritage as the birthplace of the politician Aneurin Bevan and of the National Health Service.
The competition attracted almost 80 entries and three were shortlisted for each location. Finalists included a mix of local and national names. The teams presented their designs to panels which included local representatives at each location, and three winners were chosen. In their appraisal, the judges looked for placemaking designs that were not only imaginative but also considered environmental factors, health and wellbeing, economic and social value and future resilience. They sought designs that would create a desirable destination, capable of attracting visitors, residents and financial investment.
For inspiration the nine shortlisted practices delved into history, to times when industry, education, health, housing and other essentials of community sat happily together in the heart of the town. While the competition brief offered potential for radical and playful responses, the final designs are largely pragmatic and implementable in a phased approach. They recognise the challenges of funding and delivery in these times of austerity.
The competition was intended purely to explore ideas, but all the local authority representatives on the panels found inspiration in the finalists' work. The dialogue between architects and local authorities looks set to continue.
A conversation with architects at the centre of it
ACO's business is deeply involved in place making. The management of water protects the places where we live and work while helping to create solutions that enhance biodiversity and improve ecology in those environments. Town centres are a crucial aspect of community and place making so it follows that they need to be sustainable in all senses of the word.
Passionate about designing solutions for management of water from roads, squares, buildings and green spaces, ACO recognises that while rejuvenating our town centres is a challenge it is also huge opportunity to rethink the way we build and use 'place'. This mind-set led ACO to initiate the Future Town Centres competition, one that would engage some of the best problem solvers in the country – architects.
The competition supports sustainability, exceptional design and a flair for innovation, and has begun a conversation with architects at the centre of it. It has provided a prominent platform to share ideas and a voice to lead the way in transforming and revitalising these spaces and the buildings within them.
ACO is hosting a webinar on Urban Surface Design - find out more here
---
Judging panel
Sue Morgan, director of architecture and built environment, Design Council
John Prevc, regional leader urban design, HOK
Gary Wilburn, managing director, HPW Architects
Dover event
Roger Walton, strategic director (operations and commercial), Dover District Council
James Galpin, partner, Hazle McCormack Young Architects
Isabelle Priest, assistant editor, RIBAJ (chair)
Byker event
Richard Charge, Urban Design and Conservation, Newcastle City Council
Amanda Khan, regional director, RIBA North East
Helen Castle, publishing director, RIBA (chair)
Tredegar event
Malcolm Cross, councillor, Blaenau Gwent County Borough Council
Jim Allen, architectural services manager, Blaenau Gwent County Borough Council
Carolyn Merrifield, president, RSAW and partner, Downs Merrifield Architects
Eleanor Young, executive editor, RIBAJ (chair)
Future Town Centres was produced in association with ACO @ACOwater