C70S aluminium system uses three foam insulation options so specifiers can dial thermal efficiency up or down to suit individual projects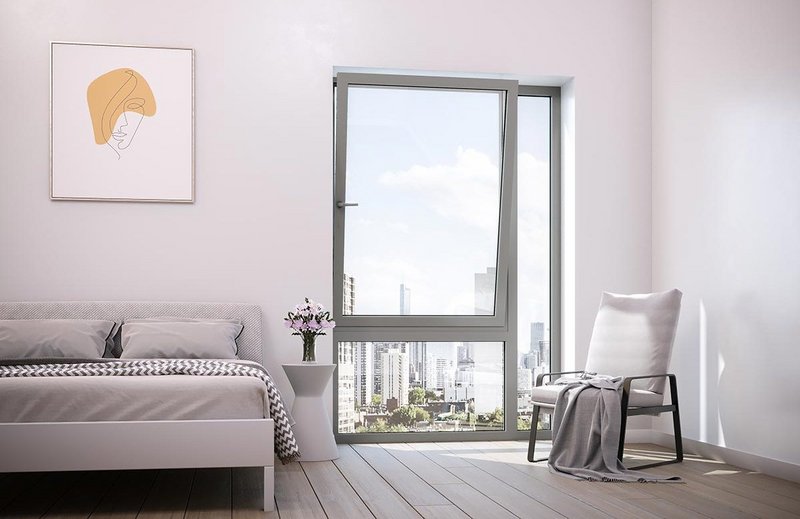 C70S windows offer up to 50mm acoustic glazing capacity for city-centre projects.
The newly launched AluK C70S 70mm window system offers performance of 1.1W/m2K with triple glazing and 1.3W/m2K with double glazing in hi mode. If project demands are lower, it can be specified in standard or partial mode to deliver slightly higher U-Values but at lower cost.
The C70S matches the slim 89mm sightlines of AluK's 58BW window system and can be used alongside it to achieve a consistent look.
It has been designed to suit low, mid and high-rise applications for residential and commercial projects. It can be installed anywhere, from exposed coastal locations to noisy, urban environments, with class-leading wind and weather performance and the option of 50mm acoustic glazing in TBT (tilt-before-turn) and open-out configurations.
Water tightness at 1500Pa is the highest achievable in a UK test house and more than double the 600Pa industry standard, while air permeability is 600Pa and wind resistance 2400Pa, even with large span openings.
The C70S has been engineered with innovative design and installation features that make it practical as well as stylish. A concealed coupler option provides mullion support without compromising sightlines and a Z adapter profile achieves reversed fixed-light glazing with less material cost.
It has a sub-sill profile for press metal that can be added after window installation to avoid damage during construction and a paint-matched aluminium cover strip, which conceals easy-access fixings.
The system is available in a choice of configurations, including side and top-hung casements and TBT windows, and with a range of ancillaries and couplers for installation alongside doors and curtain walling. Both inward and outward-opening windows have been successfully tested to PAS 24 for security, making them fully compliant with Approved Document Q.
The C70S is available in a range of durable, powder-coated colours and finishes, with white, grey and black single and dual-colour options available from stock.