A sustainability brief - to design for disassembly - lies behind the evolution of a 2022 signature piece of modular furniture design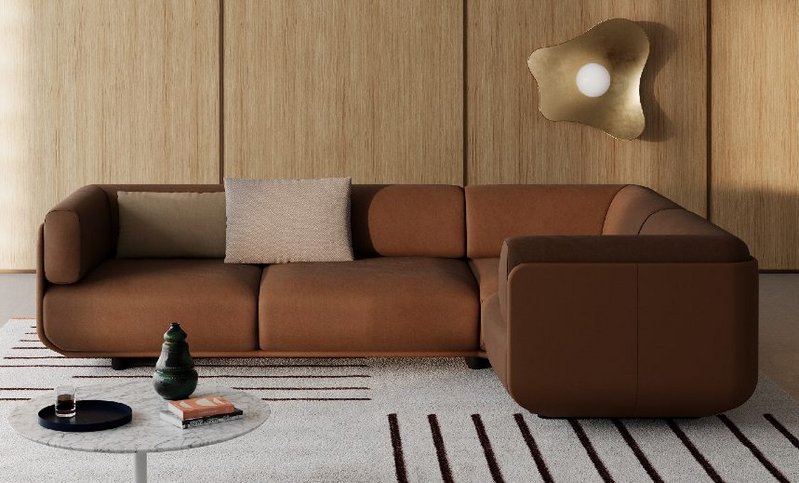 Shaal sofa by Doshi Levien for Arper. Deep cushioning held in a leather-covered plywood shell that seems to lift the piece from the floor.

Credit: Courtesy of Arper
Turning an idea into a successful product relies on the fruitful collaboration of product design and manufacturing.
A recent discussion at Italian furniture company Arper's Clerkenwell showroom in London brought together the team behind 2022's modular Shaal sofa.
Jonathan Levien of multidisciplinary design studio Doshi Levien and Arper's head of product and design Nicolò Fanzago talked to journalist Bethan Ryder about the inspiration, process and sustainability brief that led up to the collection's launch.
Bethan Ryder (BR) Arper has been rethinking physical spaces and relationships with its concept 'The Project of Living'. This looks at how the boundaries between home and work are gone, at how everything we do is in flux, hybrid, fluid. What is interesting about the Shaal sofa is how it was born from an urge to address our increasingly hybrid lifestyles. The company Doshi Levien was formed in 2000 with a design ethos of creating a hybrid of cultures, technologies and spaces. Shaal is the Hindi word for shawl, which encapsulates Doshi Levien's design intentions. Initially the firm was considering a basket that held the softer seating elements, but Shaal has a more rigid leather-clad plywood enveloping the softer cushions. Jonathan, you have talked about the magical moment when you saw how to make this a light piece that lifts off the floor.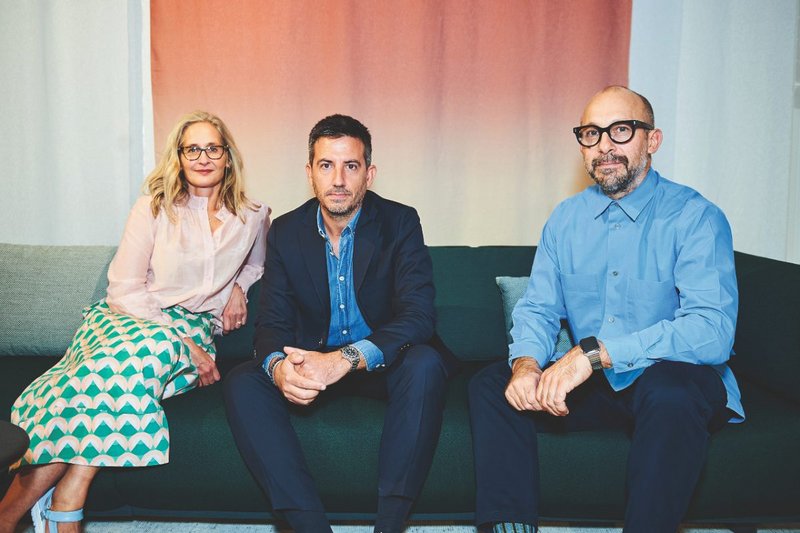 From left: journalist Bethan Ryder, Arper's head of product and design Nicolò Fanzago and Jonathan Levien of Doshi Levien.

Credit: Black Edge Productions
Jonathan Levien (JL) I think we all knew we had to create something with a contrast. Shaal is an upholstered sofa that needs to be soft and comfortable, especially when it's a residential piece crossing over with work environments. At the same time we felt it needed a framework as well; a clean defined line, which is something you associate with Arper. We were very keen to get that quality into the piece, that's why we decided to have that wraparound of a hard defined surface enclosing these soft cushions. The penny-drop moment was developing a lightness and elegance to this piece. There came a point where I darted the wraparound surface at the base and then folded in the lower edges of the form and that created that very interesting kind of chamfer and lifted the piece from the floor. That's when I realised we had something really special.
BR Why do you define Shaal as a hybrid product?
Nicolò Fanzago (NF) It's for its softness, its ergonomics, its clean precise light lines as described by Jonathan. This is the magic of this product, when you see the back of its wraparound panel it has a very precise and elegant feel, but when you see the front it shows its comfort and softness. It changes completely depending on the perspective, but always in a very harmonious way. I think this duality makes it extremely special and suitable for every environment.
BR Most interesting is how the sustainability brief - to design for disassembly - influenced the aesthetics and production of Shaal. Was it a big challenge to think of disassembly and other sustainable aspects?
JL From the outset it was very clear in the brief from Arper that sustainability was the top priority. I think of it not as a problem but an opportunity for us because, when you have a clear, definitive aim of the project, you don't think of it as a limitation. Essentially, we achieved a piece that can be disassembled, which ruled out many methods of production and in a way limited us to this idea of creating a composition of components that come together and can also be taken apart. So that also fed the idea of having a separate wraparound panel with the cushions zipped into place on the inside. They're integrated in the design, but are separate pieces that come together. The challenge was how to create a unified aesthetic for separable pieces, so it doesn't look like it can be disassembled. How to create something that has harmony and simplicity, but at the same time could be taken apart at the end of its useful life and the pieces all redeveloped or recycled.
BR Arper has had an environmental department since 2005. What is Arper's approach; is sustainability something that your clients are asking about?
NF Customers are increasingly interested in knowing about sustainable aspects and learning the real story behind products - that needs to be coherent and genuine. Sustainability is an overarching approach for Arper and, of course, this applies to products as well. We are very careful in the choice of materials, using recycled, sustainable materials whenever possible. We avoid the use of glues far as we can and do our best to create items that can be disassembled and use replaceable components in order to extend the product's life.
For more information and technical support, visit arper.com
Contact:
020 7253 0009
---