Associated Architects' glimmering gold University of Birmingham Library demonstrates how an imaginative facade specification can create a compelling architectural marker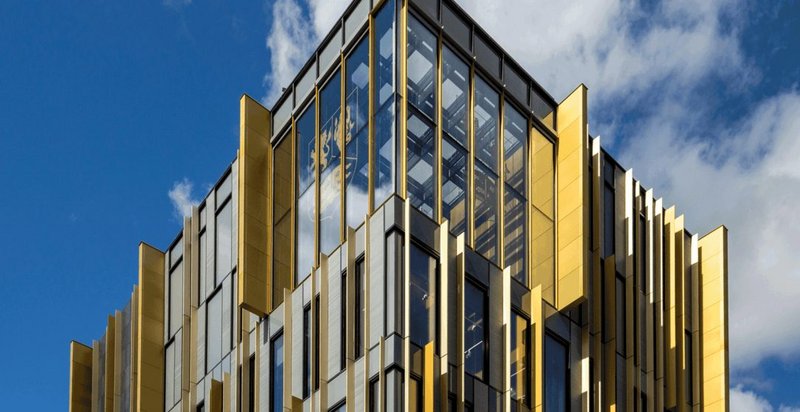 Bailey anodised rainscreen cladding at University of Birmingham Library: external fins and a gold and grey colour palette create a striking hub at the heart of the campus.
Associated Architects' University of Birmingham Library was completed in 2016 at a cost of £60 million. It took over ten years from concept to reality.
The state-of-the-art development sits at the heart of the University of Birmingham campus and replaces an old 1950s library.
The new technology-rich building, heralded as a new generation of libraries in UK higher education, combines 2.1 million traditional printed books with contemporary digital accessibility.
Anodised aluminium rainscreen and feature cladding was chosen for the library. The construction of the external cladding was an important part of the library's story as the brief required it to present a visualisation of technological provenance.
Specifiying Bailey rainscreen cladding
The architects chose facade specialist Bailey to supply the metal cladding
Bailey created 1,000 aluminium rainscreen cladding panels covering 1500m2. They were fitted by contractor Inasus UK. Each panel was anodised to create a multi-tonal finish and has the added benefit of providing solar shading.
'We went with Bailey because they could provide the high-quality finish we wanted for the important components of the building,' explains Tim Cornbill, project architect for the new library.
'They could also match the performance specification and flexibility when it came to the required panel sizes.'
While weatherproofing and overall thermal performance are important elements, the primary focus for many architects is often the visual impact rainscreen cladding systems can also bring to a building.
On the University of Birmingham Library project the entrance canopy and the feature colonnade tie in seamlessly with the other anodised gold finishes.
Bailey's cladding has created a striking exterior in a modern design that complements the historic campus.
What are the benefits of Bailey anodised aluminium rainscreens?
Visually, anodising provides an authentic metallic sheen and feel, with no possibility of fading.
Anodised aluminium is non-combustible, being classified as an A1 material according to EN-13501-1.
The durability of anodised aluminium is also a key benefit - it has excellent corrosion and abrasion resistance.
Some other benefits of the process include:
100 per cent recyclable
Uniform surface finish
100 per cent adhesion success
Impermeable anodic layer
Bailey offers specifiers single source facade solutions, from expert design and engineering to unrivalled technical knowledge and manufacturing capabilities.
For more information and technical support, visit builtwithbailey.com
Contact:
01403 261844
---