This trio of building envelope solutions offers architects easy installation, hidden fixings and an A1 or A2-s1, d0 fire performance. They look good, too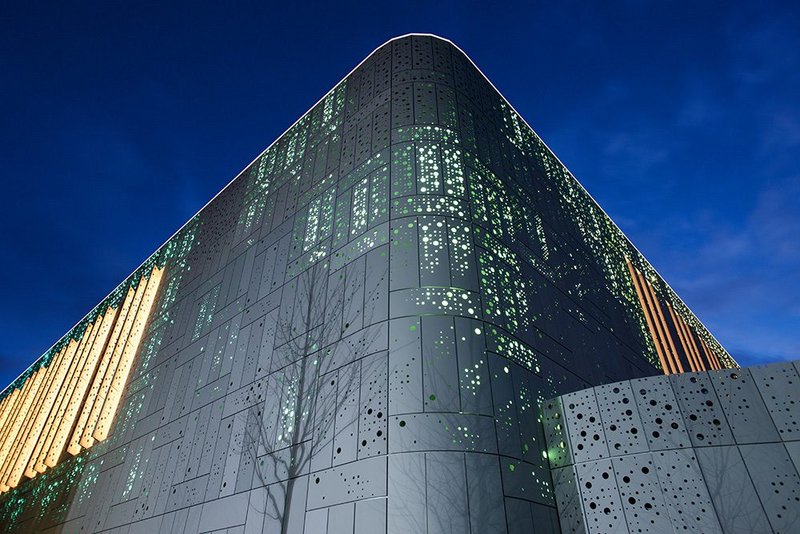 Bailey's Synergy hook-on, secret-fix rainscreen cladding at retail and leisure complex, The Lexicon Bracknell.
Rainscreen cladding is a wall comprised of an outer skin of panels and an airtight insulated backing wall separated by a cavity, which can be insulated and is usually ventilated.
Often a primary aesthetic feature, metal rainscreen cladding is far from a one-size-fits-all solution, but there are some standard systems that appear to be more popular than others. Here are three of them:
1. Interlocking, secret-fix cassette rainscreen cladding
Rainscreen cladding consisting of secret-fix interlocking cassettes are versatile systems that can be utilised in a wide range of sizes and materials.
They have robust interlocking joints, making them easy to fit and are one of the best looking rainscreen cladding systems available.
Benefits of Bailey's Platinum modular, secret-fix, interlocking cassette rainscreen, includes:
Hidden fixings and reduced cavity depth.
Vertical and horizontal applications.
Stunning aesthetics with seamless finish across the facade.
Greater panel strength at joints.
Fully fire-tested system to BR135 (third edition).
2. Hook-on, secret-fix rainscreen cladding
Hook-on systems are incredibly quick and easy to install, allowing panels to be hooked into place without the need for them to be permanently fixed.
This also makes hook-on rainscreen cladding systems easier to adjust and panels can be replaced independently should individual panels be damaged or need to be replaced.
Systems employ a secret fix detail and the Bailey Synergy hook-on secret-fix rainscreen is fit for any facade design, featuring:
Hidden fixings.
Hook-on panels, suited to vertical applications.
Adaptable and scalable to a range of sizes and configurations.
Easily adjustable after installation.
Fully fire-tested system to BR135 (third edition).
3. Recessed-fix, shadow-gap rainscreen cladding
Recessed fix, shadow gap rainscreen cladding is a quick and easy-to-install system.
Despite its ease of implementation, it doesn't compromise on design flexibility and is as equally suited to demanding new projects as it is to simple refurbishments.
The system can reduce modelling and processing time, speeding up projects, while the recessed fixing enables increased panel widths giving more flexibility in design.
Flexibility and speed is epitomised by the Bailey Prima recessed fix, shadow-gap rainscreen cladding system, which benefits from:
Recessed fixing.
Easy installation.
Increased panel widths.
Standard system or bespoke designs.
Wide range of applications.
Often produced in anodised aluminium or powder-coated aluminium, all the rainscreen panels mentioned above perform to A1 or A2-s1, d0, in accordance with BS EN 13501-1 fire classification.
Bailey: the total building envelope
Bailey Total Building Envelope was established in 1975 and can offer advice and guidance about any aspect of rainscreen cladding design and manufacture, at whatever level you require.
Unison services cover the entire gamut of rainscreen cladding design. Manufacturing capabilities include responsible material sourcing, ISO 9001/ISO 14001, a wide range of metal fabrication, and in-house Interpon D polyester powder coating.
With more than eight standard systems and the capability to do what others can't, Bailey is the brand synonymous with rainscreen cladding.
The NBS Chorus specification authoring service is available for all Bailey systems.
For more information and technical support, visit builtwithbailey.com
Contact:
01403 261844
---