The Rooflight Company's bespoke products help architects and specifiers create beautifully designed, naturally lit environments for their clients, as this case study reveals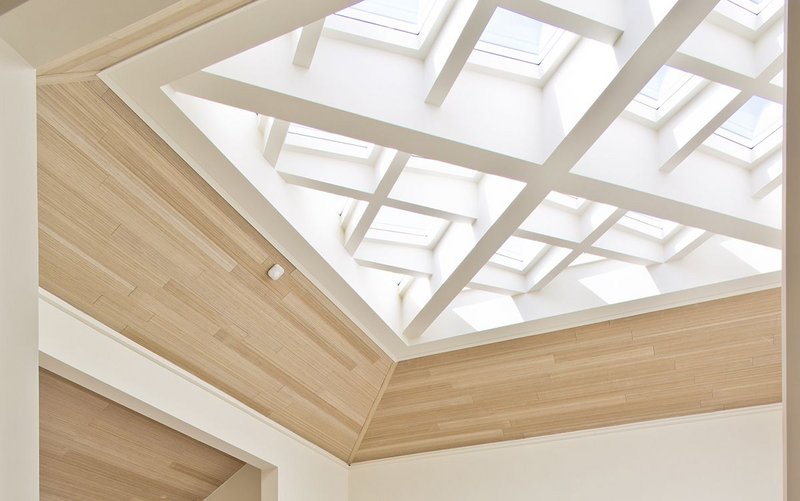 The Rooflight Company's bespoke solution for the project was a rooflight comprising 12 opening sections orientated in four directions.
More clients than ever are saying they want more natural light. They are increasingly knowledgeable about health and well-being and the energy-saving benefits that natural light provides. They also want to create a wow-factor, with large expanses of vertical and overhead glazing.
The designers at the Rooflight Company have the technical expertise to understand a brief, propose the optimum design for a client's project and deliver a sound, reliable solution.
Elliot Payne of Elliot Payne Architecture & Environment was working on a new-build residential property in north-west London and wanted to use standard rooflights in an interesting way. He, his client and the structural engineer came together with the Rooflight Company to devise a bespoke solution. The in-house design team at the Rooflight Company worked with preliminary sketches supplied by the architect and submitted three proposals to test the preferred design against the brief and budget.
The result was a rooflight comprising 12 opening sections orientated in four directions. Concealed motors were linked to the building management system, as well as heat and rain sensors to regulate the building temperature.
The new home had three floors formed around a central atrium, with each floor providing large open spaces connecting each room. An essential element of the client's brief was to flood this internal courtyard with light, while the architect wanted to ensure the end result didn't look too commercial or sterile.
'I was able to work with the Rooflight Company closely on the design brief,' explains Elliot Payne. 'They were able to provide support at each stage and assisted on-site when needed. I am extremely pleased with the final result.'
The Rooflight Company was founded by architect Peter King more than 25 years ago and, in March 2019, made the transition to employee ownership, a trend that is becoming more prevalent in the architect sector. The roof windows are built at the company's West Oxfordshire workshop by a skilled team of craftsmen and every step of the build process is closely monitored to ensure high standards.
The company offers a wide range of rooflights, from contemporary roof windows to traditional heritage rooflights and bespoke designs, and is committed to designing, producing and providing the best products and services to its customers.
For more information and technical support, visit therooflightcompany.co.uk
Contact:
01993 833108
enquiries@therooflightcompany.co.uk
---