A bi-parting Sliding Over Fixed rooflight by Glazing Vision has maximised light, air and space in an elegant extension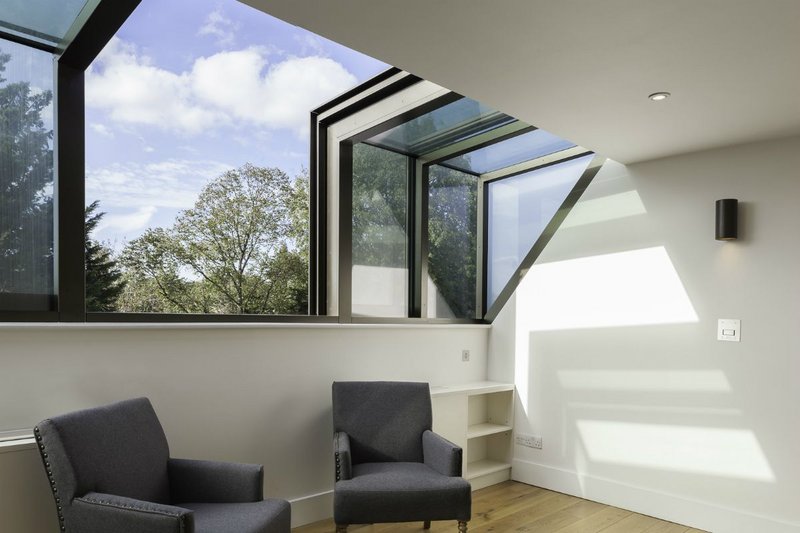 Glazing Vision precision-engineered a special Dual Sliding Over Fixed rooflight, comprising eight sections. The two end sections slide over the six central fixed sections in a side-to-side operation.
Award-winning practice Chris Dyson Architects has specified a a precision-engineered rooflight for a residential project in north London.
The client wanted to refresh the property by adding an extension to the rear that would enable the existing ground floor spaces to be connected through a single flowing space, creating a welcoming and flexible environment for a growing family and for entertaining guests.
On the top floor, the existing narrow hall was opened up and extended to create a new living space. The bespoke glazed dormer by Glazing Vision provides expansive views across the garden and an abundance of natural light, with insulated walls and energy-efficient double glazing keeping the space warm and welcoming.
A large Bi-parting 1-wall Box Rooflight, measuring 4850mm in width, was set into the sloping roof. At a total height of 1700mm, the rooflight enhances the feeling of space. To provide privacy from neighbouring properties and conform with planning regulations, the end panels were manufactured in satin-etched glass.
This project was shortlisted for the 2019 AJ Specification Awards, in the Doors and Windows category. Read the full case study here.
Glazing Vision continually develops bespoke solutions that allow architects to rethink established typology and is happy to discuss design considerations for your next project.
For more information and technical support, visit: glazingvision.co.uk
Contact:
---