Specifying a durable, practical wash-and-prep space that looks beautiful too not only makes life easier - it also brings a little joy to everyday chores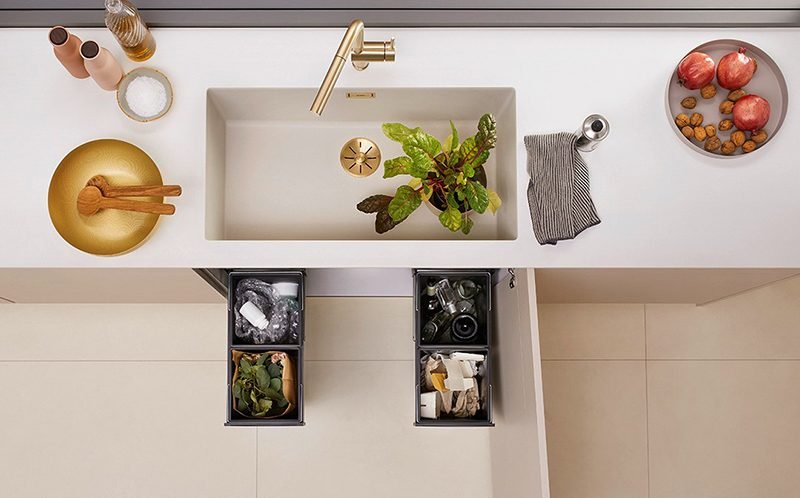 Blanco: Choosing a kitchen sink and mixer tap is one of the most important decisions when designing a kitchen.
The sink is an integral part of the kitchen and specifying one is an important decision when designing a new kitchen space.
With 60 per cent of the time in the kitchen spent around the sink, German manufacturer Blanco is passionate about helping designers maximise the potential of this crucial area of the kitchen triangle.
Whether it's large or small sinks, with one bowl or two, as functional objects or design icons, Blanco can advise on the best sink and mixer combinations for individual projects.
Blanco's Silgranit sink is made from a patented granite composite material that is 80 per cent quartz sand, the hardest element of granite.
It is beautifully designed, durable and practical with a resilient, easy-care surface. A Silgranit sink can withstand all the daily domestic challenges, is impact-resistant to typical kitchen accidents and scratch-resistant. It is also resistant to boiling hot water and hot pans or extreme temperature shifts; going from freezing to boiling hot without impact or effect.
Silgranit sinks are sought out by designers for their exclusive styles and colour palettes, with colours running from monochrome black and white through to on-trend greyscale shades and into warm earth tones. The colours won't fade over time due to sun exposure or daily usage. There is a Silgranit sink to suit every kitchen style.
Silgranit's patented Hygiene+Plus protective formula reduces bacterial growth by an average of 98 per cent, making it a kitchen hero when it comes to cleaning and hygiene. In fact, the sink's surface itself is hygienically safe for food preparation.
The non-porous surface repels water, making it easy to keep clean and even food items that have staining properties can be washed away with minimal effort. Coffee, tea, red wine, beetroot and turmeric-based sauces will not stain a Blanco Silgranit sink.
Blanco also offers a full range of stainless steel and ceramic sinks. Interior designers can help clients customise their ideal Blanco Unit by combining the perfect sink, tap and waste disposal or organisation system. Whether it's a modern black Silgranit sink or a warm natural hue paired with a satin gold drink system, the combinations are endless.
To find out more about Blanco's full portfolio of products and services visit thenbs.com/blanco
For more information and technical support, visit blanco.com
Contact:
Mark Craine, contracts manager
07909 682757
mark.craine@blanco.co.uk
---