A contactless entrance solution for offices at London's 10 Queen Street Place ensures smooth, secure access for authorised personnel and visitors alike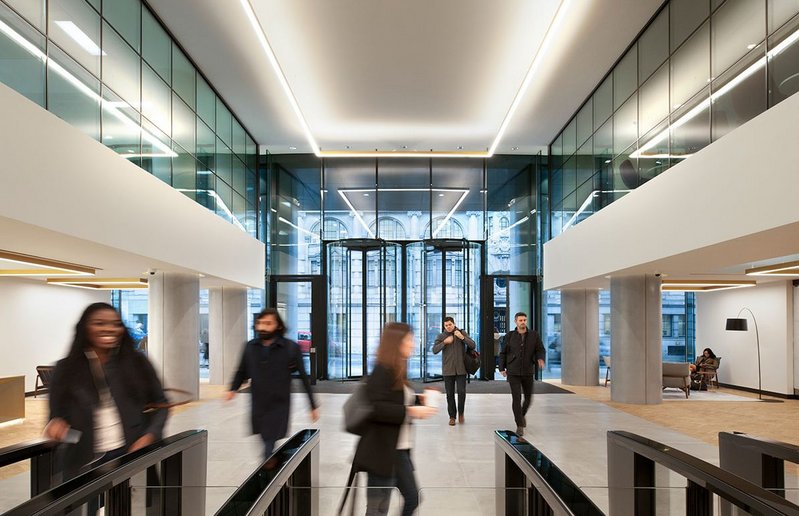 The entrance to the Riverscape offices in Queen Street Place, London with two Boon Edam Crystal Tourniket all-glass revolving doors.

Credit: Philip Vile Photography
Integrated entrance technology has been specified at Riverscape, a multi-storey office space at 10 Queen Street Place, London for commercial property consultancy Knight Frank.
Security door and barrier manufacturer Boon Edam and visitor management solutions company Forge worked closely to meet the client's technological requirements. They combined entrance products, access control management systems and emergency egress to enable previously disparate systems to work hand in hand and provide the building's managers with full visibility and insight into the movement of people across their site. Two extra tall automatic Boon Edam Crystal Tourniket all-glass revolving doors were specified for the project.
Knight Frank chose the Forge Bluepoint visitor management system to integrate with Boon Edam's Standard Lifeline Boost, a modern solution that allows entrance systems to integrate with visitor management software. Lifeline Boost is a pedestal that provides enhanced security, such as barcode scanning, so visitors can book in with reception fully contactless using an entrance card or smart device to scan through the lanes. Being able to send QR codes to visitors prior to arrival cuts out the need to speak with reception and means quicker journeys.
Forge installed its QR readers directly into the physical security products, turning Boon Edam's Lifeline Speedlane Swing security gate turnstiles into a fully monitorable access control solution.
Boon Edam's Lifeline Boost increases the authentication capabilities for security lanes through biometric scanning and QR code reading from tokens and smartphones. It is available in two models: Standard and Card Collector. Both act as a host for building system integration, with Standard offering additional card reader, barcode scanner and biometric device options.
Utilising smartphones helps remove the need for plastic card use, providing a more environmentally friendly, cost effective and convenient access method for building managers and users.
Inter-connectable technologies can make buildings smart and responsive. They can monitor performance, detect inefficiencies, improve user journeys and inform strategic decision making. And, in the era of Covid-19, technologies such as contactless entry systems and visitor management solutions will become increasingly important tools for those designing healthy buildings and work spaces.
For more on this case study, visit boonedam.co.uk/riverscape
For more information and technical support, visit boonedam.co.uk
Contact:
01233 505900
---