Ross Finnie, sales director, SIG Design & Technology explains the rules of thumb for making the right choice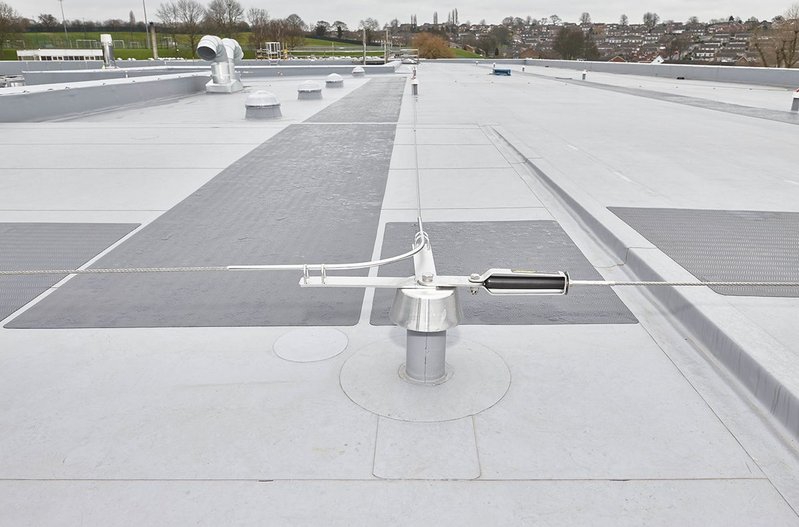 Single ply roof at Arnold Hill Academy, Nottingham.
Once an architect determines the desire, or need, for a flat roof, identifying the correct solution can be a complex process.
A range of factors have to be taken into account including length of guarantee, the supporting structure, impacts on BREEAM ratings, build sequencing, aesthetics and cost.
Of course, along with the client and architect's requirements the compliance minefield of British building standards and codes of practice has to be negotiated.
Although architects are primarily concerned with design, their remit in selecting a roofing system is usually a combination of design criteria, performance requirements and cost.
Achieving the correct balance between these three factors will determine the optimum roofing solution.
There are four primary types of flat roof commonly used in the UK, each with their advantages and disadvantages. Of course an architect does not need a detailed understanding of every type of flat roof. However, a basic understanding of these four major systems will allow architects to make a well-informed decision – especially as sometimes the solution offered by an individual manufacturer may not be the best for the requirements of your particular project.
Single ply
A single ply membrane system provides waterproofing with a single sheet of roofing material. Managed and regulated by the Single Ply Roofing Association (SPRA), this is a well established and proven technology that has been used in the UK for over 50 years.

Single ply roofs are often considered for cost driven projects as they have a low capital cost and cost in use, are lightweight, flexible, swift to install, safe and available in any colour. These attributes make them an extremely popular choice for both cold and warm roofs, refurbishment and new build, with over 5 million m2 installed in the UK every year. Single ply roofs provide an ideal surface for subsequent photovoltaic systems and, as long as the product chosen is FLL certified, can also be used with a green roof.
As it is constructed from a single membrane, this solution could potentially be damaged, making it inappropriate for areas that will experience heavy traffic. It is also advisable to protect the installed roof during construction, as it should not be used for on-site storage. However, as long as it is correctly installed, single ply is highly durable and will give long-lasting performance.
Built up roofing
With more than 50 million m2 of built up roofing (BUR) installed every year, this is still the most common flat roof solution in the UK. Like single ply roofing, this membrane solution is often used on cost driven projects. It is extremely versatile and has a wide range of applications.
BUR roofs, as the name suggests, are made up of several layers of reinforced bituminous membranes. These bonded layers differentiate the product from single ply alternatives, and can help to make these roofs much more robust. This means a BUR roof is ideal for any area that will experience occasional foot traffic.
It is also useful for situations where the build schedule demands that the roof space be utilised during construction – however, protection would still be needed if it was to be used as a working platform.
Aesthetic considerations mean that BUR is often specified in areas that are not highly visible, or on projects where the look of the finish is lower down the list of priorities for those involved.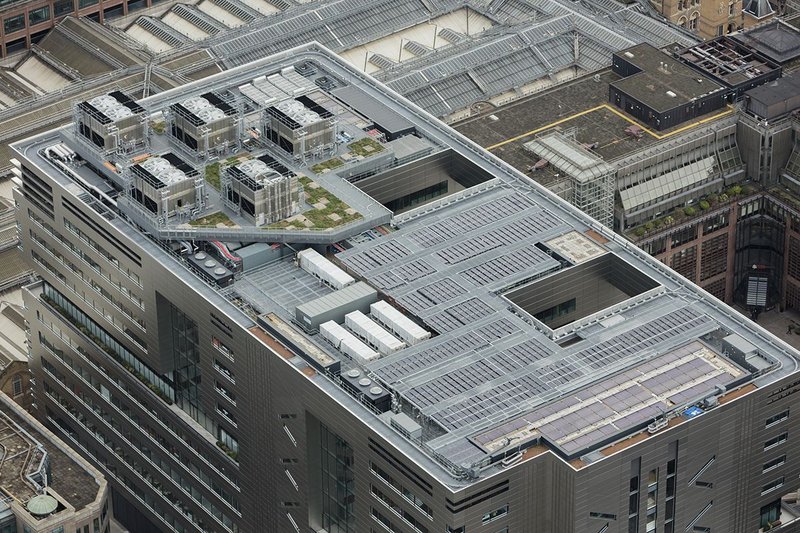 Hot melt was right for the complex roof at UBS' Broadgate HQ.
Hot melt
On a hot melt roof the waterproof membrane is applied, perhaps unsurprisingly as a hot liquid directly to a prepared structural deck. This creates a completely seamless monolithic layer that is extremely difficult to damage and has a very long life expectancy.
Along with being incredibly hardwearing, hot melt has the longest durability within third party British Board of Agrément (BBA) accreditation for these four products types. The BBA accredits hot melt systems for the design life of the building, an accreditation that can provide great peace of mind for a building's owners.
Ideal for concrete structures, as there is no need to drill into the deck for fixing, hot melt is primarily used on roofs larger than 300m2. It is also used in situations where there are complex details or multiple penetrations.
A key consideration when specifying a hot melt roof is once again implied in the name, as this type of installation involves potentially dangerous hot works.
Health and safety on site need to be well managed by an experienced installer.
Cold applied liquids
Cold applied liquid roofs are similar to hot melt roofs, with one obvious difference: the waterproofing is applied as cold. This makes installation easier as it doesn't carry the health and safety considerations of hot work.
Cold liquids are especially popular on refurbishment or repair projects as the liquid can usually be applied directly to the existing roof makeup, making it very cost effective.
Increasingly, cold applied liquid roofs are being specified on new builds. In areas with difficult access or restricted working space, such as balconies, the flexibility and ease of installation make them highly appropriate.
It is worth noting that some cold liquids contain volatile organic compounds (VOCs) and the installation of some liquids may require breathing equipment.
Seek expert advice
Each of these four solutions could be the right one, but numerous factors need to be taken into account. SIG Design & Technology offers a free advisory service to ensure architects select the most appropriate flat roof for their projects. Its independence from any brand means it can help them choose the best products for each application.
---
SIG Design & Technology and offers a complete and impartial design and supply service, which covers all eight steps to help create the perfect roof. It designs flat roofs, green roofs and zinc, copper and stainless steel roofing and cladding.
Find out more at www.singleply.co.uk/perfectroof or call 0845 869 4887
---
To find out more and download additional resources click here
---