Few areas of the building industry require more care in product specification than the health and care sector. Meeting the varied and demanding needs of patients, staff and residents requires special attention to detail.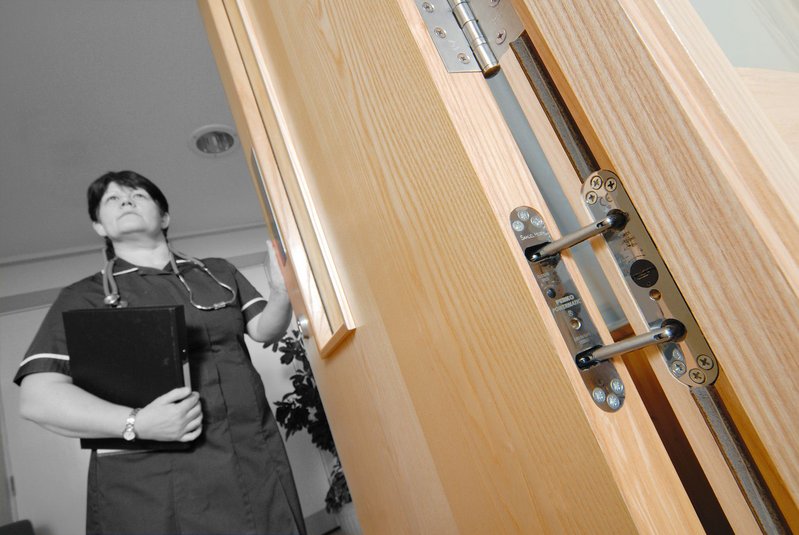 Architects and specifiers will be all too aware of the critical role that door closers play in assuring the efficiency and effectiveness of fire doors. However, they can also make an enormous contribution towards reducing risk, improving hygiene and enhancing the safety, comfort and well-being of patients and staff alike within the healthcare sector.
The right performance
Paramount to door closer selection is ensuring that the products meet relevant performance standards for fire and accessibility.
On fire doors, the door closer must carry the CE mark, which means that it will be a controlled door closer complying with BS EN 1154, or in the case of a swing free device, BS EN 1155.
Accessibility is governed by BS8300 and Approved Document M (Section 3 in Scotland, Part R in Northern Ireland), which stipulate maximum forces required to open a door. It should be noted that these requirements are applicable to the entire door assembly and, therefore, door closers and other hardware cannot claim compliance in themselves. However, the performance and efficiency of the door closer will have a direct effect on the door's ability to meet the requirements.
Both standard and free swing versions of Powermatic controlled, concealed door closers carry the CE Mark and deliver performance efficiencies that will enable doors to meet the requirements of Approved Document M and BS 8300.
Finding door closers to meet these requirements is not particularly challenging; there is a wide variety available to the specifier. However, professionals within the health and care sectors are also becoming aware of the added benefits that door closers can deliver beyond fire and accessibility performance.
Institutionalisation
In both health and care facilities, there is a growing desire to ensure that interiors are less institutionalised.
Care homes that value the comfort and well-being of residents will wish to create a welcoming, homely feel. Health facilities, particularly those dealing with psychiatric care, will need to assure the safety and security of patients whilst providing an environment which is conducive to proper therapeutic support.
In such situations, the use of materials and finishes which are redolent of a hard, uncaring, functional institution needs to be avoided. Choosing a concealed door closer can make a real difference: they do not have the unsightly mechanical boxes and control arms that are an unavoidable feature of surface mounted devices, thereby helping to create a less institutionalised and more pleasant interior.
Safety and security
In addition to assuring supportive therapeutic environments, psychiatric care facilities also need to be safe and secure, presenting minimal risk to patients and staff. Here again, door closer selection can be critical, particularly where anti-ligature and/or anti-barricade measures need to be incorporated.
In such situations, the use of surface mounted devices is often unwelcome for obvious reasons. However, Powermatic concealed door closers are gaining favour with increasing numbers of health authorities, thanks to the many benefits that ensue from the fact that the door closer is totally concealed when the door is closed, as well as its ability to be mounted at a low level in the door. Powermatic door closers are a preferred option for many anti-ligature and anti-barricade systems.
The risk of ligature can also extend beyond the observed confines of psychiatric facilities and secure units to any door installation that is not constantly monitored. Total concealment of the door closer obviously means that, when the door is closed, the closer poses no temptation or risk to patients and other users. Additionally, Powermatic can be installed towards the bottom of the door jamb to further reduce the opportunity for use as a point of ligature.
Door controls that have been damaged by vandalism can also pose a very real risk to the safety of a building's occupants: a damaged door closer can prevent a fire door from performing correctly, which, in the case of fire, can have serious, potentially fatal consequences. Powermatic's concealed nature and minimal exposed controls present very little opportunity for the would-be vandal to damage its mechanisms and render the door useless in case of fire.
Keeping it clean
Jamb-mounted concealed door closers can also contribute towards cleanliness and hygiene, paramount considerations in health and care facilities. The door closer's concealed mounting means that it offers minimal surfaces on which dust and other potentially harmful detritus can accumulate, whilst the fact that it is installed at a low position in the door facilitates quick and easy inspection and cleaning.
Free swing convenience
The use of free swing door closing devices is becoming more prevalent in both health and care situations thanks to greater awareness of their benefits and government guidelines.
In the health sector, the Department of Health Healthcare Technical Memorandum, HTM05-02 recommends the use of free swing self-closing devices on patient bedrooms provided specifically for those suffering from mental illness and for people with learning disabilities.
In residential care and nursing establishments, where much attention has been given to unsafe practices which have negated fire safety measures, free swing door closers can remove the temptation to wedge fire doors open for the convenience of staff and residents.
Making the right choice
When selecting the right door closer for any fire or non-fire door situation in the health and care sector, the first task will always be to ensure that the product meets the relevant performance requirements in terms of fire safety and accessibility.
However, simply selecting a door closer on these criteria alone will be insufficient for many health and care environments, particularly in more specialised areas of application. Meeting particular requirements, adding value to a project and enhancing the day to day lives of a building's occupants relies on considering additional factors that can have a dramatic influence on safety, comfort and well-being.
For more information visit concealeddoorclosers.com