Three projects from around the world reveal the growing popularity of a robust and maintenance-free facade solution and its innovative fixing system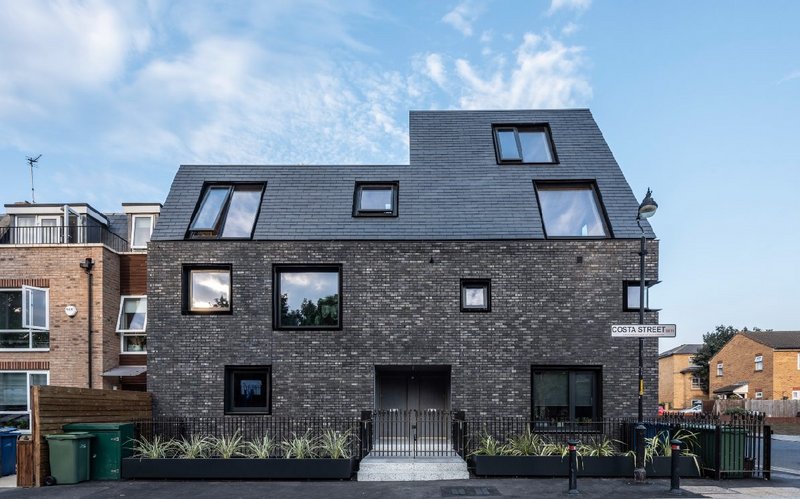 Cupaclad 101 Logic natural slate facade at Costa Street, Peckham. WHAT_Architecture.
The number of architects choosing Cupaclad rainscreen cladding systems to create sustainable facades is growing.
Thanks to its durable, high-performance tectonic natural slate, Cupaclad can be used to finish all types of projects in all sorts of locations.
Efficiency is a key element in rainscreen cladding design and, for British architect Antony Hoete of WHAT_Architecture, who recently used Cupaclad on a residential project in Costa Street, Peckham, the metal-bracketed Cupaclad system allowed services to be hidden behind the cladding.
'It also reinforced our idea of connecting the contemporary with the traditional,' he says.
Architect Odile Servin of French practice Atelier 2A had been looking for a contemporary twist on a natural slate rainscreen cladding system for a rural convenience store project, L'Epicerie Le Grenier in Gardères, south-west France. 'Cupa Pizarras offered a new way to clad the facade,' she explains.
The system allows a wide range of options. US architect Christianne Peschard of HGA designed the Southern New Hampshire University.
'Using Cupaclad meant we were able to work the slate into the interior of the building,' she says. 'It is very pleasing to the eye.'
Cupaclad has been tested by the most important certifications, is a BBA-approved system and using it provides points to achieve the LEED green building seal.
The Cupa Pizarras team of experts is on hand to support architects at each step of the design and implementation process.