The elegant, contemporary roofs of a luxury development in Swanland, East Yorkshire were made possible thanks to a beautiful natural slate tile with an unusual smooth surface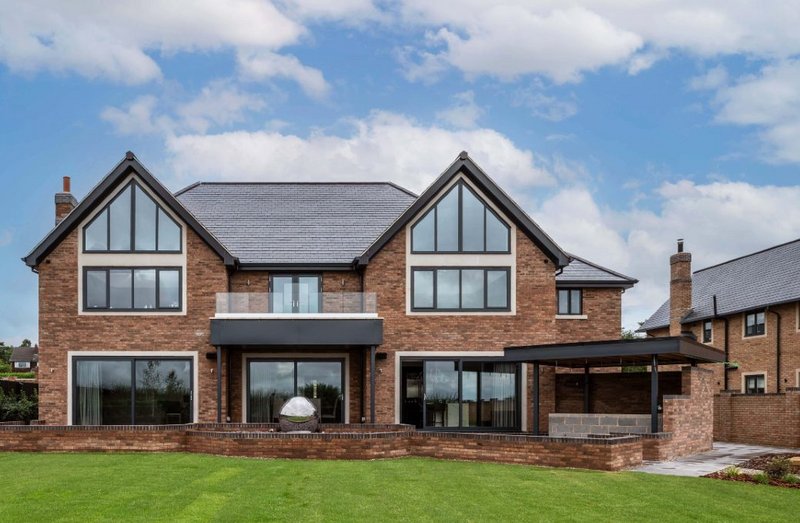 Perfect pitch: Cupa Pizarras Cupa 9 natural slate roofing at The View. 'It is important to offer customers products that combine durability and aesthetic value'.
'The View' is a 14-house luxury development by Church Gate Homes in Swanland, near Kingston Upon Hull, east Yorkshire.
The properties sit in the foothills of the Yorkshire Wolds with panoramic views of the Humber Estuary. They have been delivered using premium building solutions.
Each property features around 10,000 individual Cupa Pizarras Cupa 9 roof slates.
Cupa 9 is a grey slate with a very smooth surface and is taken from one of Cupa Pizarras' own quarries in Riofrío de Aliste in northern Spain.
Its stylish aesthetic works well for modern developments such as The View, where it can be used to create sleek roof designs.
Cupa Pizarras specialists assisted the Church Gate Homes installation team with specific advice on how to fit the slates. The team also had onsite support and technical assistance from the project's roofing supplier Burton Roofing Merchants.
'Cupa Pizarras natural slate is available at a highly competitive price thanks to its efficient production methods,' says Burton Roofing Merchants marketing manager Calum Cowham.
Martin Sutton, Church Gate Homes operations manager, agrees. 'There was very little waste, making the installation cost effective and sustainable.'
All properties at The View were sold off plan and work at the site continues with the project team completing bespoke designs for individual customers.
Why specify Cupa Pizarras natural roof slates?
Natural slates are beautiful and long lasting. They can endure extreme temperatures, are fire-resistant and unaffected by UV light.
Solutions manufactured from slate can have a lifecycle of over 100 years.
It is the most sustainable roofing option on the market.
Natural slate solutions require no chemical or heat treatments that need gas during their production.
Cupa Pizarras endeavours to recycle all of its processing water via a closed circuit.
It works to restore exhausted quarries by hydroseeding native plants to ensure the natural recovery of local flora and fauna.
Cupa Pizarras is recognised and certified by the Carbon Trust as a carbon neutral company.
It is the first slate production company to achieve carbon neutrality within its operations.
Find more on this case study at cupapizarras.com/the-view