Designed to replace a seaside bungalow surrounded by cliffs, two-storey Bayview in Aberystwyth has a low-slung form, a self-effacing aesthetic - and a very robust spec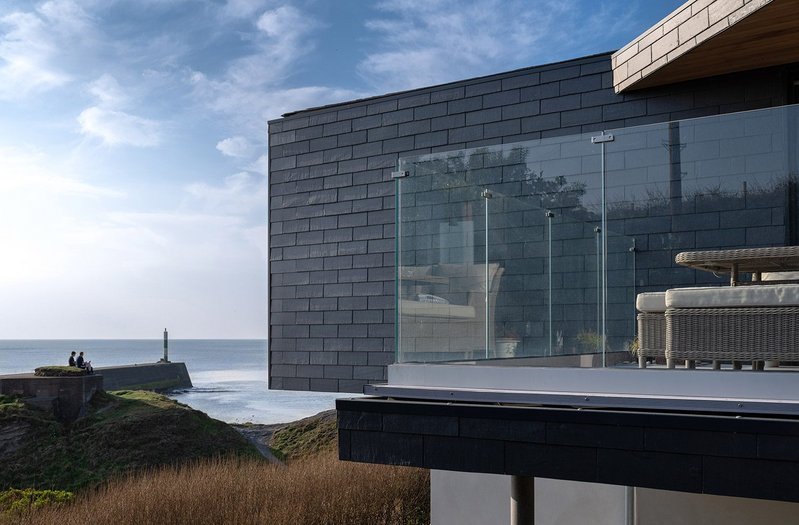 Extreme spec: Cupaclad slate cladding envelopes the Aberystwyth new-build by architects George + Tomos.

Credit: Alex Upton Photography
Cupa Pizarras' Cupaclad 101 Logic natural slate cladding has been installed as part of a striking new-build project in Aberystwyth, Wales.
When the owners bought the site it came with a 1930s bungalow that turned out to be in poor building condition. They approached Arwyn George from architects George + Tomos to come up with a new-build design to replace it.
The result is Bayview, a two-storey house with an upside-down floorplan that brings the living spaces up to the first floor to maximise views and light levels.
Natural slate cladding was chosen to complement the coastal surroundings and provide resistance to harsh weather conditions.
'Exposure to high winds meant selecting something with appropriate durability,' explains George. 'The Cupaclad system also allows the new home to blend into the cliff.'
Important for the clients was the way the product references some of the local vernacular architecture, which also utilises natural slate.
'Arwyn was able to shape the building to fit within the outlines of the surrounding hills,' say the homeowners. 'We were concerned that some of the slates would be lost in recent strong winds, but the cladding remained completely intact.'
7 reasons to specify Cupaclad Logic 101 natural slate cladding
High quality natural slate is a resistant material. Its colour does not change across its 100 year lifespan, even in the coldest environments.
Unlike other cladding and roofing materials, the distinctive sheen of natural slate remains constant throughout its lifecycle.
Cupaclad 101 is BBA-approved.
It is constructed using specially selected slates which, being dark in colour, create a bold and dramatic look, particularly when used alongside lighter materials such as glass, timber and render.
Cupaclad 101 Logic is made up of 40x20cm slates that are fitted horizontally using fixing systems that are completely invisible once installed, which avoids impacting the design.
Natural slate has many environmental benefits. According to research by the University of Glasgow, it produces limited atmospheric carbon (1KgCO

2

/metre2 over its lifetime) and has a low water and energy consumption rate.
Sourcing natural slate from a carbon-neutral company such as Cupa Pizarras ensures any cladding solution is verifiably sustainable.