The proposal adapts an Exeter retail unit to create a school with civic purpose, devising a framework that could be applied to other settings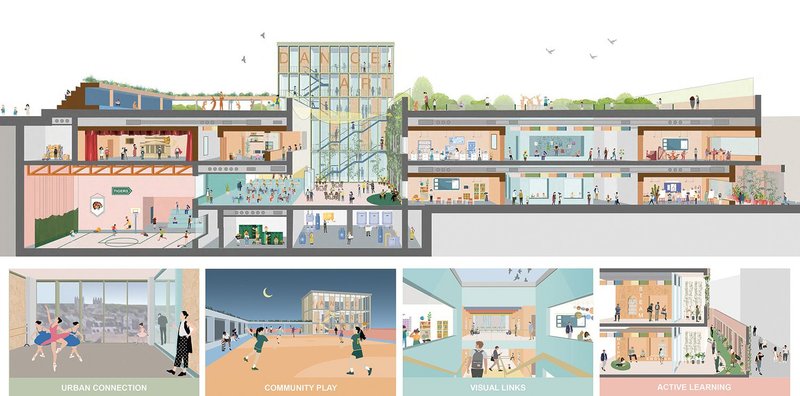 BDP's 'vignette' perspectives of various aspects of the building charmed the judges.
Learning Oasis in the City by BDP – Teresa Tirado, Theclalin Cheung, Amy Whitehead, Gwyneth Chan
'How can we improve and enliven a city in an environment which is mostly built?' was the challenge set by the designers of Learning Oasis in the City, which looks closely at Exeter's urban condition.
Taking a retail unit in the Guildhall Shopping Centre, their strategy was to develop a framework that could apply in other settings to create schools with civic purpose. 'It is a design that takes on a lot,' said judge Chithra Marsh.
Through the removal of several challenging features, the design creates a street through the school – a 'heart space' – which also brings light to the deep plan, with modular SterlingOSB Zero learning pods, set into the existing structure.
Strategies involve child-friendly and accessible designs, biophilic walls and an emphasis on bringing the community in by providing access to the sports and dance facilities. These measures, say the designers, reinvent the school as a non-exclusive ecosystem and encourage city-centre porosity (physical and psychological).
'The community access becomes a beacon for the school and the city,' they say.
'I can imagine Exeter Cathedral, looking down on this magic carpet of modular pods,' said judge Stephen Proctor. 'I like the little perspectives under the big section – it is charming – and the way it looks up to the cathedral; there is an urban connection.'
'They have viewed the building as a city element, from the macro to the micro,' added judge Jan-Carlos Kucharek.
Department 4 Education was produced in association with West Fraser

Axonometrics of the pod arrangements show how SterlingOSB Zero is incorporated into the design.