Four projects finished longlisted in this year's West Fraser SterlingOSB Zero/RIBAJ's Department 4 Education competition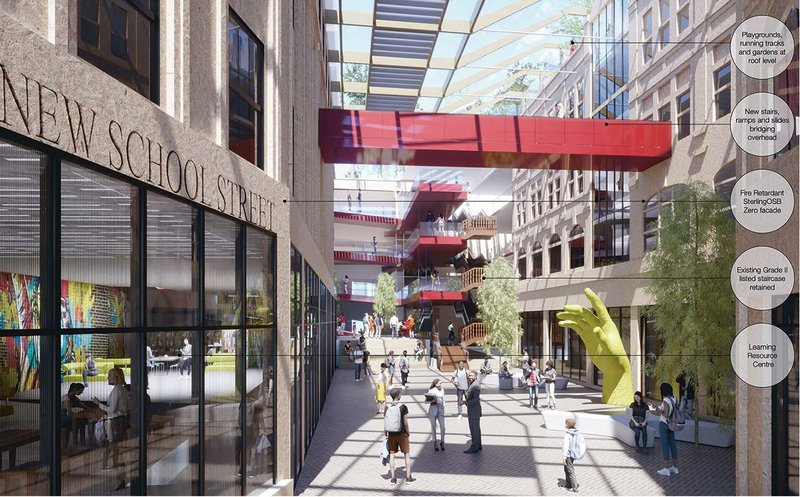 Picking up on Nottingham's 'jitties', a local urban typology redefines the learning environment at Debenhams in Old Market Square.
New School Street by Allan Joyce Architects – Maria Lucia D'Alessio, Olena Tsymbaliuk, Oliver Cradock, Francesco Sechi
The closure of Debenhams on Nottingham's Old Market Square leaves a prominent 19th-century Grade II listed building vacant. The proposal integrates Nottingham's urban context and the building's retail history into the school.
The Debenhams is deconstructed with jitties (alleyways) introduced to return it to a collection of multiple structures, streets and courtyards, forming learning spaces. Building facades made from SterlingOSB Zero face these new 'streets'. The spatial arrangement is of stacked facilities, and the new streetscape is a circulation hub with stairs, ramps and slides bridging overhead while providing inherent compartmentalisation for school departments. It is enclosed with glazed structures, allowing natural light into the deep plan and directly relating to the city.
Judge Holly Lewis said: 'I really liked it; feeling like part of a high street, schoolchildren walking around, reading it as a different kind of school with infrastructure to make it function in that way.'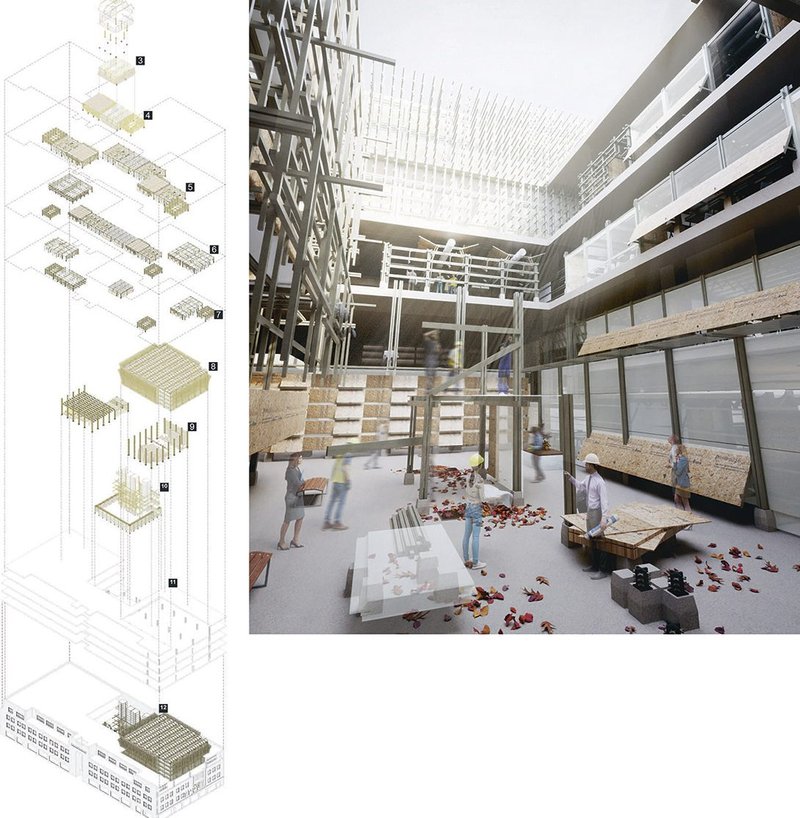 Hamilton looks to Segal and Kuma as inspiration for his kit-of-parts timber 'learning centre'.
Building Futures by Niall Hamilton
With inspiration as diverse as Walter Segal, Kengo Kuma, and Lucien Kroll's University of Louvain, Building Futures proposes a kit of parts system to revive a Plymouth department store as school.
A SterlingOSB Zero grid allows OSB panels to be added or removed in myriad permutations for different learning spaces. All offcuts are reused – as desk furniture, material for DT classes and so on.
Hamilton explains: 'Students would be taught via the very process of designing the spaces that they study in; instilling in them values of materiality, light and atmosphere that architects always aim to convey.' The kit of parts system encourages experimentation and bespoke arrangements for each, depending on need. 'This represents the idea of "dialogism" from Mikhail Bakhtin with the user and the architectural space,' the architect adds.
'I like the single mindedness of its dedication to flexibility and to OSB,' commented judge Jan-Carlos Kucharek.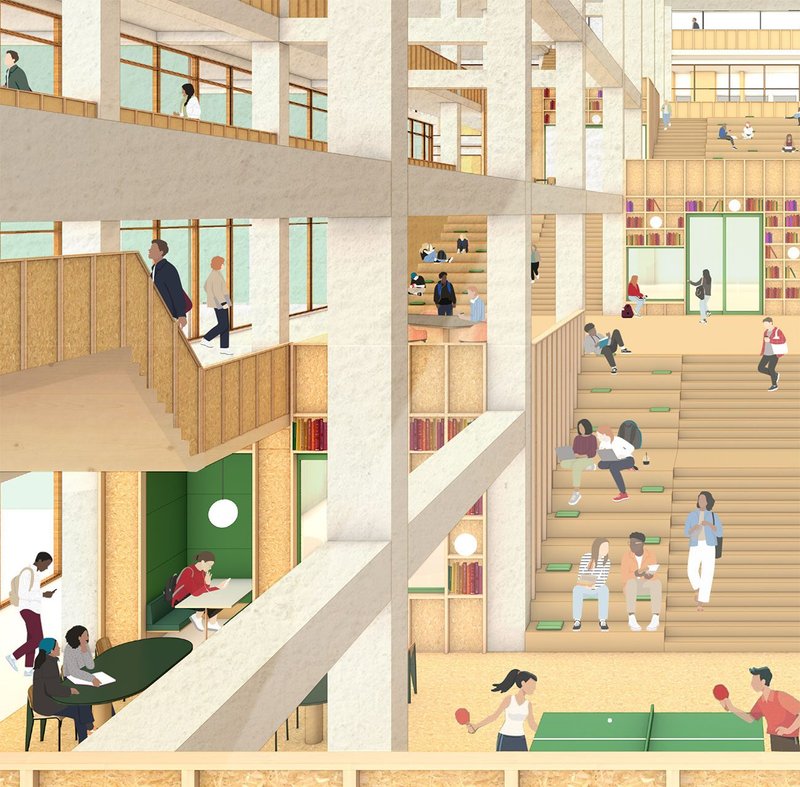 London 318 Oxford St reinvented as a school with interiors as imagined by Studio Sutton.
House of Education by Studio Sutton
This proposal takes on the contested art-deco 318 Oxford Street, until last year a House of Fraser, boldly reimagining it as a school and sixth-form college with shared public facilities. It's key conceptual move – which reminded judge Claire Ironside of Reiach and Hall's Glasgow College – is to divide the building diagonally in section using a grand SterlingOSB Zero stair, defining two separately accessed zones.
Below the stair and towards Oxford Street are an auditorium, library and gym, shared between school, college and public. These are separated from the school, accessed from the quieter entrance. A playful roof extension provides recreational spaces and gardens.
In the atrium, retained concrete beams and columns provide a legible historic framework, into which SterlingOSB Zero elements are inserted. This provides a warm contrast in colour and texture as well as a robust and durable finish.
'I think it does look busy like a city would,' said judge Chithra Marsh. 'I like the varied activity on the roof too; they have used every part of the building.'
Section through New Bond St Fenwicks, where they 'reconnect, revitalise and reimagine'.
Regrowing Schools by Rachel Foreman, Ru Quan Phuah
'Current solutions to the shortage of secondary school places are short-sighted, often resorting to constructing new schools on greenfield sites,' argue the designers. They use Fenwick on New Bond Street as a test case for a threefold strategy for universal application: reconnect, revitalise and reimagine.
Reconnecting involves tapping into the existing accessibility to the store to attract public footfall, activating the ground floor as community space. Revitalising entails converting the Grade II listed building, retaining the traditional facade, columns and slabs, insulating walls with SterlingOSB Zero faced cassettes, and providing openable rooflights above each atrium for natural ventilation and light into the deep plan.
The destruction of traditional classrooms bound by walls would empower teachers and students to reimagine learning spaces via flexible, moveable and compact SterlingOSB Zero mobile learning sets. Judge Holly Lewis praised the 'explicit roadmap for change; a way we can approach these buildings elsewhere that was made clear'.
Department 4 Education was produced in association with West Fraser