Manchester House of Fraser is the site for a SterlingOSB Zero kit-of-parts design that applies retail principles to an education setting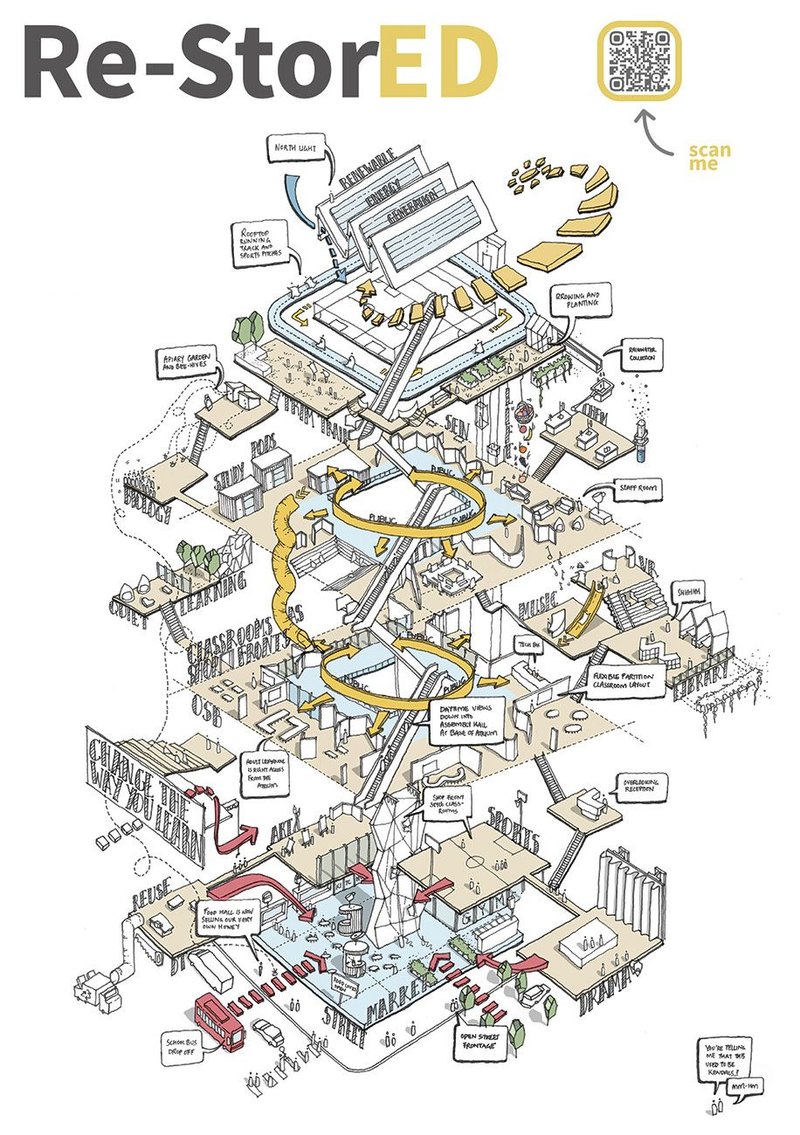 Pick Everard's 3D visualisation in cartoon form effectively communicated to the judges the proposal's innate sense of fun.
ReStor-ED by Pick Everard – Kieran Dyer, Jill Murray, Adam Ayub, Jonny Edwards
'Why is school not fun? Is it really fit for purpose in modern society?' ask the designers of ReStor-ED, a proposal that explores (via an engaging cartoon) a new pedagogical model.
Using Manchester House of Fraser as the host site for a SterlingOSB Zero kit-of-parts design, the concept extracts principles of the retail environment and applies them to an education setting. Departmental shop windows advertise curriculum areas to encourage students to invest their time in a subject, 'shopping' for a future.
This attempt to shake up the system appealed to the judges. 'It gets across a bigger idea about [the typologies of] a department store and a school, how one informs the other and reimagining the school model,' said Holly Lewis.
The possibilities of shared school-community facilities include recycling, socialising, entertainment, sports, commerce, digital resources and lifelong learning. An active street frontage establishes the school as civic focal point while in the building's corners, green spaces promoting biodiversity offer tranquil gardens for special educational needs students.
'They have tried hard to show what the concept is,' praised judge Chithra Marsh. 'They have thought it through, right down to the furniture' An OSB climbing wall adds an element of fun.
Department 4 Education was produced in association with West Fraser