Natura fibre cement panels in three shades create a striking retrofitted facade that mimics the original brickwork at the Office for National Statistics in Newport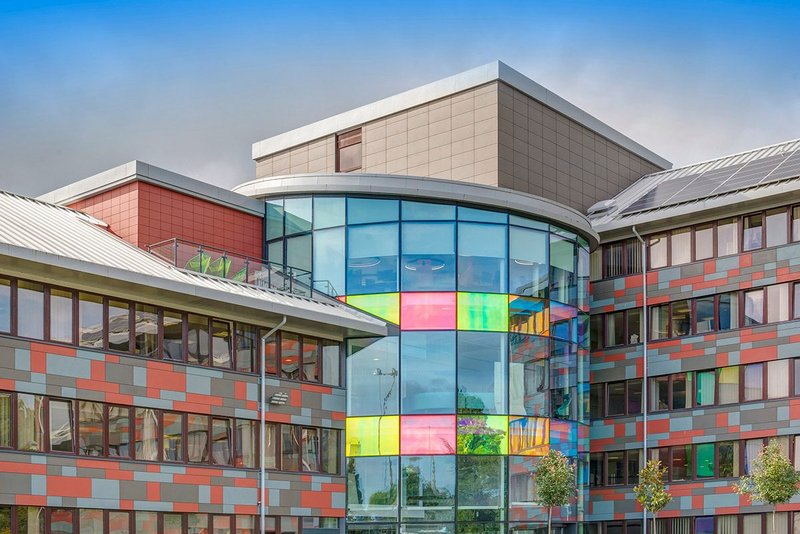 Equitone Natura cladding at the ONS Data Science Campus, which investigates the use of new data sources to help build data science capability for the benefit of the UK.
Equitone fibre cement material has been specified for the colourful retrofitted facade of The Office for National Statistics (ONS) headquarters in south Wales.
The £10 million modernisation project in Newport includes a newly created Data Science Campus, which uses new data sources and technologies to provide statistics for policy makers and businesses about the UK economy.
The existing walls of the building needed extensive repairs that would affect the overall aesthetic and the client required a visually striking solution that was also sympathetic to the original brick colours. The ONS worked with Vinci Facilities to design a rainscreen cladding system and the results demonstrate the potential of retrofit to re-imagine facade design.
In all, 6,800m2 of Equitone Natura fibre cement panels were specified in a combination of colours and panel sizes. Shades with a low contrast were chosen to complement the tones of the original redbrick building and provide the striking tricoloured facade.
'Equitone provided the best combination of quality, versatility and value for money,' says Dave Willett, senior project manager at Vinci Facilities. 'The adjustability of the mounting system accommodated the varying planes of the original walls well, resulting in a crisp finish. Equitone was very supportive at the design stage and maintained their support throughout. The product is looking as sharp and rich in colour as the day it was installed.'
The building provides a first-class working environment and its refit reflects the campus's position as an outstanding home for international data and research.
Natura is one of five fibre-cement ranges that Equitone manufactures in its Belgium and German plants. It has a smooth, matt appearance, is silken to the touch and has a surface that shows the natural fibres used in the manufacturing process. Natura is available in a range of eight through-colours, including recently launched Quartz White.
Equitone materials are classed as non-combustible in Scotland and limited combustibility in England and Wales. The A2-s1,d0 classification means Equitone emits little or no smoke and produces no flaming droplets or particles within the first 10 minutes of fire exposure. This means the materials do not contribute to the formation or spread of a fire.
The facade is resistant to extreme temperatures and frost, perfect for the increasingly unpredictable British weather. It can reduce thermal bridging and the resulting energy consumption required for keeping the internal environment temperate. Equitone requires limited maintenance and is resistant to living organisms including bacteria, fungi, insects and vermin, reducing the need for chemical cleaning products. The company works with architects to develop its ranges and colours, creating designs by architects for architects.
For more information and technical support, visit equitone.com
Contact:
01283 501555
---