A lively discussion showed that not only do architects have a wide interest in texture, it adds an enriching aspect to buildings. So why don't we see it used more often?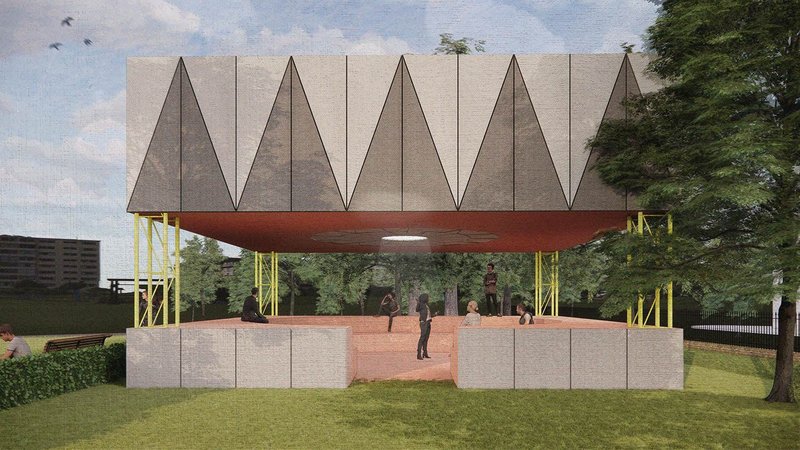 Fieldwork Architects' bandstand pavilion with the contrasting triangles of chalk and graphite Equitone fibre cement panels with engraved panels at the base.

Credit: Fieldwork Architects
Architects certainly have a wide vocabulary for describing textures, making one wonder why so little of that understanding finds its way into their buildings. At least, this was the conclusion to draw from a discussion at Clerkenwell Design Week, a RIBA Journal event in collaboration with Equitone. Jim Biddulph, a materials expert who is fascinated by the neurological impact of texture, challenged the audience by asking, 'Are we texturally literate? Do we have the vocabulary to talk about textures, about how they make us feel?'
Speaking in a highly textured pavilion designed by Fieldwork Architects and clad in Equitone, he claimed there were few words for texture beyond rough, smooth, coarse and slick, but the audience came up with many more. These included slimy, bumpy, fuzzy, slippery, speckled, waffled, pitted, perforated, polished, porous, viscous, sticky, powdery, crinkled and ruffled. Asked for their favourite textures, they cited long grass, the bark of plane trees, clay, velvet, shaved heads (but only against the grain), the slight oiliness of skin and even dogs' ears. There was some debate about whether or not temperature can be considered a texture. There is certainly an argument that materials such as metals, which conduct heat away from the hand, feel different to less conductive materials.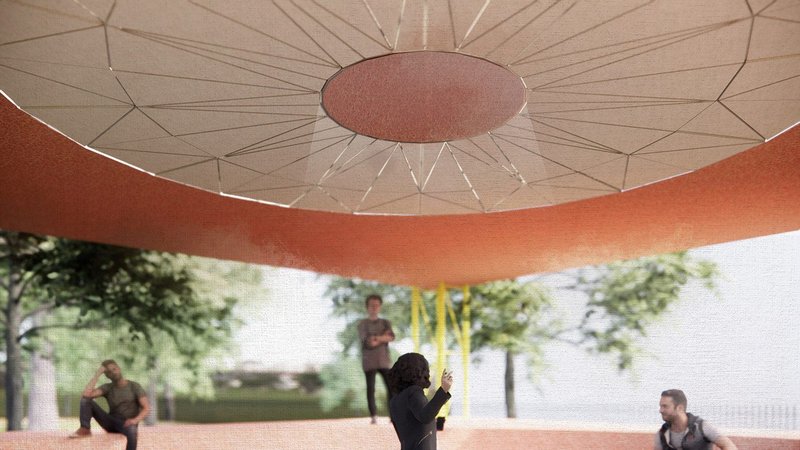 Under the almost-oculus of the pavilion with rougher hessian panels radiating out.

Credit: Fieldwork Architects
Despite the audience's impressive vocabulary, Biddulph argued that we have lost many of our connections with texture in buildings. Follies such as that built by the Facteur Cheval in southern France, inspired by the feel of a found stone, or Gaudì's far more mainstream work in Barcelona, were all about texture. But with the International Style of the 20th century came a move against texture, an embrace of flat smooth surfaces. And yet, Biddulph argued, 'by using lots of different materials and textures we can enrich an environment and a building, rather than encasing it in something flat and cold and homogenous.'
Since the heyday of 'less is more' we have again embraced some texture. Biddulph cited the lace facades of Nottingham Contemporary, designed by Caruso Saint John, and the work of Giles Miller Studio, which focuses almost entirely on texture.
Brian Oknyansky, senior designer at Dexter Moren Associates, talked about projects by his practice that used texture to create architectural interest and to link to surroundings and create a sense of place. 'You might think I am talking about pattern, he warned, 'but an architectural idea of texture comes from pattern.'
Oknyansky showed a hotel at Manchester Airport that references a woven fabric on its facade and a Premier Inn in south London that uses brick in different planes to create texture and shadow. A central planted space forms part of that development, and Oknyansky also talked about the texture of this, a reminder that growing elements have texture too. Think of walking barefoot on grass or on a shingle beach.
Favourite textures were long grass, the bark of plane trees, clay, velvet, shaved heads, the slight oiliness of skin and even dogs' ears
Chair of the discussion, RIBA Journal editor Eleanor Young, referred to texture as something that makes a building become more, rather than less, interesting as you get nearer to it. Although Biddulph quoted Finnish architect Juhani Pallasmaa's famous phrase about a door handle being the handshake of the building, there was surprisingly little reference from the audience to those elements that make a building distinctly touchable – polished concrete and plaster, timber surfaces, textured concrete and flint walls. But perhaps those architects who referenced their love of dogs' ears and tree bark will import some of that tactility into their next projects. There is certainly plenty more to think about in this vital but unduly neglected topic. If we are to really love our buildings, we should care not only about how they look but also about how they feel.