Recticel's Eurowall+ insulation board allows architects and homebuilders to maintain existing cavity wall build-ups without compromising thermal efficiency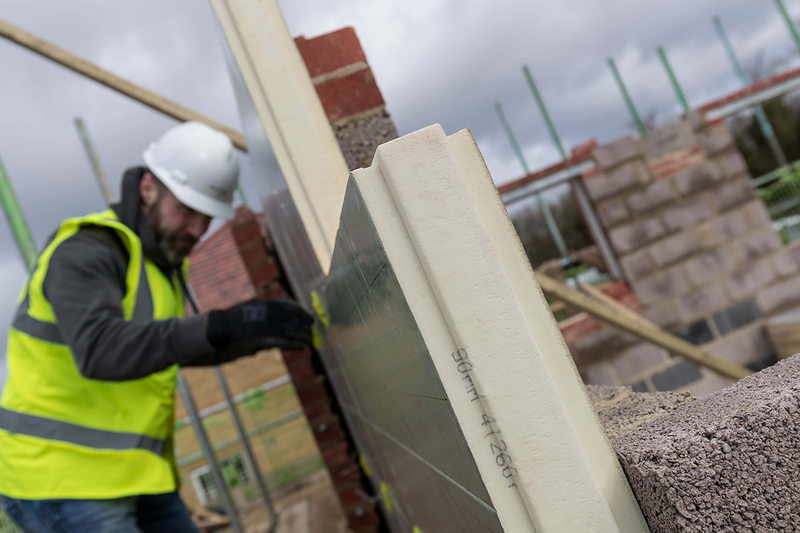 Recticel Eurowall+ insulation board: a 90mm slimline alternative to 97mm rigid full-fill products.
Eurowall+ is an innovative, full-fill insulation board that changes the way a wall works without altering how it is constructed. It can achieve a U-value of 0.18 W/m2K in a traditional 100mm masonry cavity wall, extracting more performance compared with typical partial-fill solutions and without widening the footprint of the external wall.
While many rigid full-fill products are 97mm or thicker for a designed cavity width of 100mm, Eurowall+ offers a 90mm insulation board to achieve similar thermal performance without impeding conventional bricklaying techniques.
Eurowall+ was the first rigid full-fill insulation board to feature a tongue-and-groove joint on all four edges. It provides a tight, secure lock that easily accommodates wall ties, increases protection against wind-driven rain and reduces convectional heat loss through gaps between boards.
Eurowall + is manufactured from high-performance, closed-cell polyisocyanurate (PIR) foam with zero Ozone Depletion Potential (ODP) and low Global Warming Potential (GWP). As part of a 'fabric first' approach, it delivers consistent thermal performance for the lifespan of a building. Its specification displays a commitment to minimising energy consumption, harmful CO2 emissions and impact on the environment.
In line with Recticel's commitment to innovation, Eurowall + is a solution designed with the builder, and the end user, in mind.