Faiance from Boston Valley Terra Cotta is bringing texture and colour to restorations and newbuilds on London's streets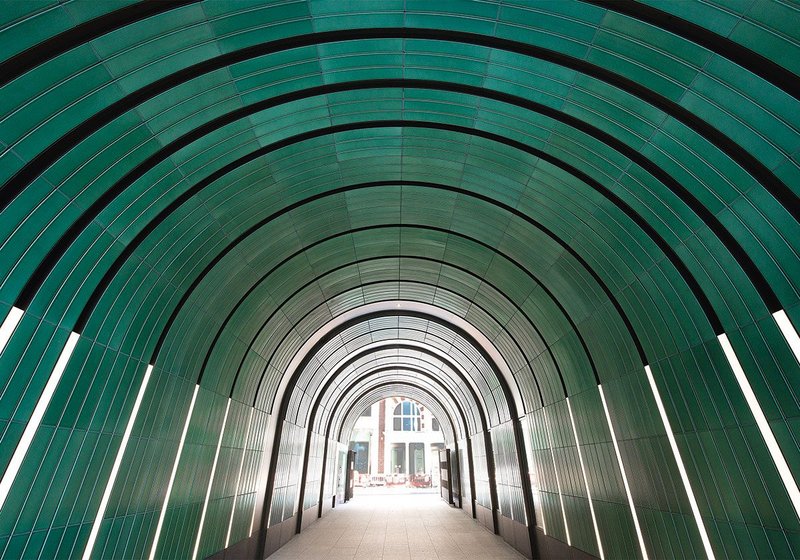 Jade green rainscreen panels wrap across the arch for the entire length of the Rathbone and Newman Passages in a rhythmic design enveloping those passing through the tunnels.

Credit: Courtesy of Szerelmey Ltd.
Boston Valley Terra Cotta is a leading manufacturer of custom faience for historic restorations and high-performance building envelopes in the US and the UK. Building professionals choose terra cotta for its durability and flexibility: it is an elastic medium that can express itself in a variety of shapes and surface treatments.
Buildings featuring Boston Valley Terra Cotta demonstrate the medium's potential for transformation. Boston Valley works diligently to realise the client's vision, providing custom architectural terra cotta in London for the Rathbone and Newman Passages, Battersea Power Station, and Lincoln Square - 48 Carey, 30 Broadwick, 60 Curzon, and Quadrant 4.
Rathbone and Newman Passages
Make Architects designed One Rathbone Square and the terra cotta passageways that connect Rathbone Place and Newman Street for pedestrians. Developed with Szerelmey, the curved TerraClad Rainscreen was created using extrusion and hand press forming methods. Arches were assembled in a full-scale mockup to ensure proper alignment and continuity. The terra cotta panels for this project draw in viewers with the curved design and alluring green glaze.
Battersea Power Station
Boston Valley is producing faience with Szerelmey for the historic redevelopment of the Battersea Power Station, one of the largest construction projects under way in Europe today. Boston Valley has been working with Wilkinson Eyre and Szerelmey to fabricate new masonry blocks to match the original surface treatment of the building. Masonry is fabricated using the extrusion and RAM press forming methods and finished with a speckled blue glaze.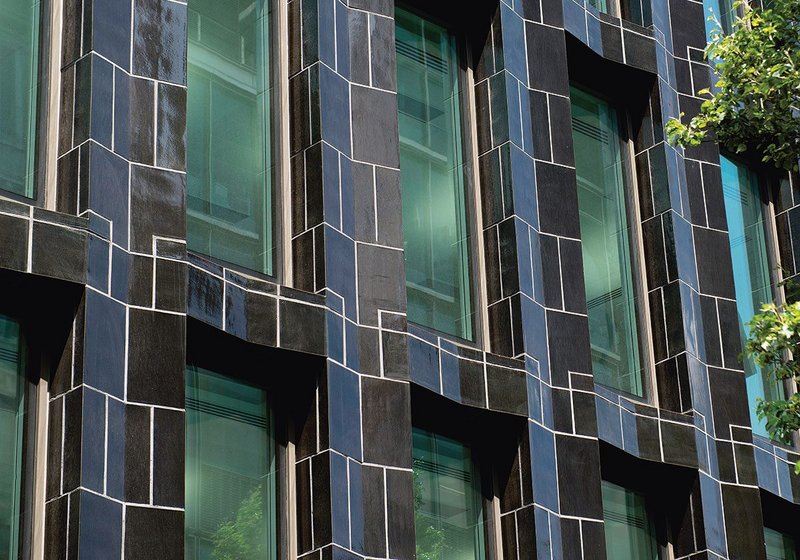 30 Broadwick's angular facade creates a highly reflective frame around the window sills and reveals.
30 Broadwick
Another project with Szerelmey, 30 Broadwick is a new building designed by Emrys Architects, featuring Boston Valley Terra Cotta masonry. Its location in the heart of Soho inspired its multifaceted facade of brick, stonework and faience. The variety of shapes in the angled facade were created using all four forming methods: RAM press, hand press, extrusion, and slip casting. Units for 30 Broadwick are finished with a dark, semi-metallic satin glaze to achieve its signature 'petrol black' look.
Quadrant 4
Led by architect Allford Hall Monaghan Morris with Paye Stonework & Restoration as installation contractor, Quadrant 4 is a restoration of a 1930s Art Deco Hotel with a newly constructed addition. Boston Valley produced extruded terra cotta masonry with a pink-toned glaze application and pulsachrome satin finish.
48 Carey, Lincoln Square
Designed by PLP Architects with Szerelmey as installation contractor, Lincoln Square is a new building featuring terra cotta masonry in a soft, speckled glaze. Extruded and hand pressed forms complement the stonework on the rest of the building.
60 Curzon
Now under construction, the residential development at 60 Curzon in Mayfair, London, was also designed by PLP. The building features extruded rainscreen panels with a custom, deep green glaze developed by artist Christine Jetten and installed by Grants.
Boston Valley Terra Cotta is featured in the Hand Held to Super Scale: Building with Ceramics exhibition at the Building Centre. Additionally, Boston Valley collaborators will speak about the ACAWorkshop at the Building Centre on 30 January 2020 as a part of the Building with Ceramics series. Contact sales@bostonvalley.com.