A hidden automatic operating solution has been specified for the glass entrance doors at a new London Boots store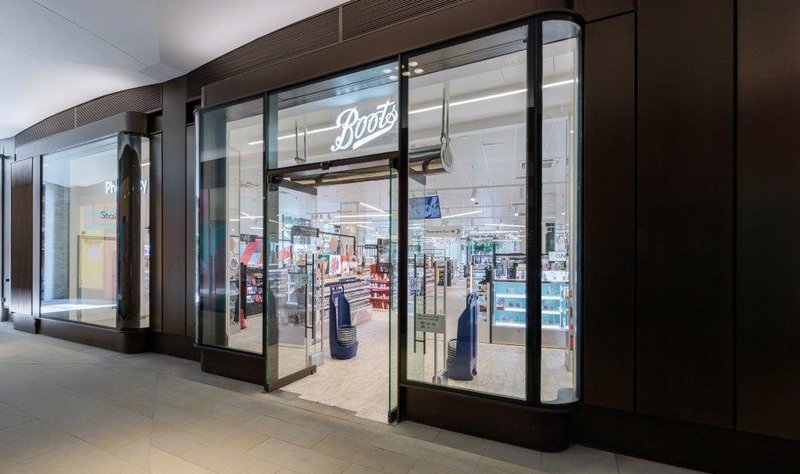 Entrance to the Boots store on High Street Kensington, London: the GEZE UFO NT electromechanical floor-mounted swing door drive is suitable for single leaf doors weighing up to 125kg.
Health and beauty retailer Boots UK has a new store on the corner of Kensington High Street and Wrights Lane, London.
The mixed-use 1970s building has been remodelled and extended to include office space, a new retail arcade and connection to the London Underground.
The store needed an entrance solution to complement its glass and bronze-anodised facade.
Door, window and safety technology company GEZE UK worked with facade solutions specialists Colorminium to design and install double doors with two UFO NT automatic operators to the store entrance.
The system is hidden from view under the floor so is ideal for installing with glass doors.
UFO NT can be used on any type of doors - glass, metal or wood - and can operate doors with leaf widths up to 1250mm on external doors and 1600mm on internal doors and up to 125kg in weight.
The system is quiet in operation and complies with the Equality Act and BS EN 8300, ensuring access for all.
'The UFO NT was the perfect solution for this busy store,' says Andy Iredale, GEZE UK's national sales manager for automatics and window technology. 'The operator is concealed beneath the floor giving designers the freedom to create aesthetically pleasing entrances yet still provide automatic access.'
'We have worked with GEZE many times and we were delighted with this solution,' says Mihai Ciobanu, project manager at Colorminium. 'This new product gave us the clean stylish entrance we wanted.'
For more information and technical support, visit geze.co.uk
Contact:
01543 443000
---