Two bespoke rooflights help create focal points, beautiful views and a streamlined kitchen-diner at a remodelled family home in rural Derbyshire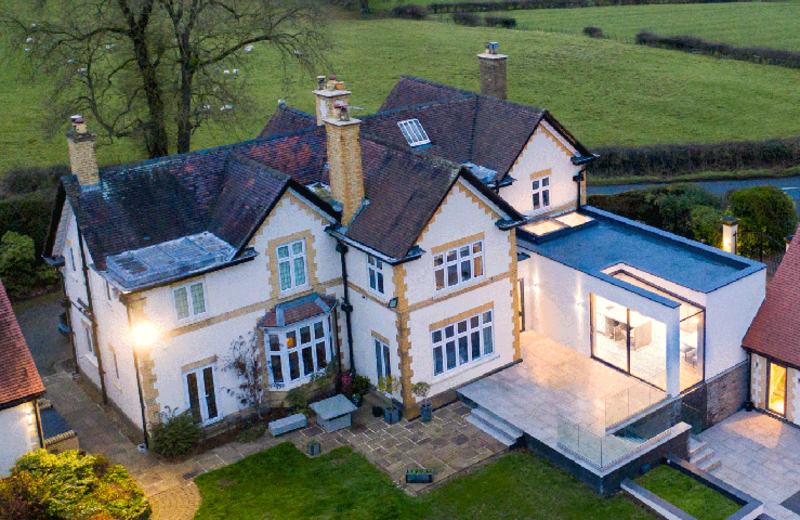 The kitchen extension at Park Leys, Derbyshire: innovative roof and window solutions that create a seamless transition between inside and out.

Credit: Matthew Jones Photography
The owners of a property in Derbyshire were keen to make the most of their views and open up the layout to maximise family life. While its simple, minimal colour palette helped create a light contemporary feel, the existing kitchen was small, dark and didn't mirror the rest of the house.
The clients consulted Simon Foote Architects who suggested opening up the rear of the property to create a visual and physical link to the outdoor space. This involved maximising the views to the east and west of the property, as well as using the sun path through the rear garden to guide how the space should be arranged.
The owners had a defined interiors style that was minimal and simple, with one piece of furniture used as a focal point in each room. This was mirrored at the dining end of the kitchen where a large bespoke Eaves rooflight from Glazing Vision became the centrepiece with its views out across the countryside.
The second window was installed above the main kitchen area. The Sliding Over Fixed rooflight combines a sliding pane of glass that retracts over a fixed one. It fills the working part of the kitchen with natural daylight and provides improved ventilation. The completed design reveals each individual view to the clients as they move through the space, creating a home in tune with its setting.
For more on this case study, visit glazingvision.co.uk/case-studies